Portugal
Charmed by Coimbra
"Which way is Coimbra then? It's on a giant hill, surely we should be able to see it." I started flicking through the pages of the guidebook, which informed me we were around 1.5km from the town centre. We shouldered our backpacks and began walking along a distinctly unscenic motorway.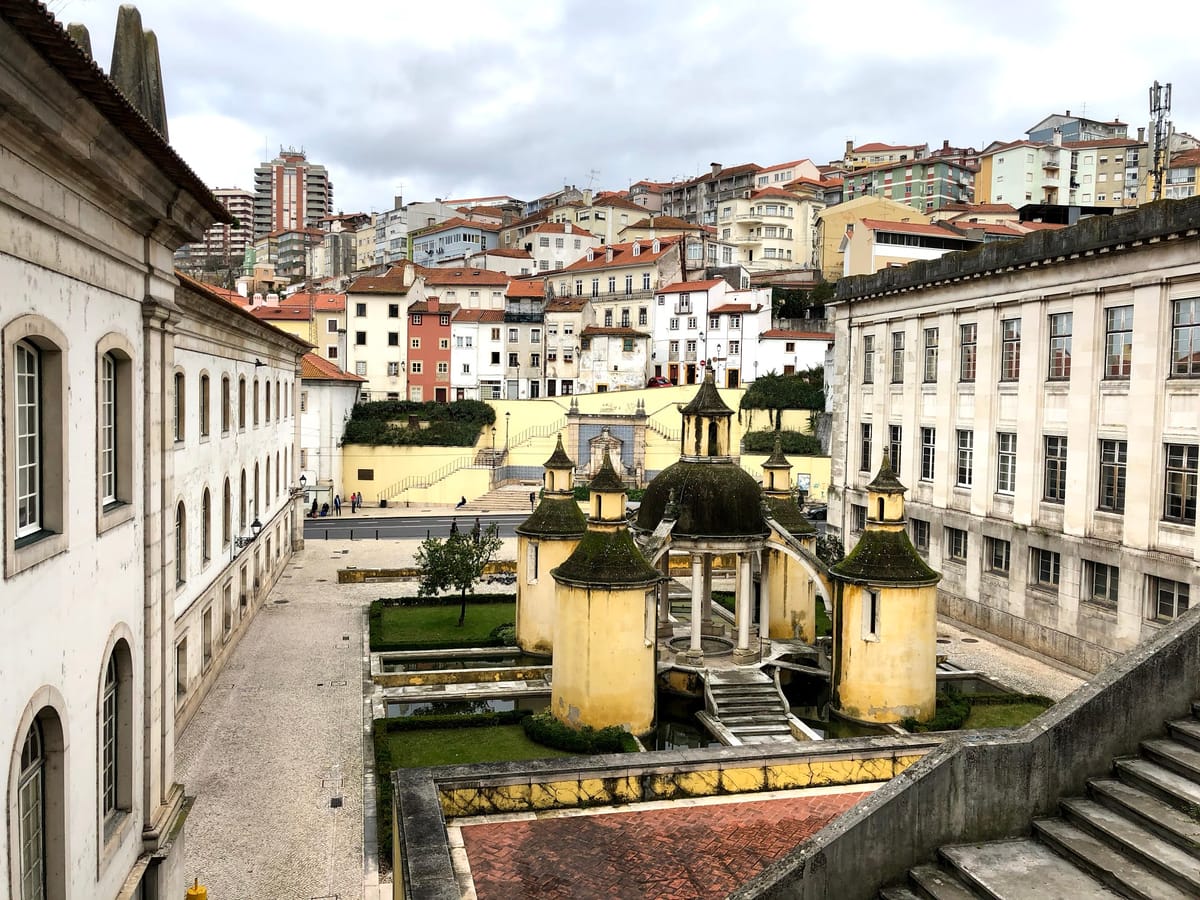 "What station are we at?" I asked Nicolas, "Lots of people are getting off."
 "Coimbra B,"
 "I think we want Coimbra A." I dug around in my pocket to check the ticket.
About three seconds later we were stood on the station platform, clutching all of our belongings. It turns out that Coimbra B is actually the train station for intercity trains. If we hadn't got off, we would have been bound for Lisbon.
 "Which way is Coimbra then? It's on a giant hill, surely we should be able to see it." I started flicking through the pages of the guidebook, which informed me we were around 1.5km from the town centre. We shouldered our backpacks and began walking along a distinctly unscenic motorway.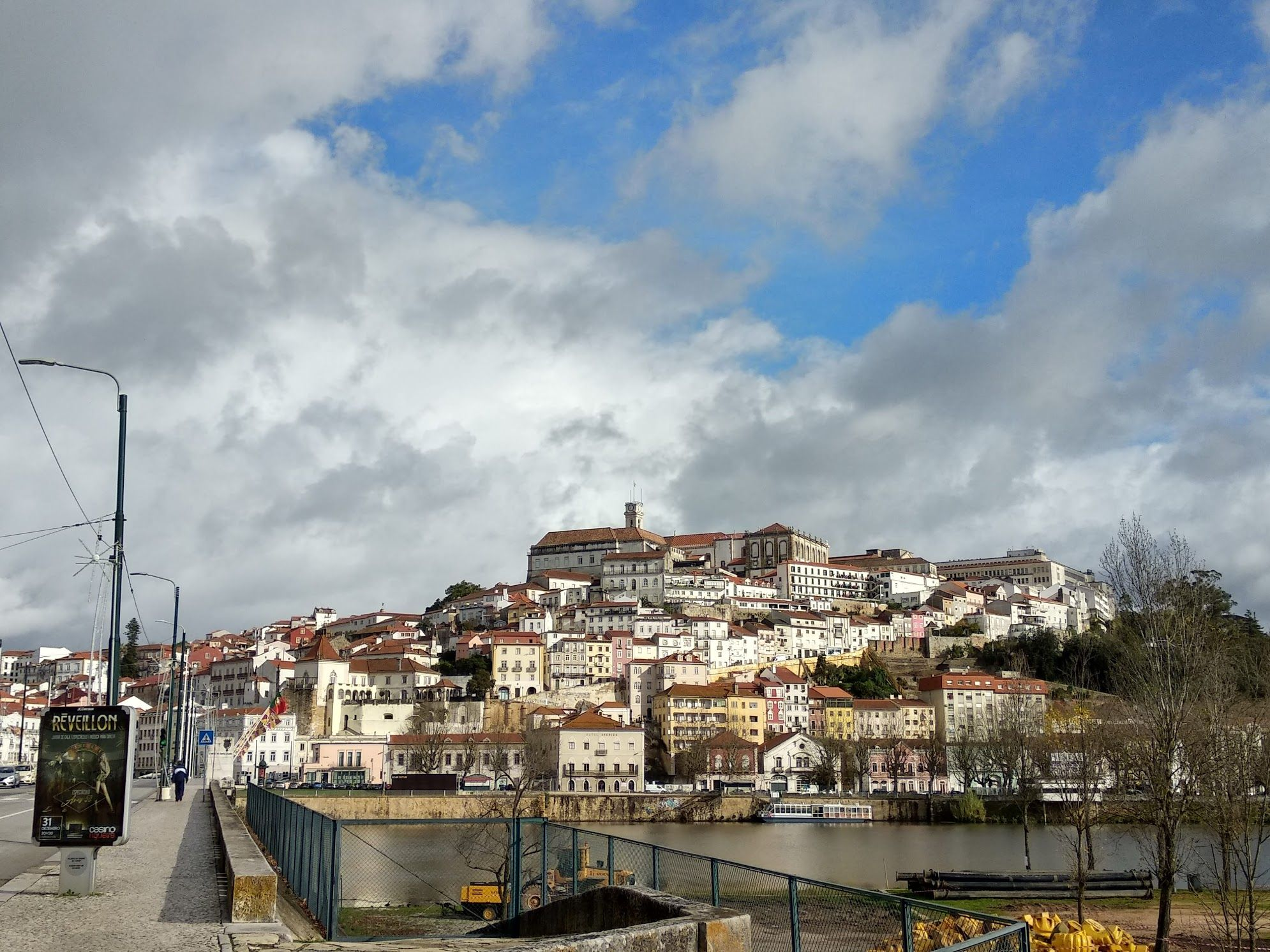 Coimbra is particularly famous for it's university, which is 500 years old and the finest in Portugal. Our first stop on this visit was to the university's botanical gardens. They started off fairly underwhelming - we entered through a gate near the riverside and lumbered up a steep forested section
It was worth the walk though. The gardens at the top are charmingly unkempt. I'm not sure if this was a deliberate move by the university gardeners, or just a lack of funding, but the assortment of moss covered trees, overgrown fountains, palm trees and strangler figs give the impression of an overgrown colonial garden.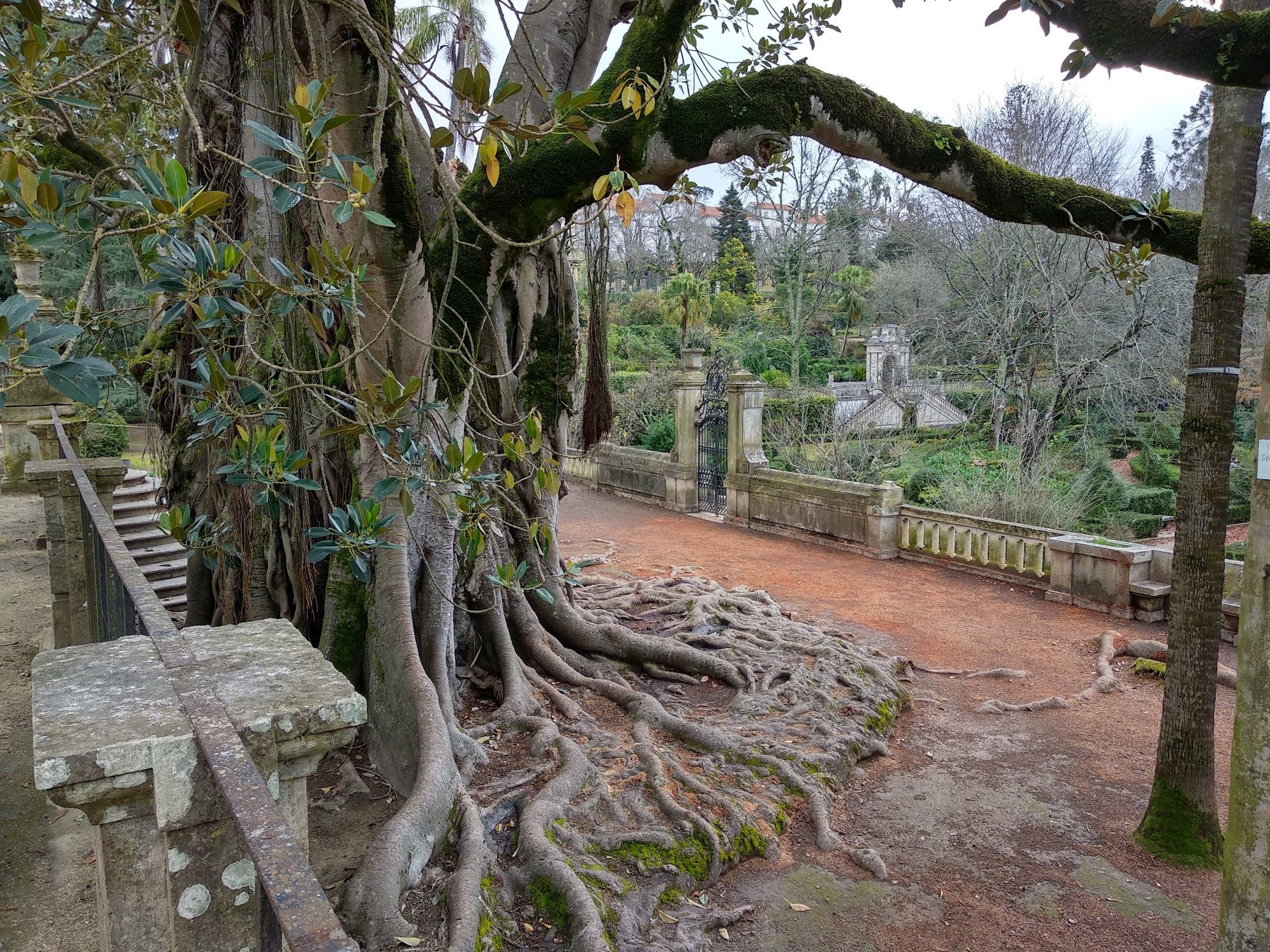 Next stop, was lunch, we had a restaurant in mind, but with no mobile data and only a guidebook to rely on, we go completely lost in the maze of streets and ended up climbing up and down several times. We saw a few other lost tourists, so we felt better because at least we weren't alone in finding the streets confusing.
Coimbra reminded me a lot of Durham. It's on a hill by a river, full of windy cobbled streets and the city is dominated by the university, which has buildings everywhere. The weekend we were there there were lots of student bands in the street fundraising, probably for beer money. It gave the town a lovely festive atmosphere.
We eventually found the restaurant we were looking for, Tapas Nas Costas, which was both reasonably priced and unusual, and then we headed off to check into our guesthouse.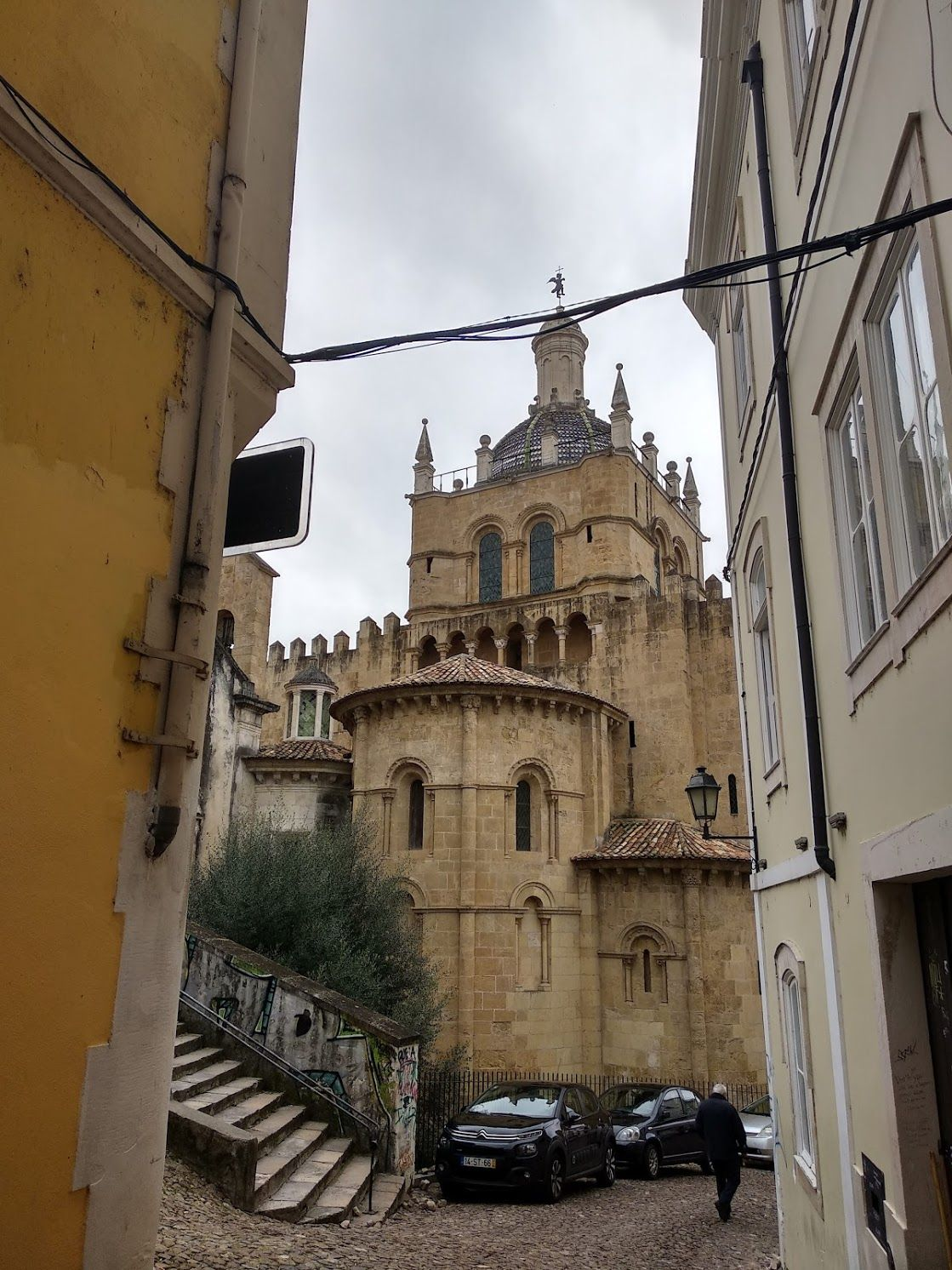 The truth is, the guesthouse was the entire reason we decided to stay overnight in the city. Solar Antigo looked so luxurious on the photos, and yet was so cheap (we paid €65 for one night), that we couldn't resist. As soon as we go there (up another steep hill of course), we knew we had made the right decision. It is a set of converted town houses, and, although the room was quite small, the attention to detail like candle lights, nice furniture and an afternoon glass of sparkling wine with fruit bread, and of course our lovely host, made the whole experience great.
We had heard great things about Coimbra's university, and since the list of other attractions in the city was mostly churches and we had seen plenty of those the weekend before, we set off uphill to investigate the famous institution.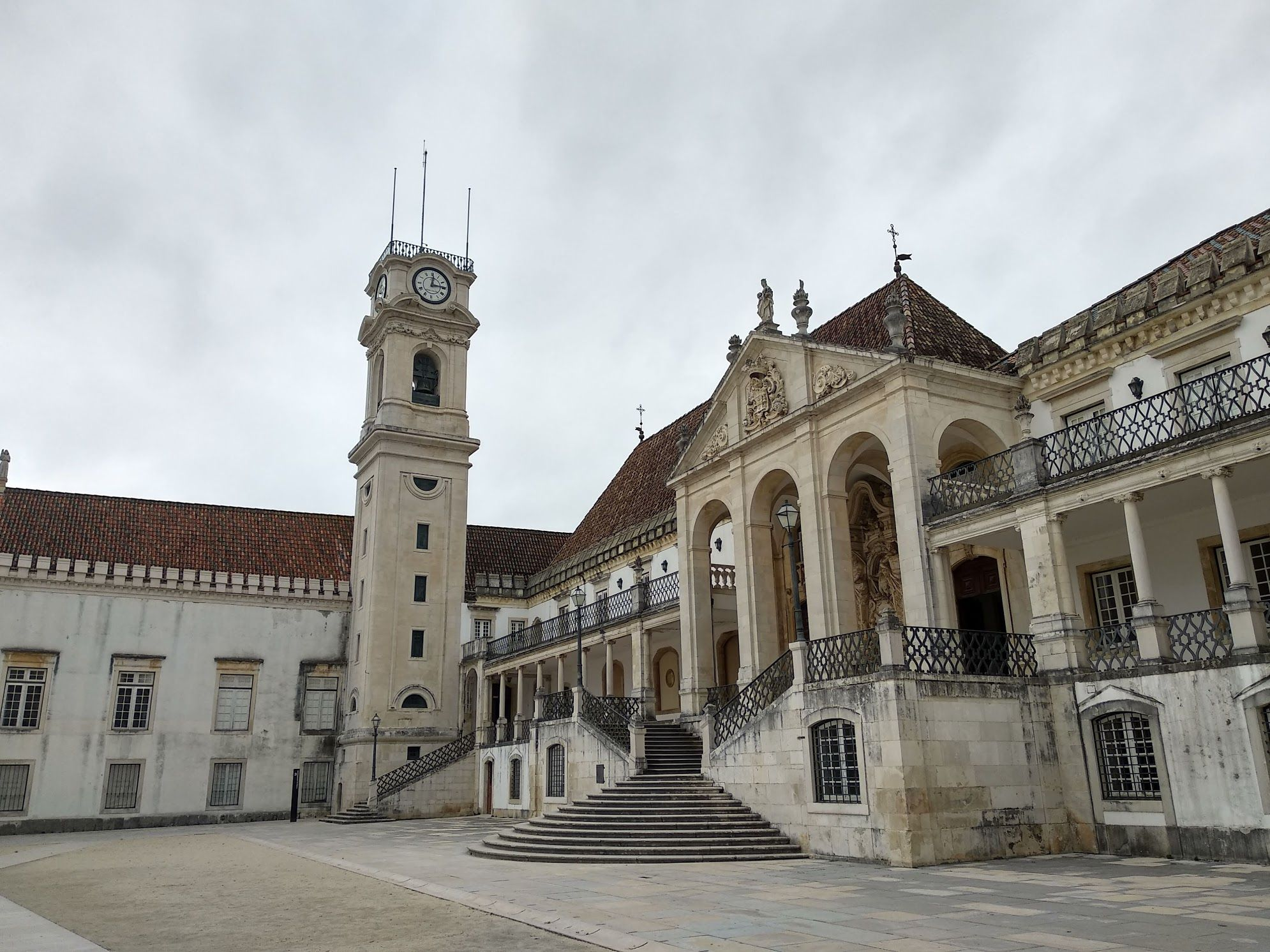 To go inside the buildings, you have to buy a ticket. It's definitely worth it. Our first stop was the medieval academic prison. It's disused now (obviously!) but I do wonder if would have studied harder if I had had the threat of incarceration hanging over me! I would certainly have gone to more of my 9am lectures. We also visited the showpiece of the university, their library.
A big deal is made of Liveria Lello, the Porto bookshop which was allegedly an inspiration for JK Rowling when she was writing the Harry Pottern novels. Let's just say I wouldn't be surprised if she had paid a visit or two to Coimbra university library either.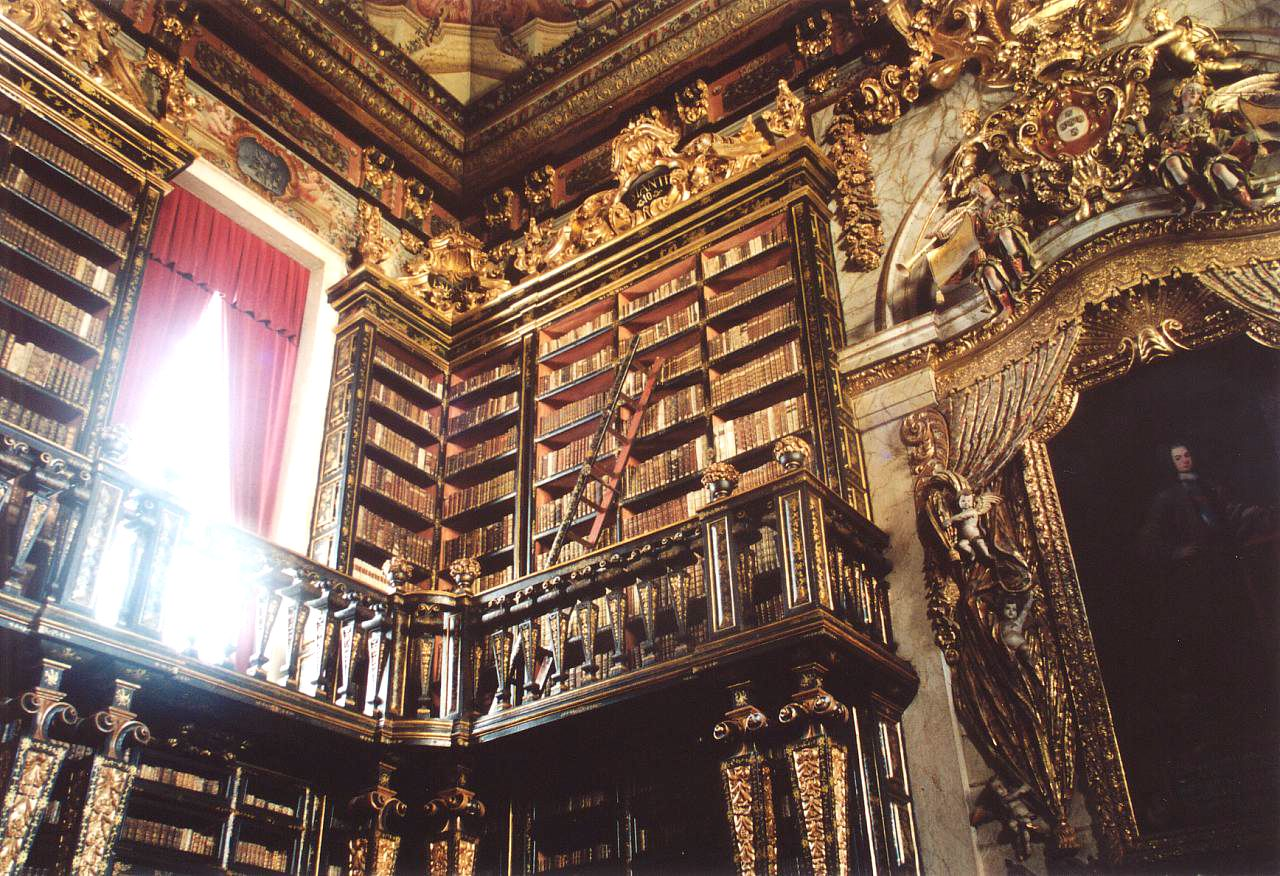 It was astonishingly ornate. What isn't visible in the photo is the ornately painted ceilings, the think dark red carpet, the ornately carved wooden tables, or  just how tall and dark the room was. We were lucky enough to enter when there was nobody else there, and it was quite a magical moment. Once we had picked up our own jaws from the floor, it was also rather fun watching other peoples' amazement as they entered the room for the first time.
We toured the other university buildings, like the academic hall and chapel, but after ridiculousness that was the library, I found them much less interesting, then we wandered around the city for a while until it was time for dinner. Near the riverside there is a warren of back streets called the "Baixa", which felt gloriously authentic - full of old men hanging out in little restaurants.
We ate in a little restaurant near our guesthouse. We were the only customers, but the food was tasty. As the lady running the place put it, "Coimbra isn't like Porto, it's not busy."
The next day, after breakfast in bed (seriously, what a great guesthouse), we made our way down the hill and crossed the river to investigate the Convent of Santa Clara a Velha. This 14th century convent was eventually abandoned because it regularly flooded by the river, and up until recently the only way to access it was by boat.
We didn't bring a kayak, but fortunately there has been some work done to drain the ruins and it's now possible to walk around inside it again. Even though we were suffering from serious church fatigue, we enjoyed wandering around the old church.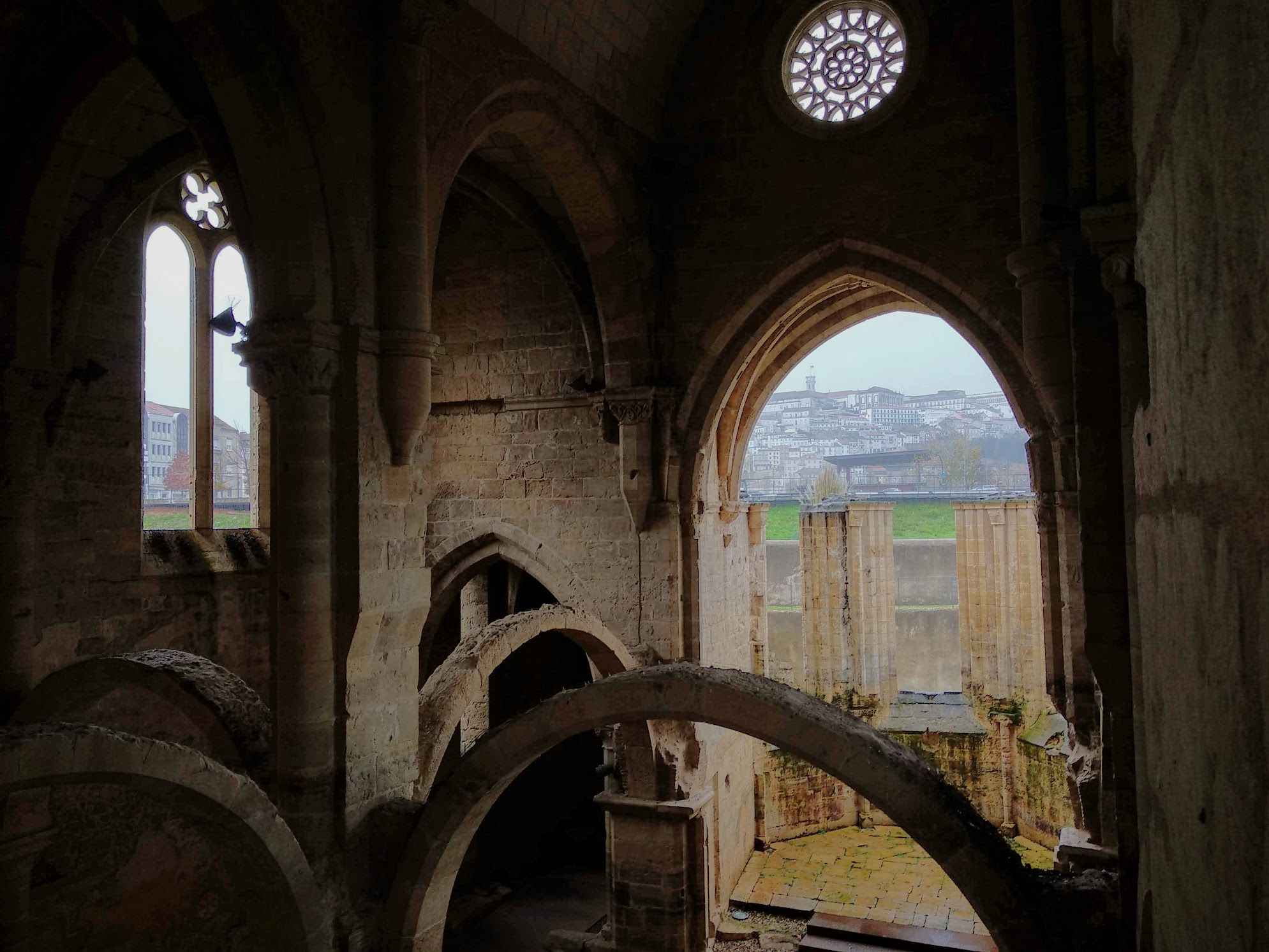 Then, after another hearty lunch, it was time to depart. I couldn't help but feel slightly jealous of the students who live in Coimbra. As we headed back towards the train station, we saw a group of people setting up a speaker in the main square. Reggaeton blasted out and they all coupled up and started doing a very sexy dance which looked rather like bachata. It's a place that we visited for the university, but we found the charm of the place is in it's buzzy streets.