France
Dunkirk and its Carnival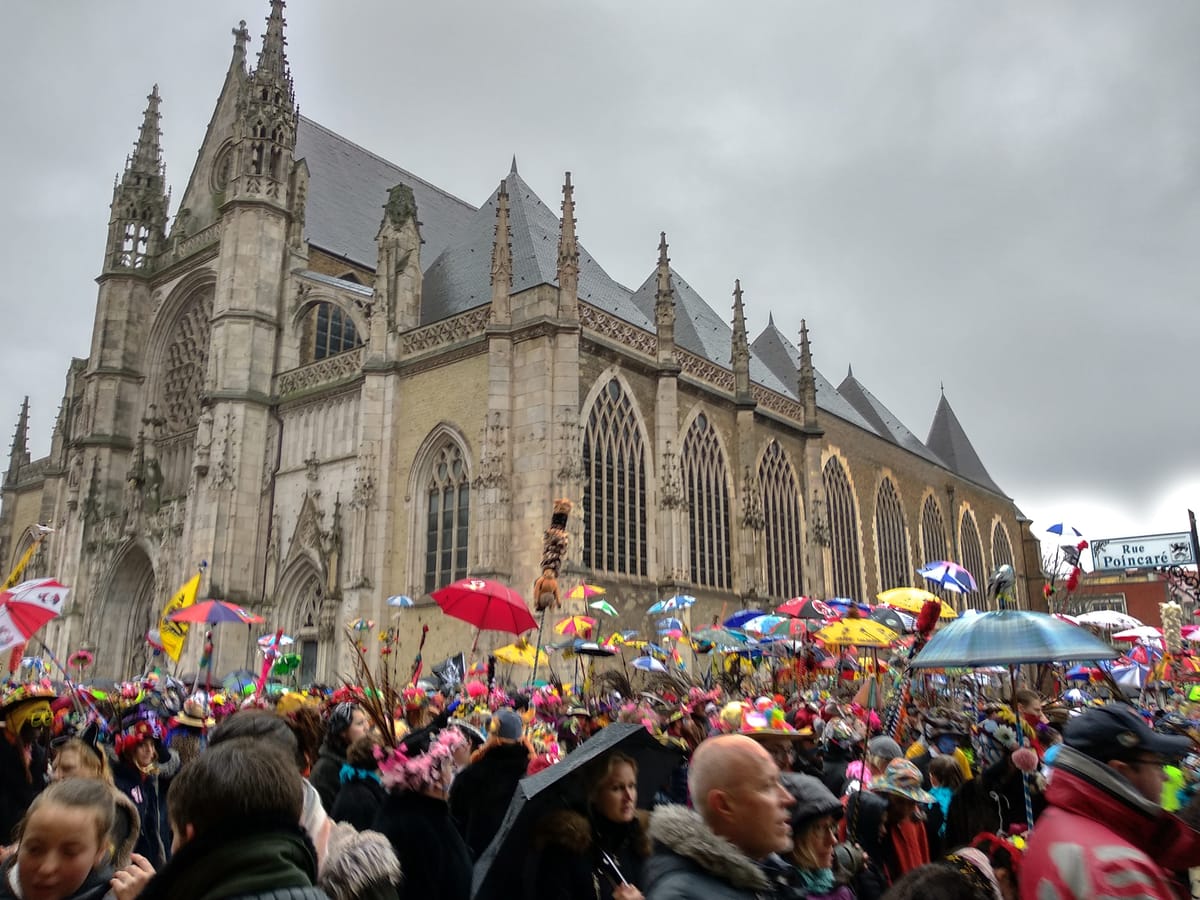 Dunkirk is a very famous town if you're British, because of the evacuation of almost 400,000 British, French and Belgium troops from there in World War Two. I studied it in school, and so I was very keen to go and see it, much to the surprise of Nicolas. Dunkirk doesn't have a good reputation as an interesting place to visit in France. He heard it is ugly and there's nothing to do there. We debated visiting for a few weeks and went on day trips elsewhere in the meantime. However, once we realized we were going to be in Lille on Dunkirk's weirdest weekend, we decided we should check it out.
That weekend is Carnival. Dunkirk has one of the biggest Mardi Gras celebrations in France. Dunkirk is only 35 minutes by high speed train from Lille, or one hour if there are no high speed trains. We took an early train because we thought it would be busy. It was almost empty. The sky was grey as we sped through endless flat fields towards the coast. It started to drizzle, then to rain in earnest. I started to wonder if I had booked the wrong weekend and it wasn't Carnival after all.
We were slightly reassured about that when we alighted onto the platform. Several bizarrely dressed revelers came out of the other carriages. They wore facepaint, flowery hats and jackets covered in badges, and carried tiny umbrellas attached to long poles. They seemed very excited about the day ahead.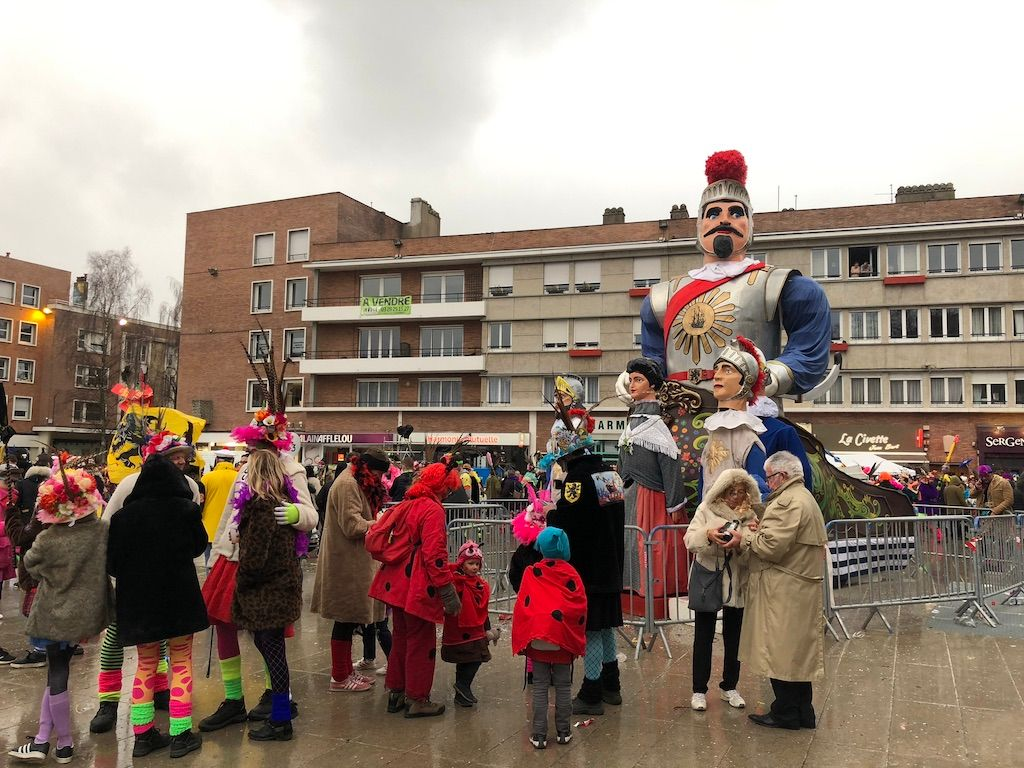 We followed the costumes into the town centre. Seventy percent of Dunkirk was bombed during the war, and then in was mostly rebuilt in the fifties and sixties. You can tell. There is no denying that it's ugly. Unlike the charming stone market towns elsewhere in the region, town centre is filled with mid-rise concrete apartment blocks. The town square has a particularly ugly tower block plonked in one corner. Unimpressed, with what we had seen so far we hunted for breakfast, then decided to head to the beaches and the museum about the evacuations, a mere twenty minute walk from the town centre.
It wasn't a pleasant stroll. The rain increased and the wind picked up. Our umbrellas blew inside out and our feet were sodden.We walked past bars full of merry costumed dunkirkians, seeming immune to the weather. We decided they were probably used to it. We talked about sunny days on the beach in Barcelona.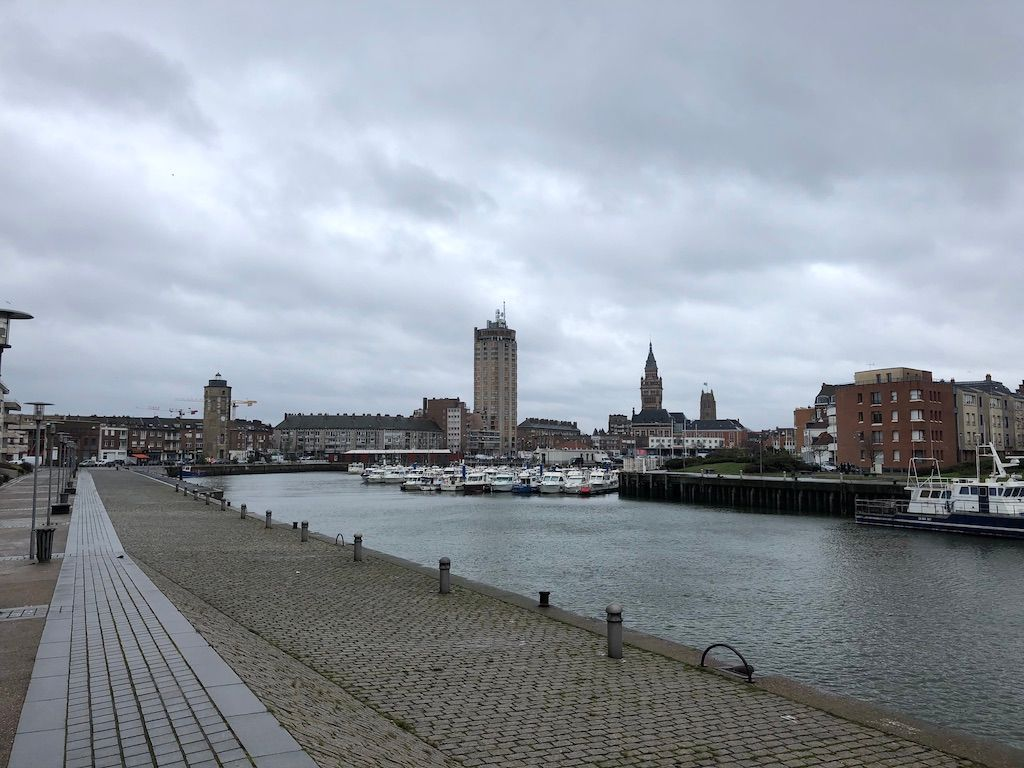 After what seemed like an age, but was probably closer to half an hour, we arrived near the sand dunes where we thought the museum should be. It wasn't there. There were no signs for it at all. It was blowing a gale and we wanted nothing more than to spend a couple of hours somewhere dry. Eventually, we went into an Arts centre by the beach and asked. To our dismay they told us the museum was under renovation and closed. We probably should have checked that in advance.
Well at least they couldn't close the beaches, we reasoned, wrapping our scarves up even more tightly as we ventured onto the sand. I'm confident that in nice weather Dunkirk's beach is a nice place. In the rain and wind though, it was less inviting. A huge flat expanse of sand went up the coast as far as the eye could see, into the murky grey. The sand and dunes were worn by the wind, and the near end of the beach was full of building work. We understood why the troops were so desperate to be evacuated from this place!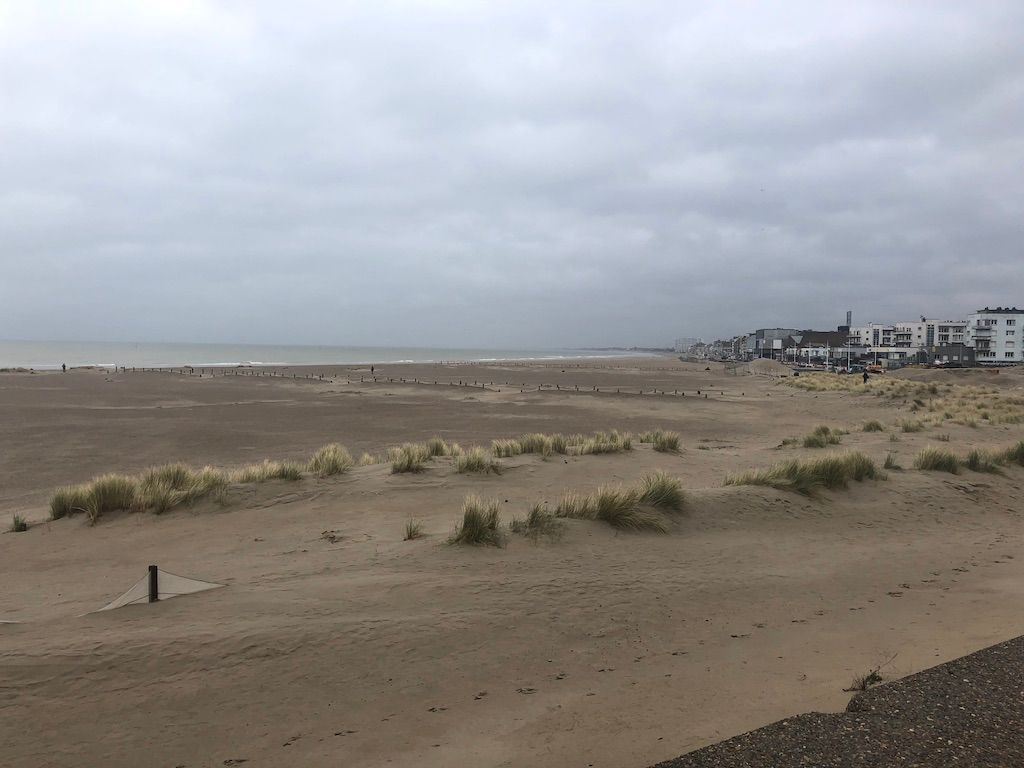 We beat a hasty retreat into the nearest warm building. That would be the Museum of Contemporarie Art. I'm not a huge fan of contemporary art. Mostly I just don't get it, but as modern galleries go, this one wasn't bad. It was in an unusual tiled building and was free because it was a Sunday.
After we had warmed up a bit and the rain had stopped, we set off back into the town centre for lunch. The whole place was bouncing at this point. All the bars had erected gazebos and had swarms of fully costumed party-goers buzzing around them.  My #1 Dunkirk carnival tip is to book a restaurant for lunch in advance. We didn't, and we didn't fancy waffles or chips from one of the food trucks because we wanted to be inside. Naturally every single restaurant was fully booked. It's probably their busiest weekend of the year.
Eventually we found a place a little out of the centre who squeezed us in. We were given carnival hats and happily sat in the warmth sipping on our beers. The owners were jovial and delighted when they discovered we had come to check out the carnival. They even gave us hats so we looked more festive.
Feeling much more cheery, after lunch, determined to get our culture fix, we visited into the Dunkirk Port Museum. This old warehouse is three stories all about the history of Dunkirk. It was excellent. Did you know Dunkirk used to be owned by the Spanish? And the British? And that at one point it was the third largest port in France.
It was amazing to see old plans of the town, which was once heavily fortified and now of course is gone forever. Dunkirk was involved in fishing, in trading with England, in the slave trade. Seven years before WWII, the town had finished a huge expansion to its harbour, but then it was so heavily bombed during the war that the allies didn't even bother taking it back from the Germans until after they won.
The museum also explained why the carnival is such a huge even for the town. It dates back to the 17th century, when France had an agreement with Denmark, who owned Iceland at the time, which allowed them to go and fish for cod in Icelandic waters. Fishermen would go for six months on this perilous trip and return with barrels of salted cod to feed the nation. Some never came back. The night before they left, ship owners laid on a feast for the fisherman and their families and friends, and the whole town gave them a roaring sendoff.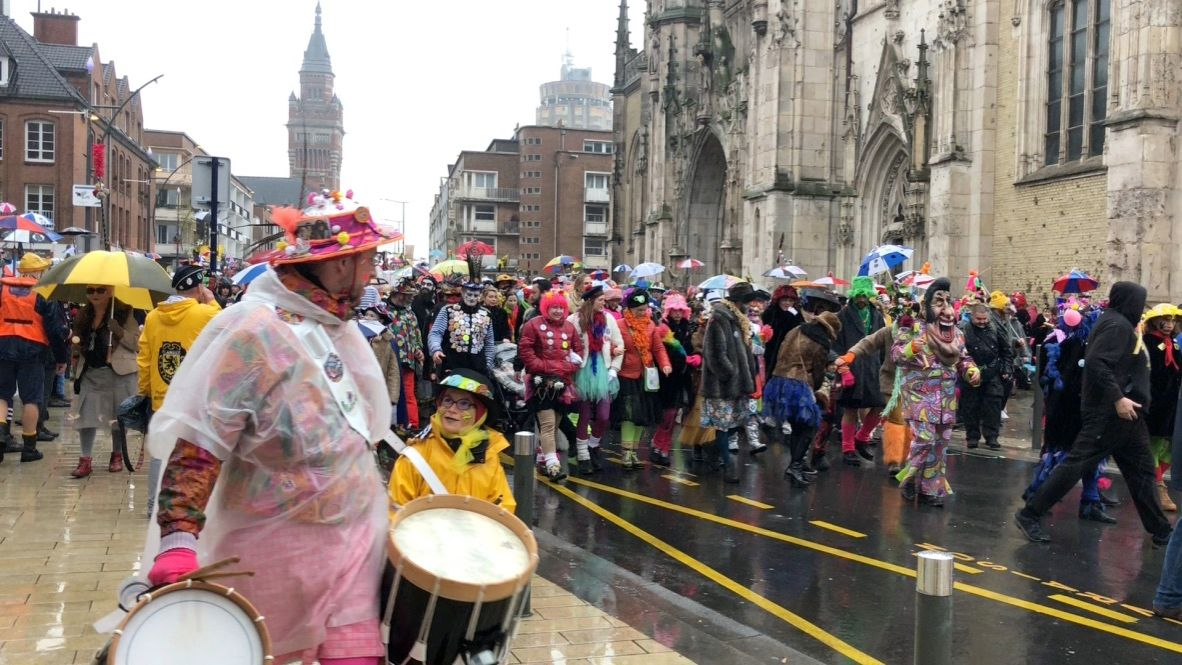 Having stocked up on Dunkirk's history, it was time to join the carnival. We headed back out the streets, now a press of thousands of revelers, drummers, drunks, and the occasional confused onlooker, and followed them into the town square. Here everybody faced the town hall and started to shout at the empty upstairs balcony, for herring! Sure enough, the mayor appeared and started throwing smoked herring to the crowd, who fought over them like they were €50 notes. And kept throwing them. Apparently every year 450kg of herring are thrown into the waiting crowd.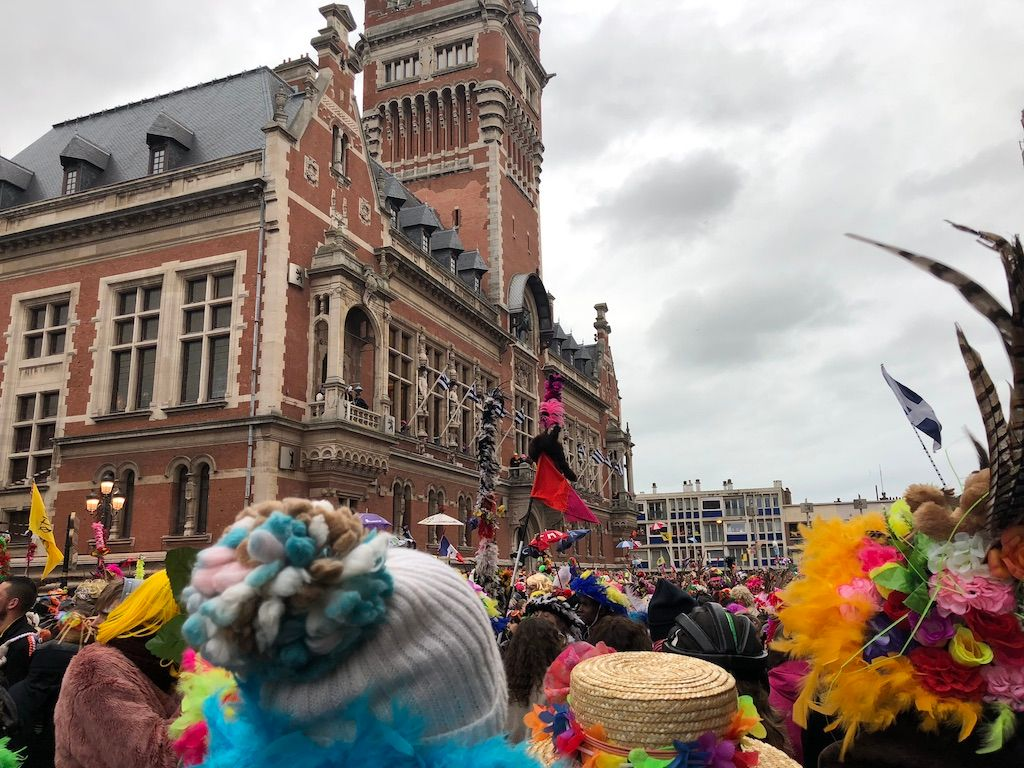 In case you're curious, they are individually wrapped, so you don't get covered in bits of smoked fish. Watching a city official lob plastic wrapped fish of the town hall balcony isn't something you see every day.  Naturally we looked up the origin of this particular tradition. There aren't many details available, but when Nicolas eventually found an article in French, we realised why. The tradition has only been around since the 1960s. Other local towns have a similar tradition of throwing stuff off the balcony during carnival, so Dunkirk decided to implement its own fish throwing tradition. Clearly it was a roaring success!