Portugal
Lisbon for Smartphone Addicts
Who says social media ruins the travel experience?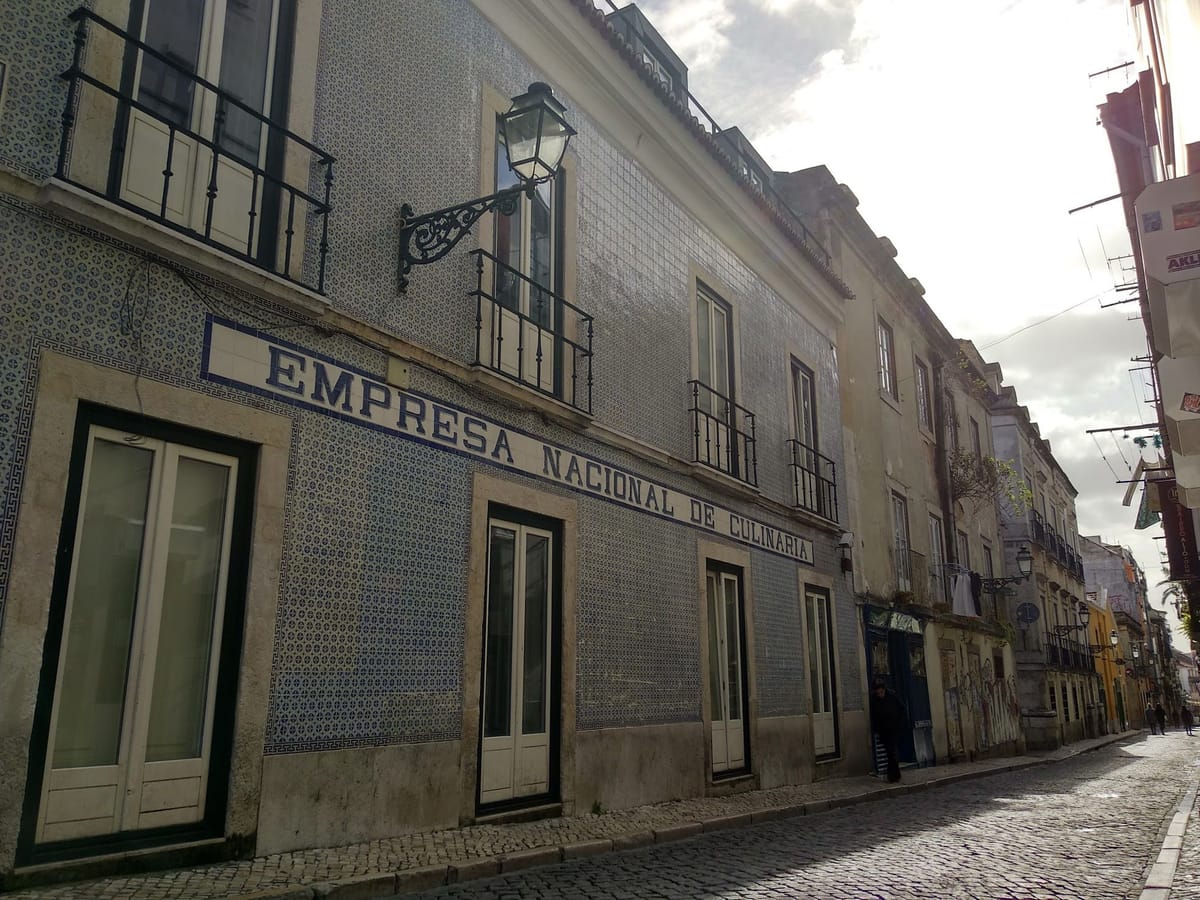 My friends and I aren't the Youtube generation. We are far more likely to find food places on Instagram, so I'm not sure why Sarah decided to search for restaurants on Youtube when we were in Lisbon. Still, after ten minutes of drooling over Mark Wein's snappily titled "Best Portuguese Food - GIANT TIGER PRAWNS and Seafood at Cervejaria Ramiro in Lisbon, Portugal!", we knew that no other restaurant could possibly live up to our dinner expectations. We booked a taxi to the place immediately.
Cervejaria Ramiro is the kind of the place that once upon a time must have been a local treasure, but actually is now mostly filled with tourists, us included. That's not to say there were no locals in the restaurant - we were sat next to an old man savouring a whisky and watching the football who looked like he had been there every Sunday night for the last twenty years.
Unsurprisingly, we ordered a lot of the same food Mark gets in the video, including the cold crab, giant tiger prawns, clam stew and garlic prawns. It was some of the best seafood I have ever eaten. Juicy, garlicky and washed down well with a bottle of Vinho Verde. We were stuffed, but still made room for a steak sandwich "desert", done to perfection and slathered in mustard. We left the place delighted with our life choices. Who said watching YouTube Videos was a giant waste of time?
The following day was our final day in Lisbon and the first day it wasn't raining. We decided to skip Belém because the monastery is closed on Mondays and we wanted to see more of the centre of Lisbon.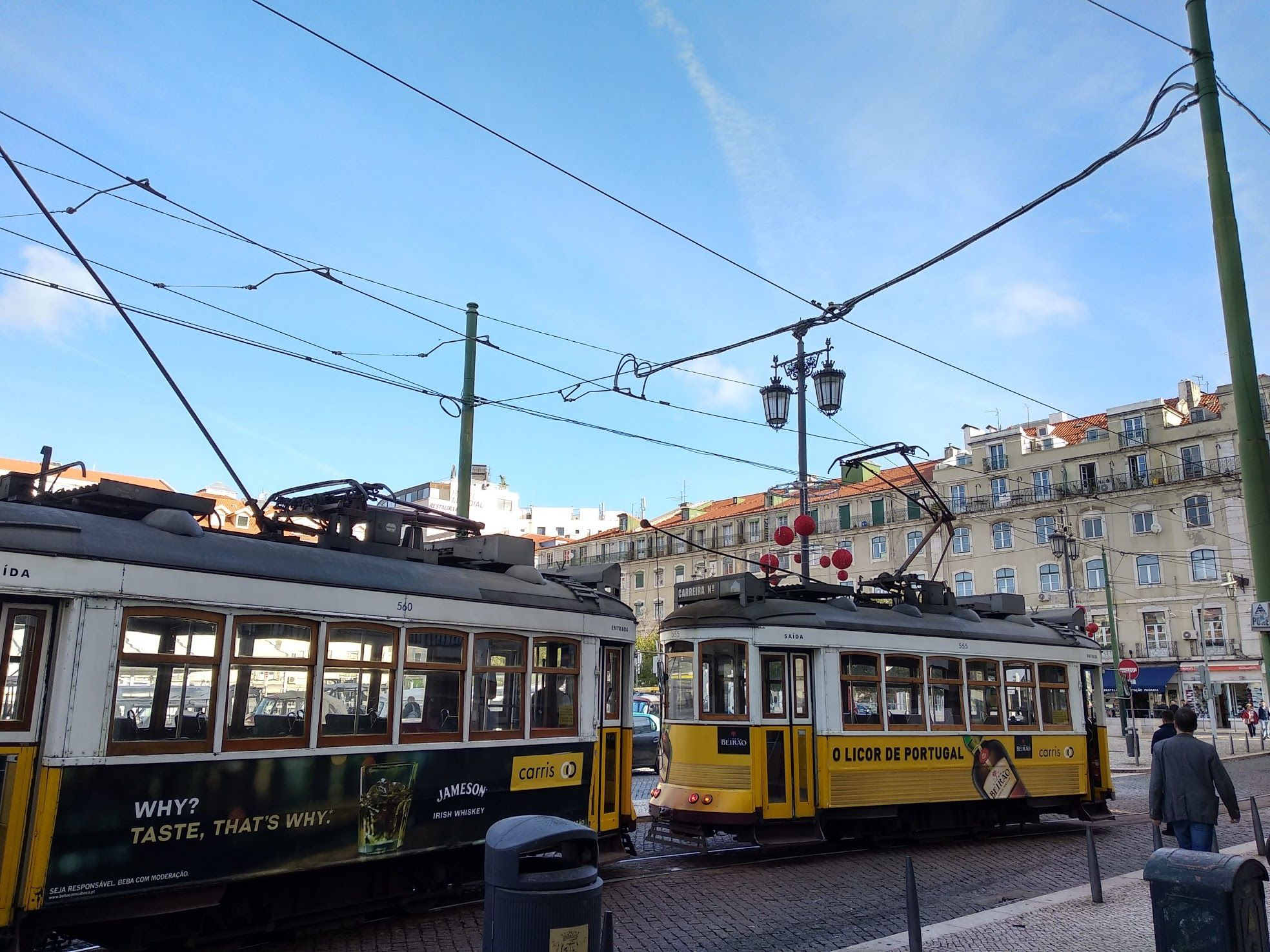 That left a small but perfectly formed Pastel de Nata-sized hole in our breakfast plans. My guidebook suggested a bakery called Manteigaria as a less famous but equally delicious alternative, just a few minutes from our hotel. The shop was long and narrow and smelt of cinnamon, and once we were inside it was clear why. The back of the shop is a nata bakery, and you can watch them make the pastries by hand from behind a glass screen as you gobble down the ones they made earlier with a coffee. I cannot say if it is as good as the ones in Belém, but it is the best we have tried (and we have eaten a lot in Porto). The pastry was crunchy and buttery as you bit into it, and the filling was so soft it felt like it might turn into goo at any moment.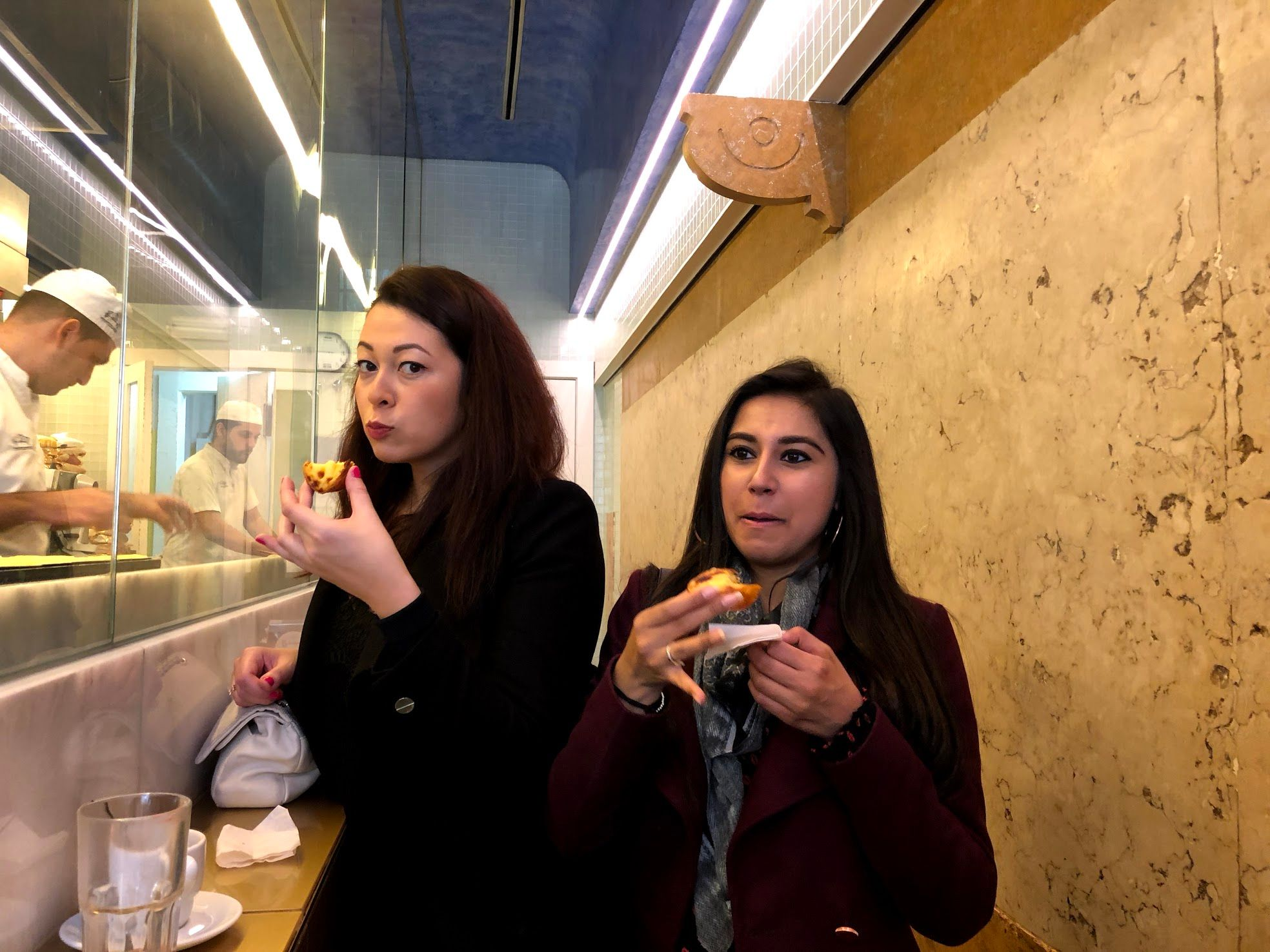 Nata eaten, it was time to do some serious sightseeing. On a trip to Rome last year we had discovered Rick Steves Audio Tour podcasts, and we were excited for the Lisbon one. They are really fun to do as a group because you can go at your own pace, take breaks if you want to, and it's nice not to be traipsing round as part of a big tour group. Also, if you all hit play and pause at the same time you can unnerve other people by all moving in sync without speaking, like zombies.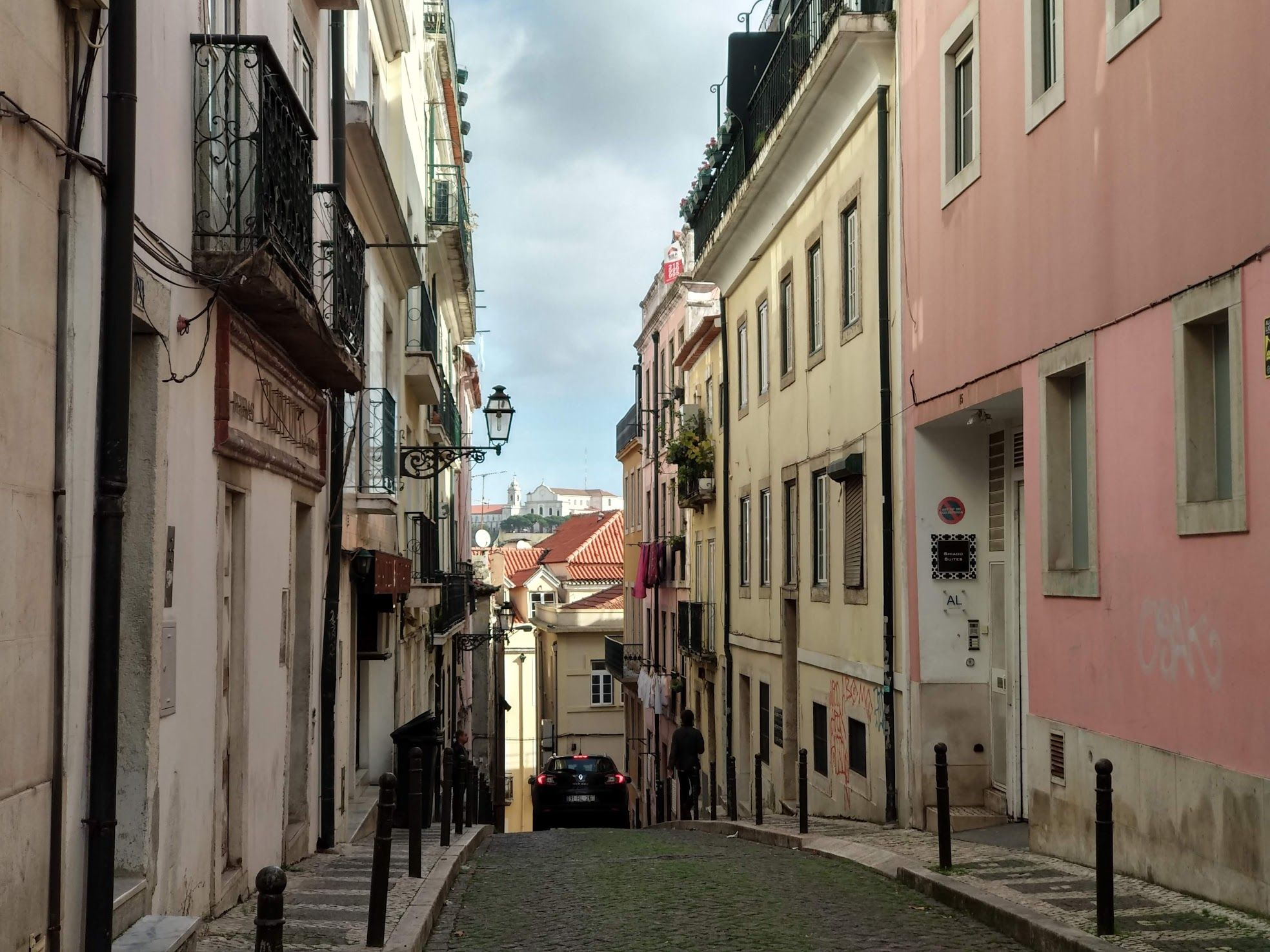 We wandered through the streets listening to the narration. It took us to the Igreja de São Domingos - the church looks fairly plain as Portuguese churches go from the outside, but the interior is starkly different - it was damaged by a fire, and the restoration has left a lot of the damage on display. The result is a cavernous church with grizzled dark columns, quite unlike any other.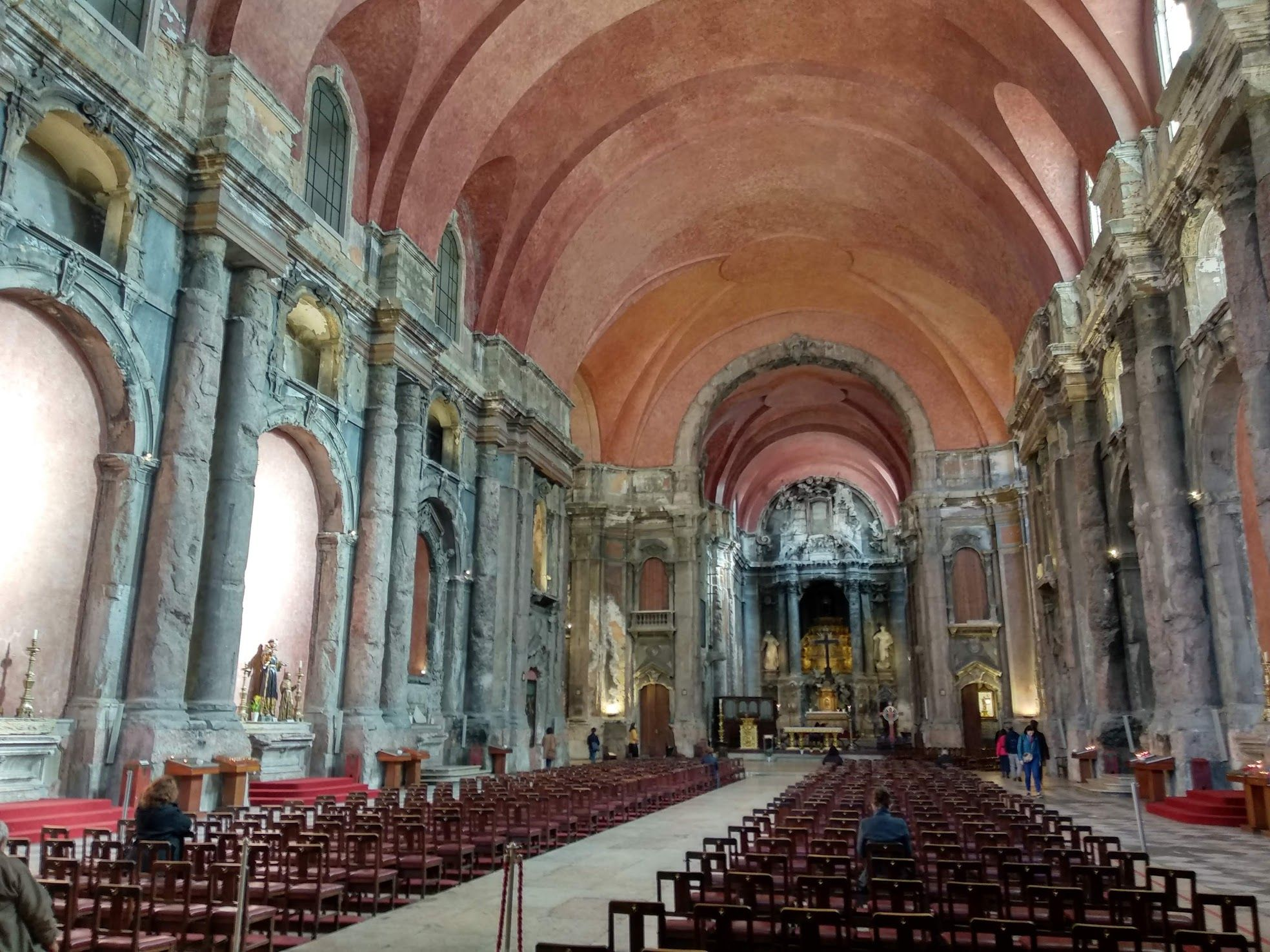 Outside the church was the original ginjinha bar, aptly named "A Ginjinha". Ginjinha is a drink which originated in Lisbon. It is made out of sour cherries and was originally brewed by monks. We poked our heads into the tiny shop and ordered "quatro ginjinha com", which means with the cherries (you can order it "sem" without the fruit). What we got were four shot glasses of a sticky red liquor with cherries in the bottom. It tasted tart but sugary, and reminded me a bit of medicine I had as a child. The cherries themselves were cheek-suckingly sour to eat.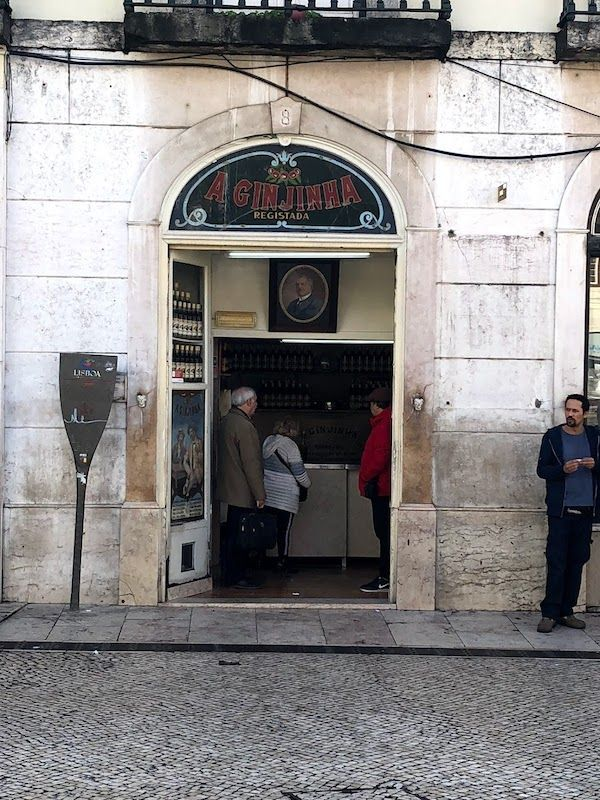 We continued on the rest of the podcast tour, taking a funicular up to the Barrio Alto to see the earthquake-ruined arches of the Convento do Carmo, before Rick said goodbye through our earpods and left us to our own devices. We had done a fair bit of walking and our stomachs were rumbling, so, like all good millennials, we turned to Google to find a restaurant with good reviews. Lisbon is known for having a lot of African cuisine, so we picked a Mozambican restaurant called Cantinho de Aziz that had tasty pictures and headed over there.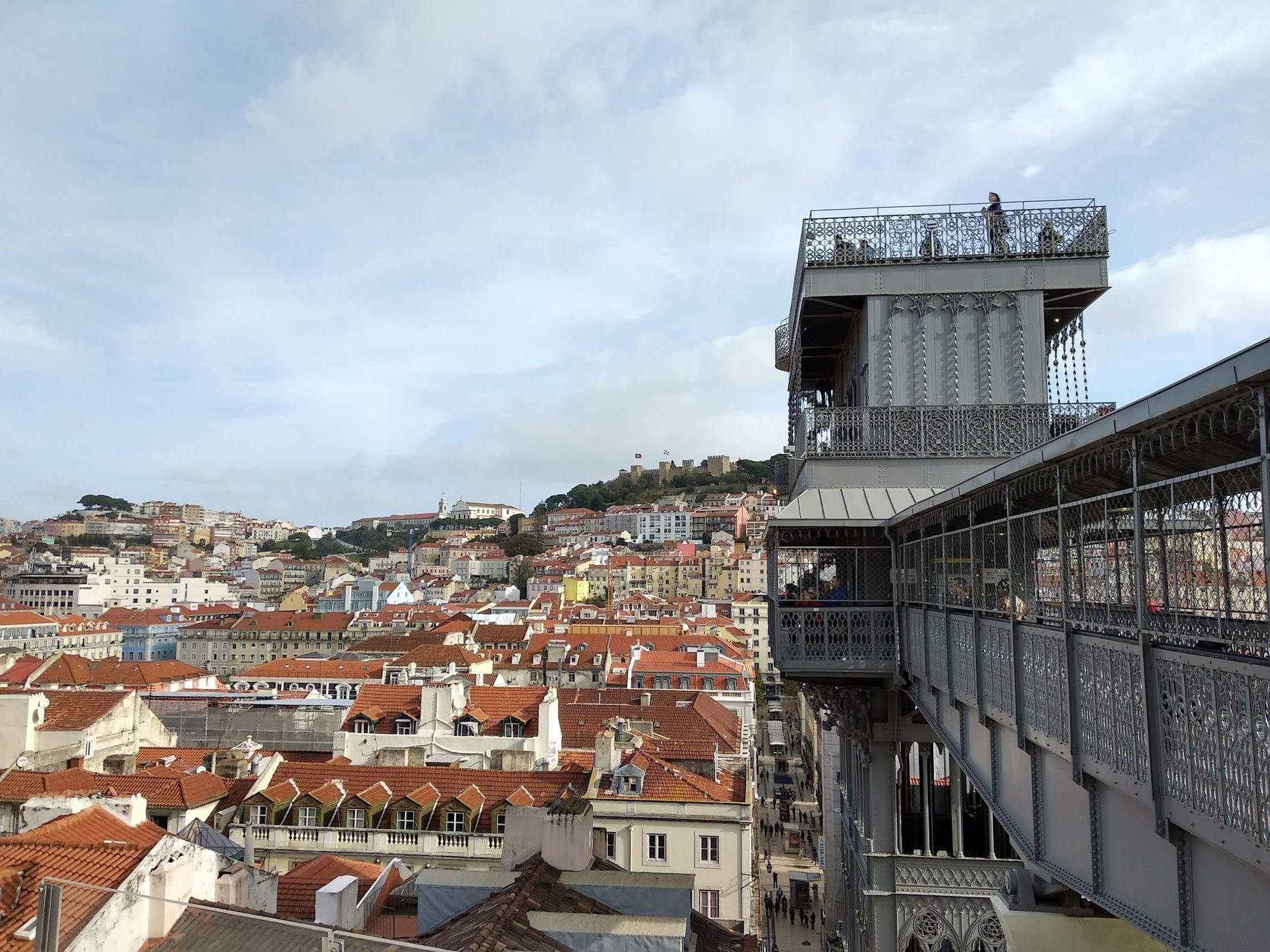 We were a bit underwhelmed when we found the restaurant, just a few shaky tables tucked into a back street and absolutely empty. However, after looking at the menu, we noticed that under one of the dishes it said "YOUTUBE SENSATION BY MARK WEINS: The famous American Blogger visited our restaurant last year and loved this dish, watch the video on YouTube".  
Obviously we were going to get the ribs after seeing that!
They were as tender as Mark declares them in the video, and the chicken in coconut sauce and beef stew we ordered as well were both tasty, well spiced and with unusual flavours.
After lunch, we clambered up hill, through winding alleyways to Lisbon's castle. At first I was skeptical of the €8 entrance fee, but we had hiked up to the top of hill at this point (and Sarah and Nikita had seen that Mark had also visited the castle), so we paid up and went in. It's actually very interesting. It has a 360 degree view of Lisbon, and we spent ages tracing our footsteps from the day and taking selfies.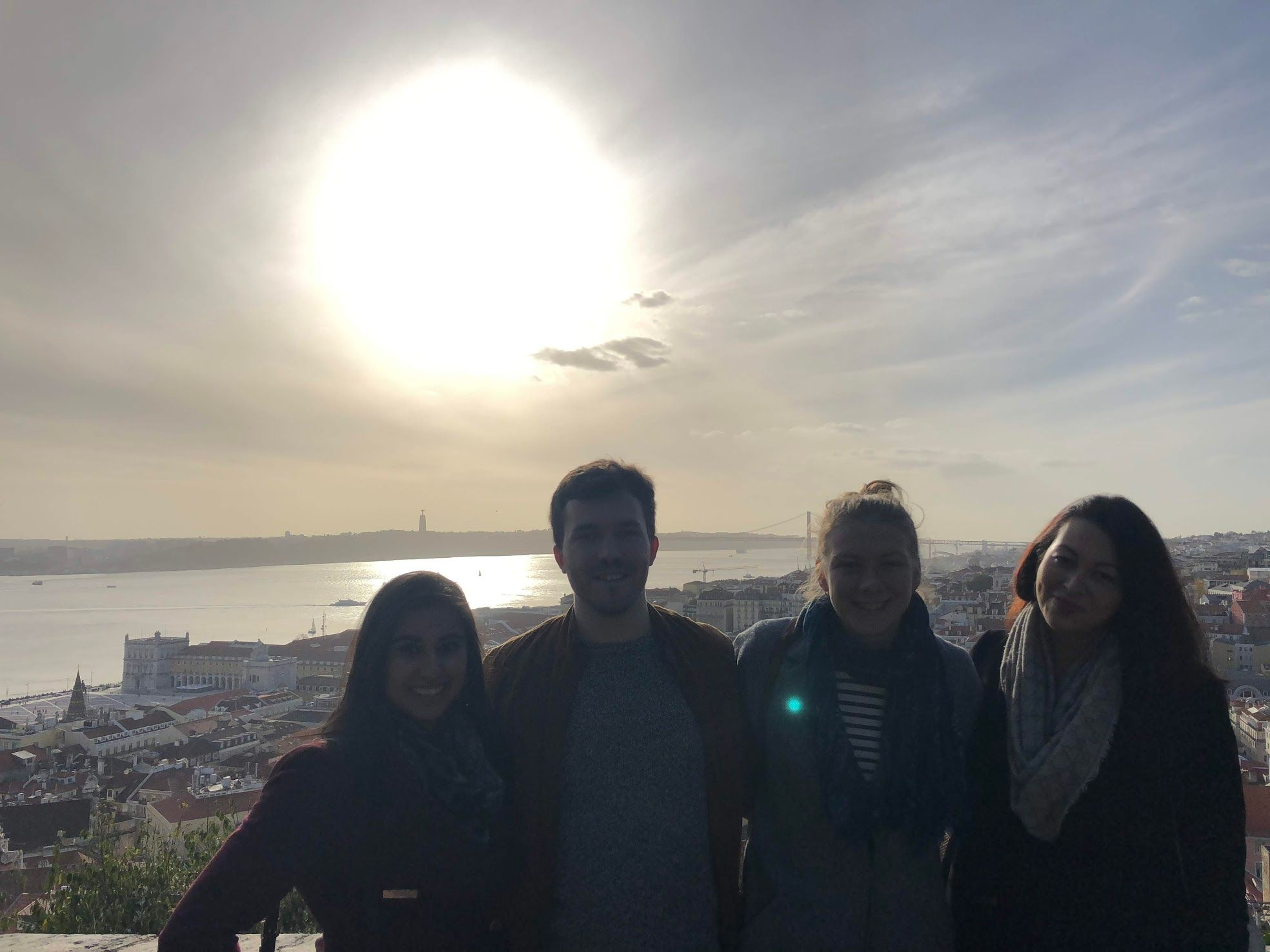 There is also an archeological excavation, and the Walls of the keep are intact and you can walk around on top of them. However, probably the highlight for me was seeing the Camera Obscura. The demonstration of it that we saw was in Portuguese, so the technical details are a bit hazy, but its an elaborate periscope-like system which projects images onto a canvas, which can zoom in on the city. Seeing the river glisten and aeroplanes fly across the city in real time was bizarre.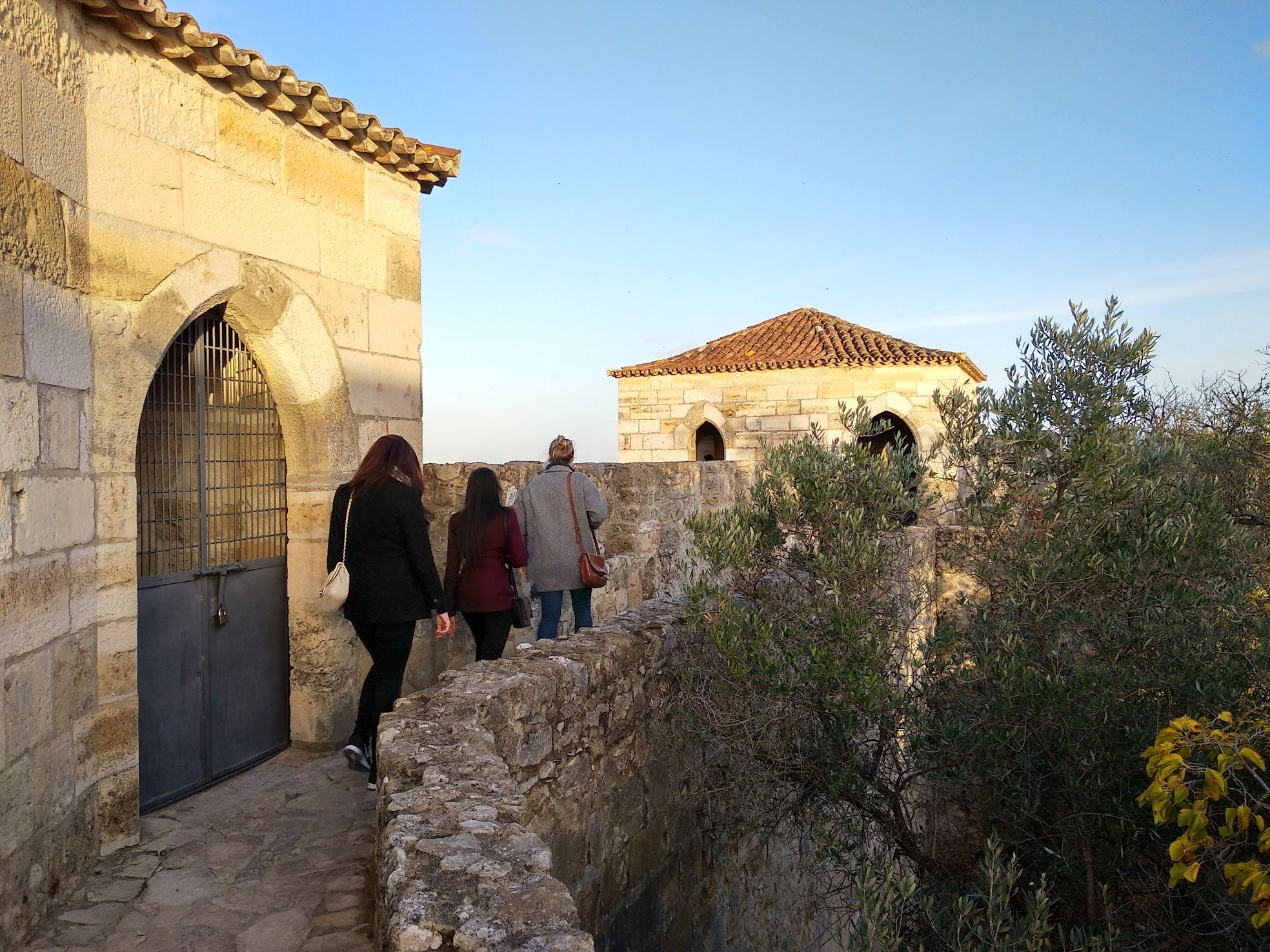 Finally, we had to head down from the hills to catch our train. We weren't hungry, but it takes three hours to get to Porto and train food is not a Portuguese culinary highlight, so we popped into the Timeout Market to grab some dinner. This is a giant gourmet food hall, there are lots of Portuguese and not so Portuguese options on offer. We were not hungry enough to do it justice, but the food I did eat - a Thai tom yum soup and a white chocolate, pecan and raspberry eclair for a train snack,  were as delicious as they sound.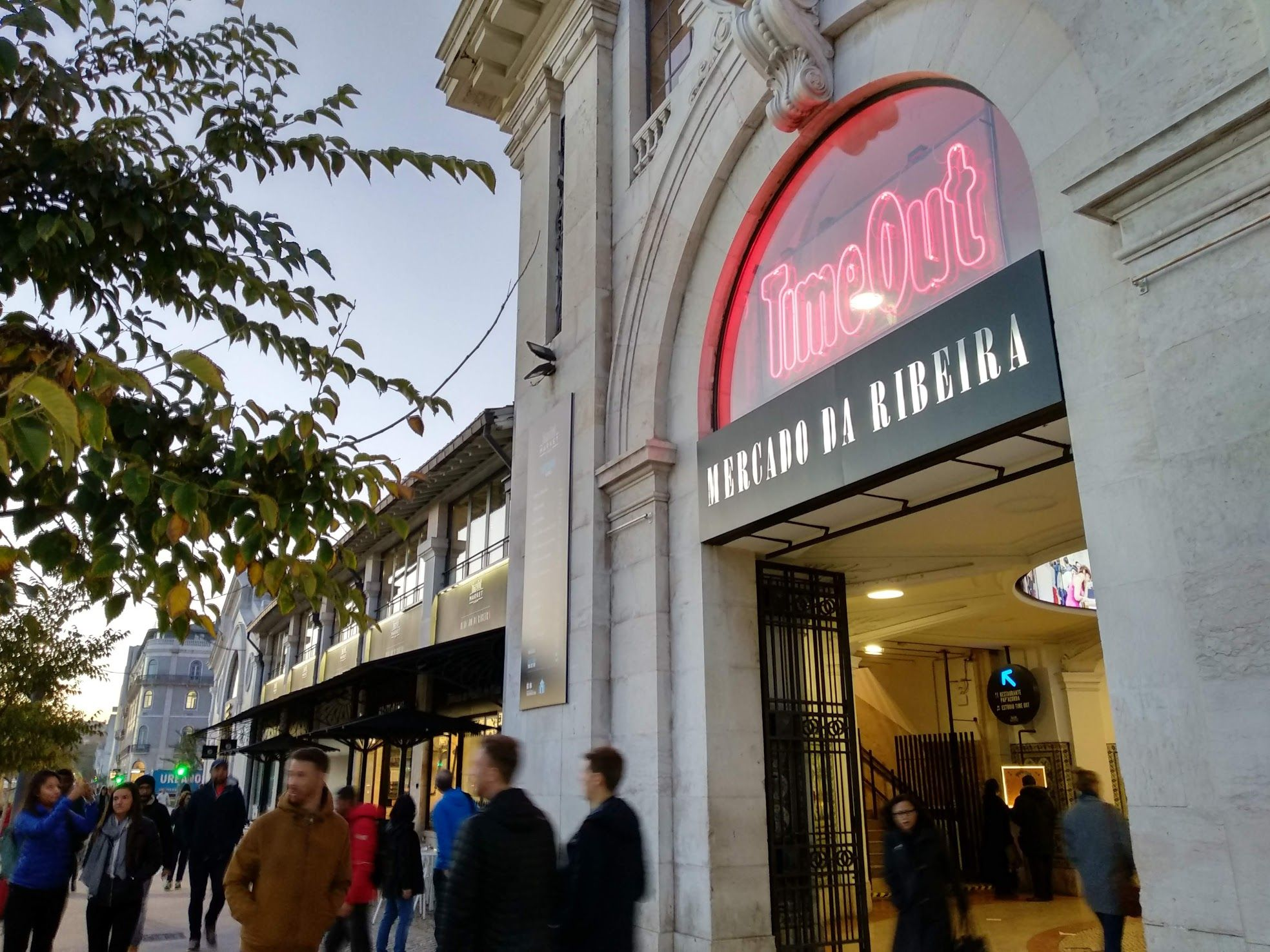 Then it was time to say "tchau" to Lisbon. It had been a short visit, but we had made the most of the day. Although smartphones and social media can often distract you from soaking up the atmosphere in a place, this time we had used them to our advantage!