Morocco
Marrakesh - First time impressions
Marrakesh was like nowhere I had been before. The narrow streets were packed tight on all sides with shops selling juice, petrol, mobile phone covers, live chickens, leather goods, meat carcasses hanging from giant hooks.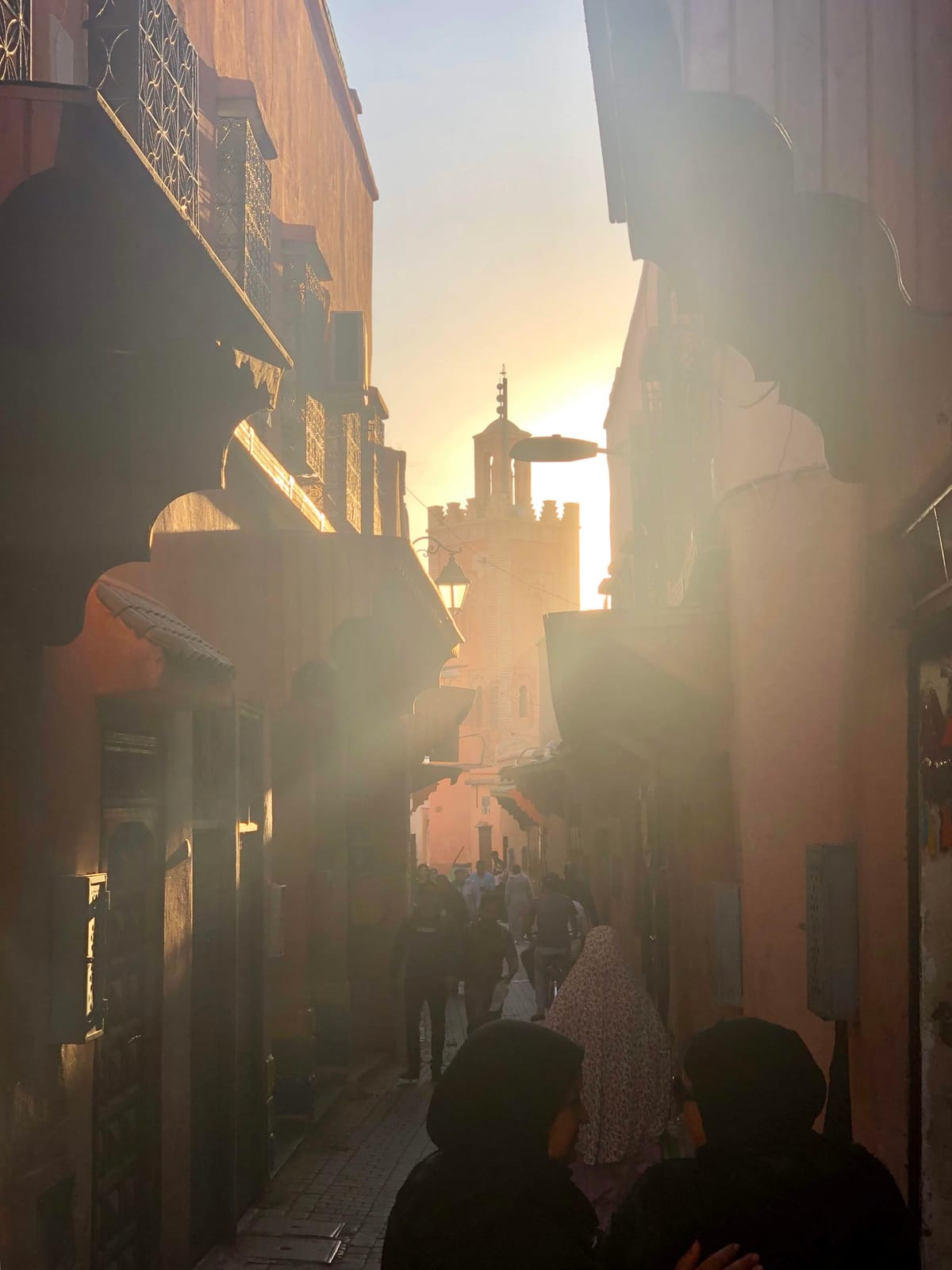 We were sat on the runway, seat-belts fastened, engines humming, next to take off. Suddenly a member of the cabin crew came over the intercom. "We're going to have to go back to the gate. There is a disruptive passenger and he needs to be escorted off the aeroplane."
I turned to Nicolas "You owe me a chicken pie!"
 We had been taking bets on whether we going to be delayed enough for flight compensation. A problem with the plane had lead to an unexpected three hours in the airport, but since the flight time is always exaggerated anyway, Nicolas reckoned we would be under the limit. Luckily for me, this passenger had spent the extra three hours waiting in the airport bar, then started shouting at the cabin crew on the runway. The extra hour we spent waiting for the police to escort him off the aeroplane definitively secured my victory.  
 Still, it was an inauspicious start to our week's holiday in Morocco. The misery continued when we turned up at the riad we had booked, to be informed that they had run out of rooms. The room we were given in a different riad had a lumpy mattress and dirty sheets. I was also convinced it had bed bugs.
 The next day, after a sleepless night, and finally installed in the riad we had booked, we finally hit the streets of Marrakesh. We were staying in the Medina - the maze of streets which make up Marrakesh's old quarter. It was like nowhere I had been before. The narrow streets were packed tight on all sides with shops selling juice, petrol, mobile phone covers, live chickens, leather goods, meat carcasses hanging from giant hooks. Passing along the dusty pavements were women in hijabs buying groceries, shopkeepers shouting loudly in Arabic, dogs, cats, bewildered-looking tourists, couples squeezed onto mopeds putting out noxious fumes and exhausted donkeys pulling carts piled with bricks, fruit and people.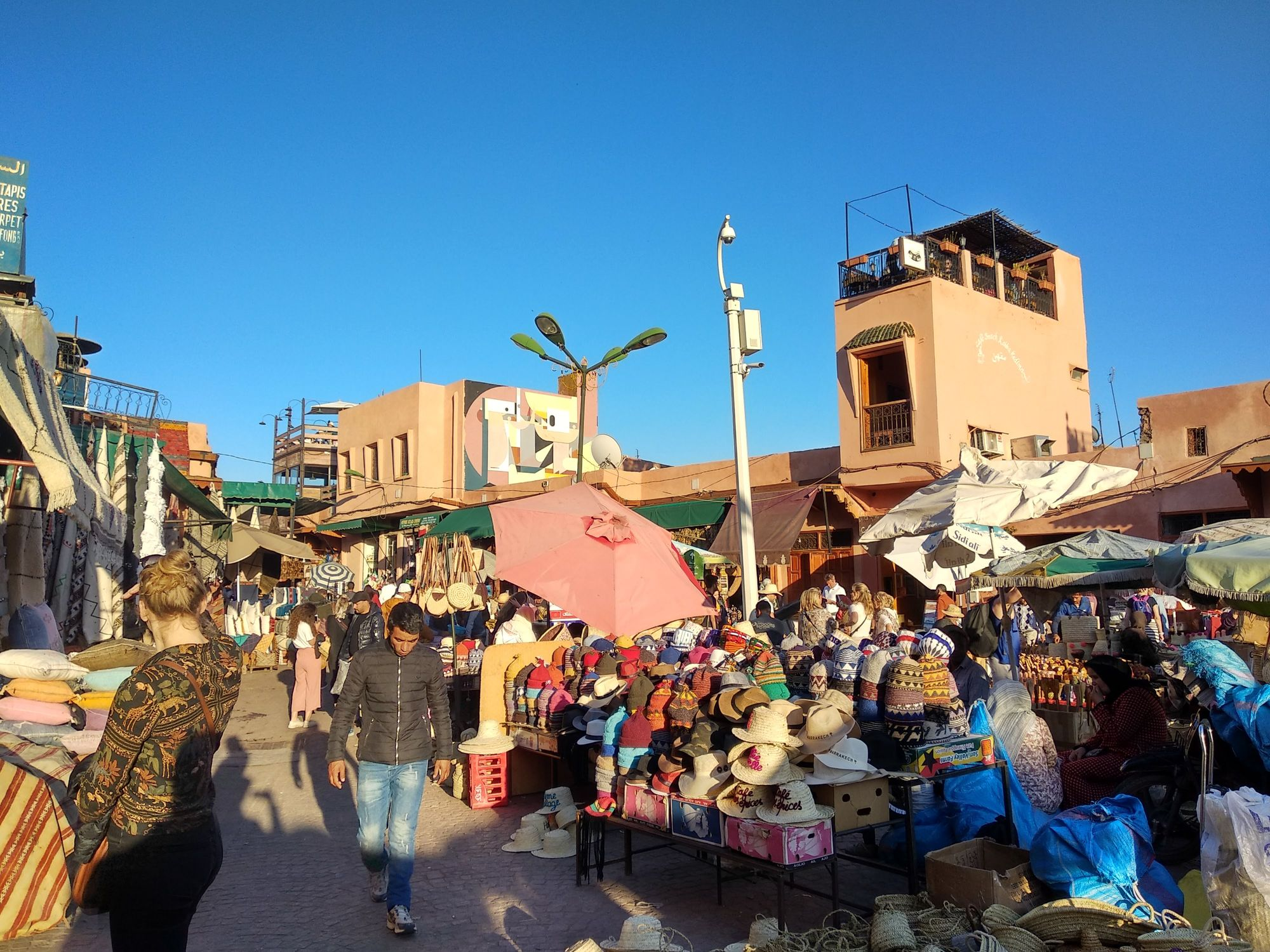 Going deeper into the maze of streets, we came across the souks. These are markets are organised by type. The metal workers' souk sells lamps a genie could pop out of, the leatherworkers' souk is full of beautiful bags and cushions. The shoemakers' souk is has stalls lined with sandals and slippers from floor to ceiling, and the carpet souk has walls of beautiful tapestries. It was sometimes hard to know where one stopped and other started.
 Eventually, following the crowds, we popped out in Djemma El Fna, a giant square in the heart of the Medina, which smells of smoke and roasting meat, and on a night is filled with pop-up restaurants, men with monkeys, snake charmers, women doing henna, fortune tellers, for tourists and locals alike to enjoy.
 However, lets not get too carried away with fantastical visions of Arabian nights. Despite it's many attractions, we found our four days in Marrakesh exhausting because, more than anywhere else I've ever visited, people were constantly trying to scam us. Here are some of the scam highlights of our visit:
The man who told us the Bahia palace was closed for the morning, and instead directed us to the spice market. He then mysteriously appeared later on our route to make sure we went into his "brother's" overpriced spice shop, who promptly served us tea, so we would feel guilted into buying from him.
When we went to the tanneries, a man told us he was the "manager", gave us a ten minute tour, ending in a leather factory, then when we thanked him and gave him a perfectly reasonable tip, he acted disgusted that it wasn't big enough.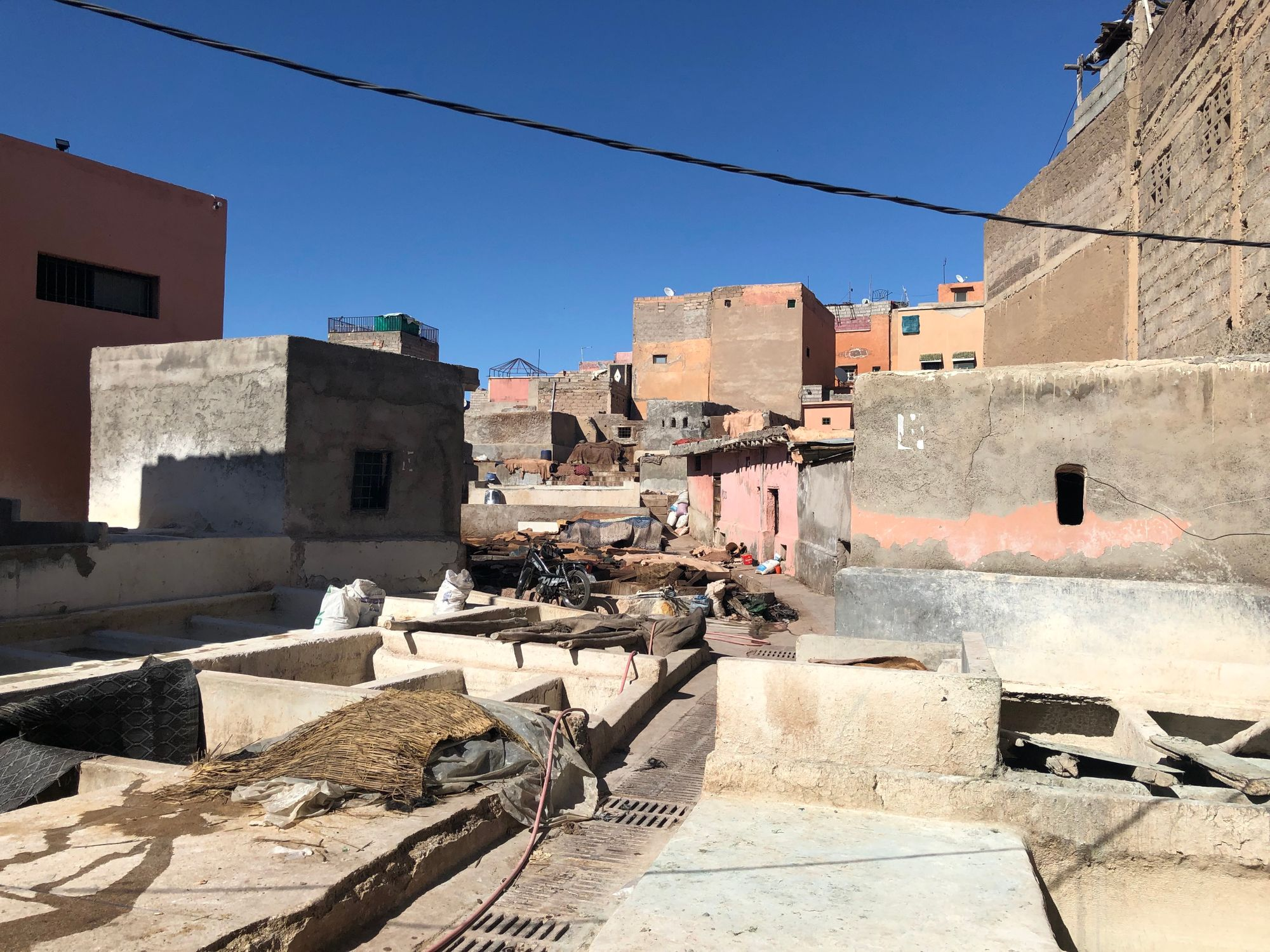 The man who put his monkey on Nicolas' shoulder by surprise, then demanded we take a photo.
Every time we walked down a side streets, we would be told "this street is closed today, let me take you to the square" or "non Muslims can't go here". It was always a lie.
 This is of course on top of the usual tourist touts. We both found it very stressful. But, despite all that, there were some things we really loved about Marrakesh. Here are a few of them.
The Souks and the shopkeepers
 The shopkeepers in the souks are hilarious and spend hours talking to you if you let them. At one point, Nicolas bought a Berber scarf and the shopkeeper invited him inside to show him how to tie it. I went in twenty minutes later to find him still there, trying on Berber necklaces.
Jardin Majorelle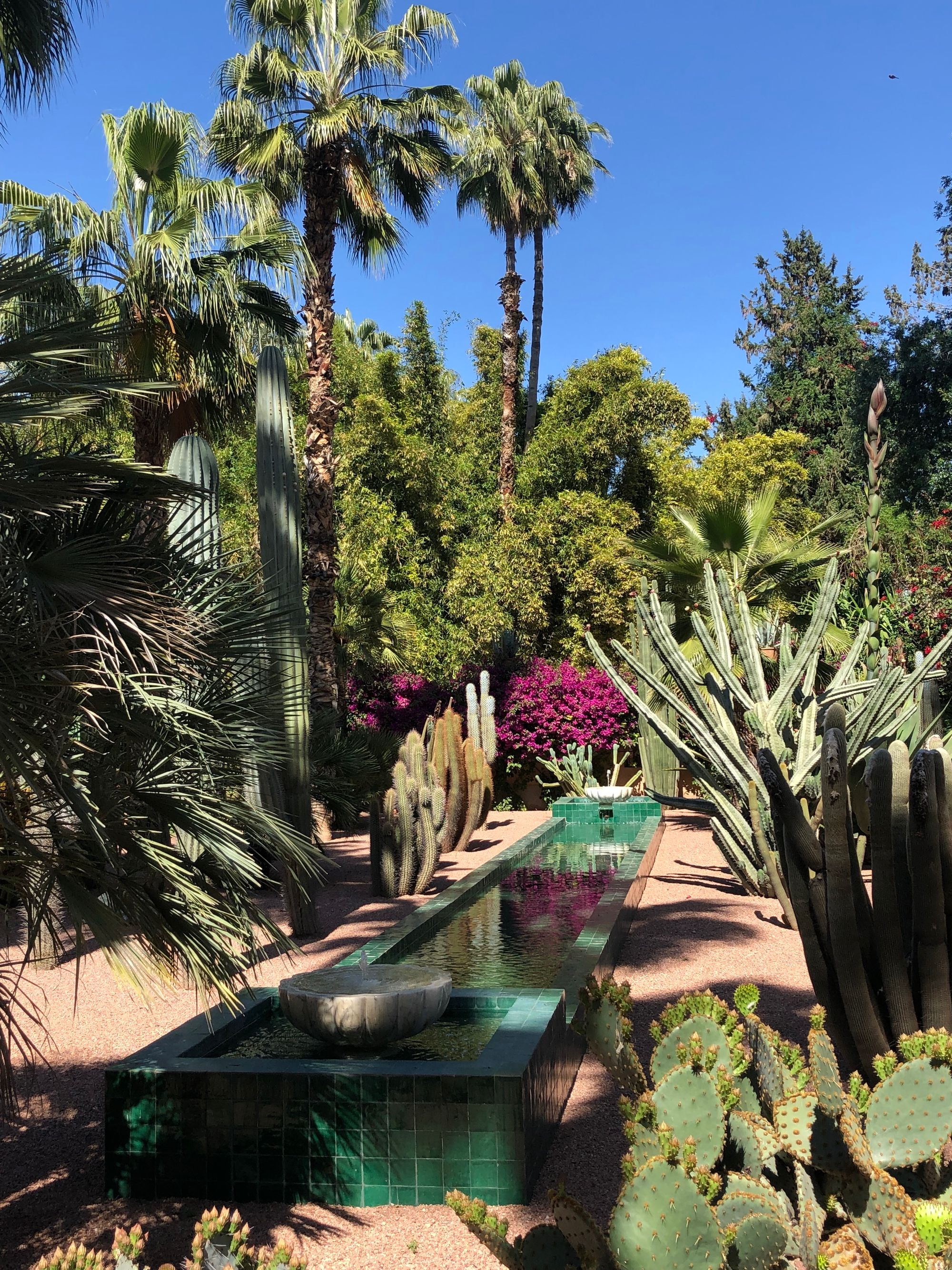 If you've ever seen a picture of Marrakesh on instagram, there is a 99.9999% chance it was taken at the Jardin Majorelle. Restored by Yves Saint Lauren, it is full of dreamy ponds, exotic flowers and giant succulents. It is just beautiful, and, if you can avoid the teeming crowds, nearly impossible to take a bad photo here.
The rooftop bars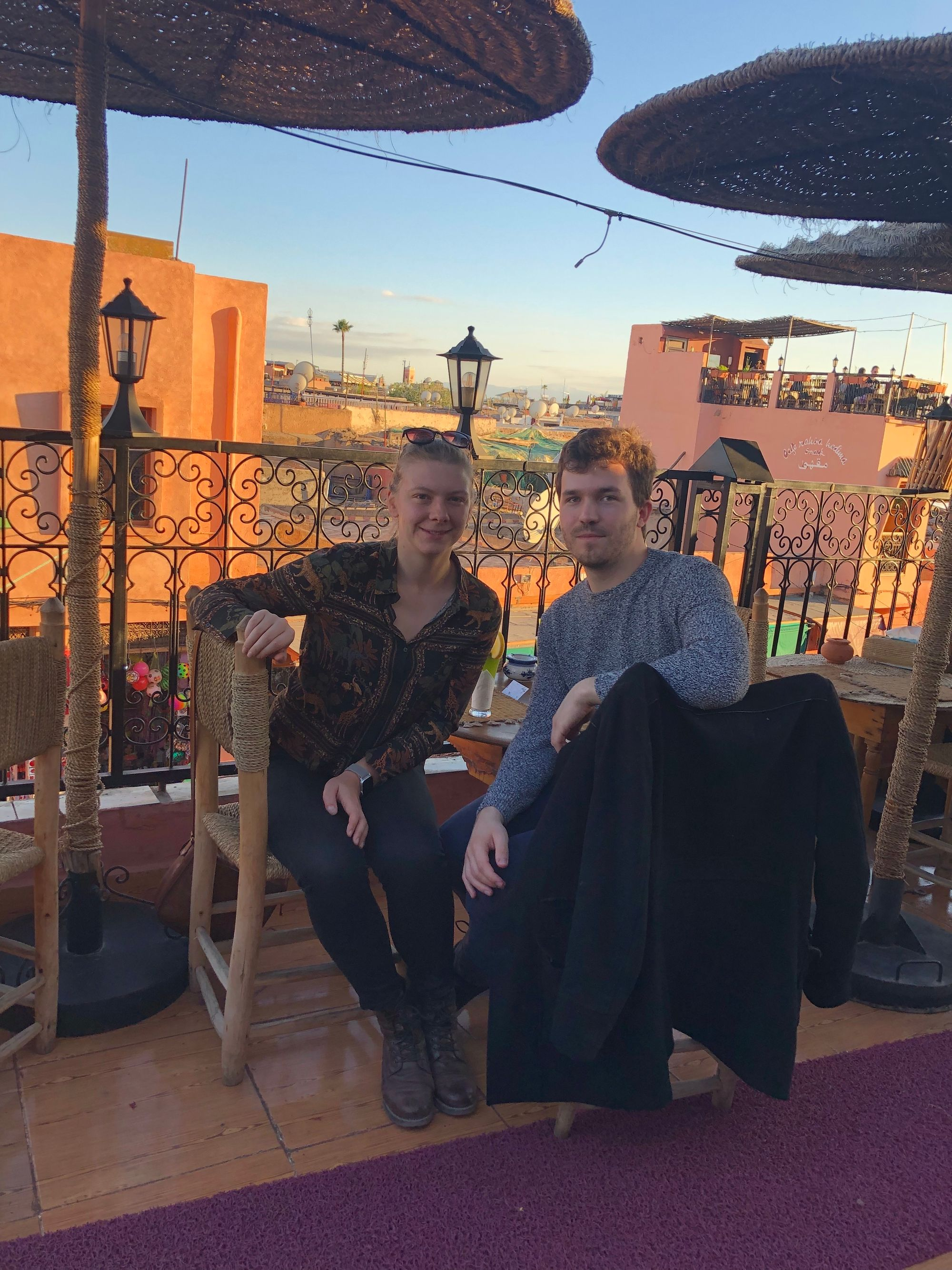 Marrakesh has some serious rooftop bar game. We found ourselves on top of a different building sipping (mostly) virgin mojitos every night, although the chili and pinapple caipahrina I had on the terrace of El Fenn, the Medina's most exclusive riad, was the highlight.
Moroccan Salad
 This is probably not exclusive to Marrakesh, but who knew diced tomato, pepper, onion and cucumber with some oil and salt could be so delicious? We've been making it at home almost weekly ever since.
Guerlitz
 Guerlitz, an affluent central neighborhood, was a welcome break from the chaos of the Medina. We strolled around, marveling at the space, and the fact there was a pavement separating us from the traffic. Guerlitz has shopping malls, French patisseries, even a night club or two. We spent a blissful lunch sat at a corner cafe eating a Tagia - a clay oven baked pot of mutton, served with flat Moroccan bread.
The Secret Garden
A private enterprise to restore two old riads in the centre of the Media, this place was peaceful, with trickling water and lush greenery, you could almost forget the chaos outside. It also had viewing tower with spectacular views.
 This is the place for a rooftop dinner. They serve a killer coriander lemonade and their Senegalese and Moroccon dishes was unlike anything we had ever tasted before. Hands down our favourite restaurant in Marrakesh.
The Badi palace and Bahia palace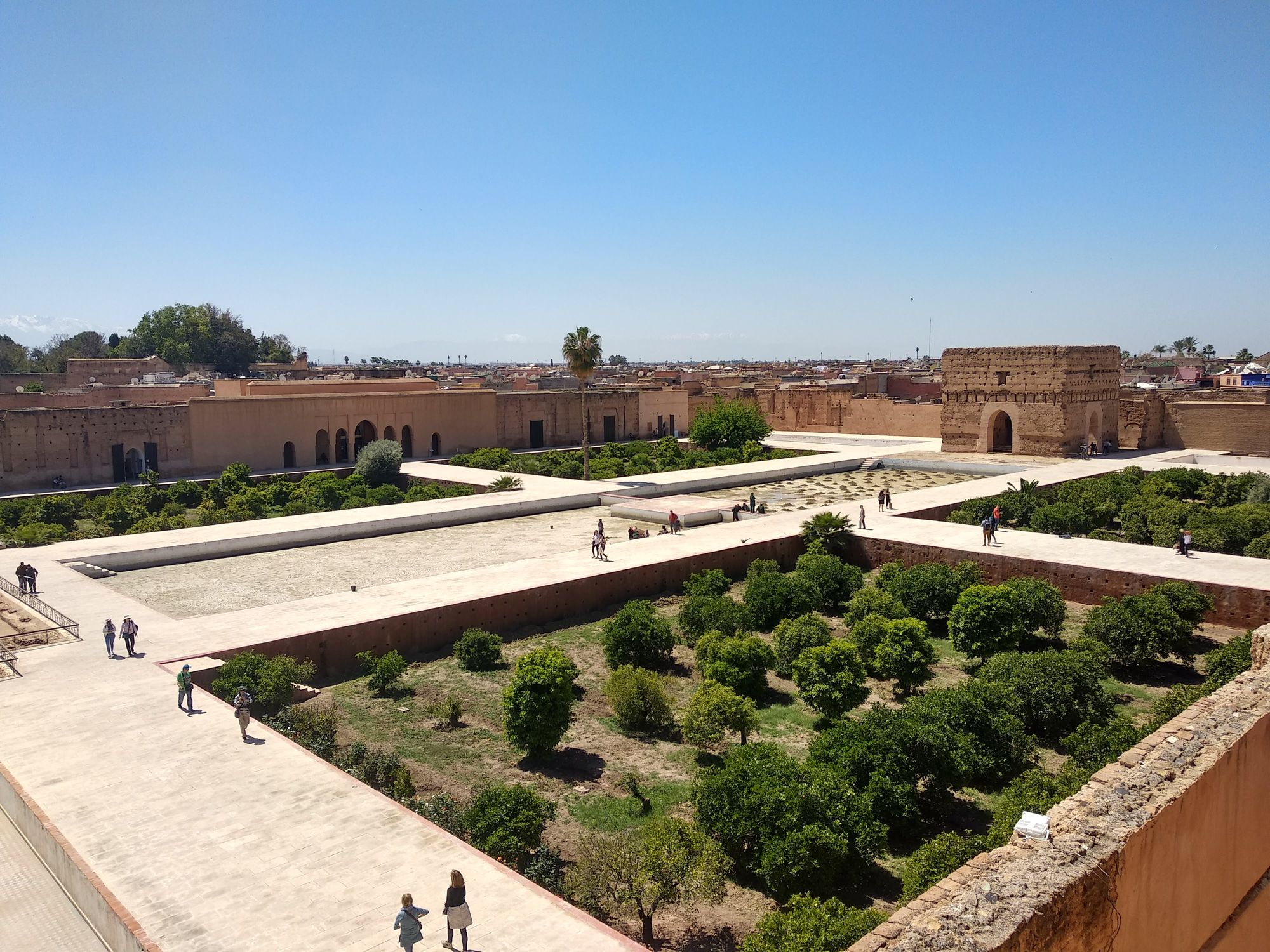 One is a set of ruins, the other is still elaborately tiled. A glimpse into the extravagance of the rulers in centuries past.
 After an intense four days we were happy to leave the chaos behind and head for the coast. Marrakesh won't be making my favourite cities list any time soon, but, packed brim full of culture, history and tasty food, it was certainly an interesting place to visit.