Morocco
Overnight in Essaouira
We spent the afternoon and the following day exploring the town. The walled Medina is an UNESCO listed world heritage site, and the ramparts were used to film parts of Game of Thrones - they are impressively intimidating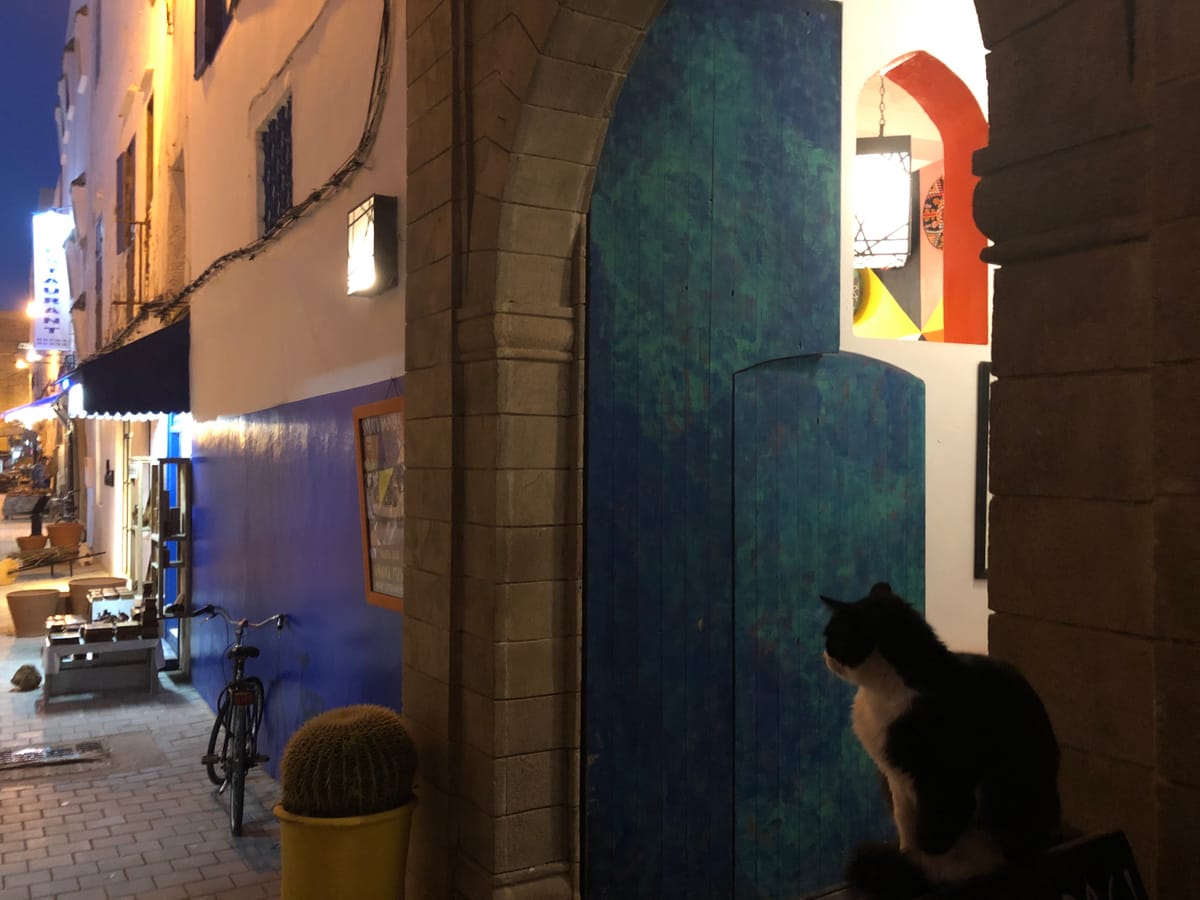 After a few days in Marrakesh, I was a little nervous about our trip three our journey to Essaouira. We planned to take the coach. I envisioned us being crammed into an old wreck of a bus like sardines, feeling every bump along the road. As it turned out however, Supra Tours, Morocco's inter-city coach service is like a train but better. There are allocated seats (you book tickets in advance at the station), luggage tags, air conditioning, a rest stop midway which is only mildly overpriced. I enjoyed the journey so much that before we had arrived I was already looking forward to the return trip. First, however, there was Essaouira to visit.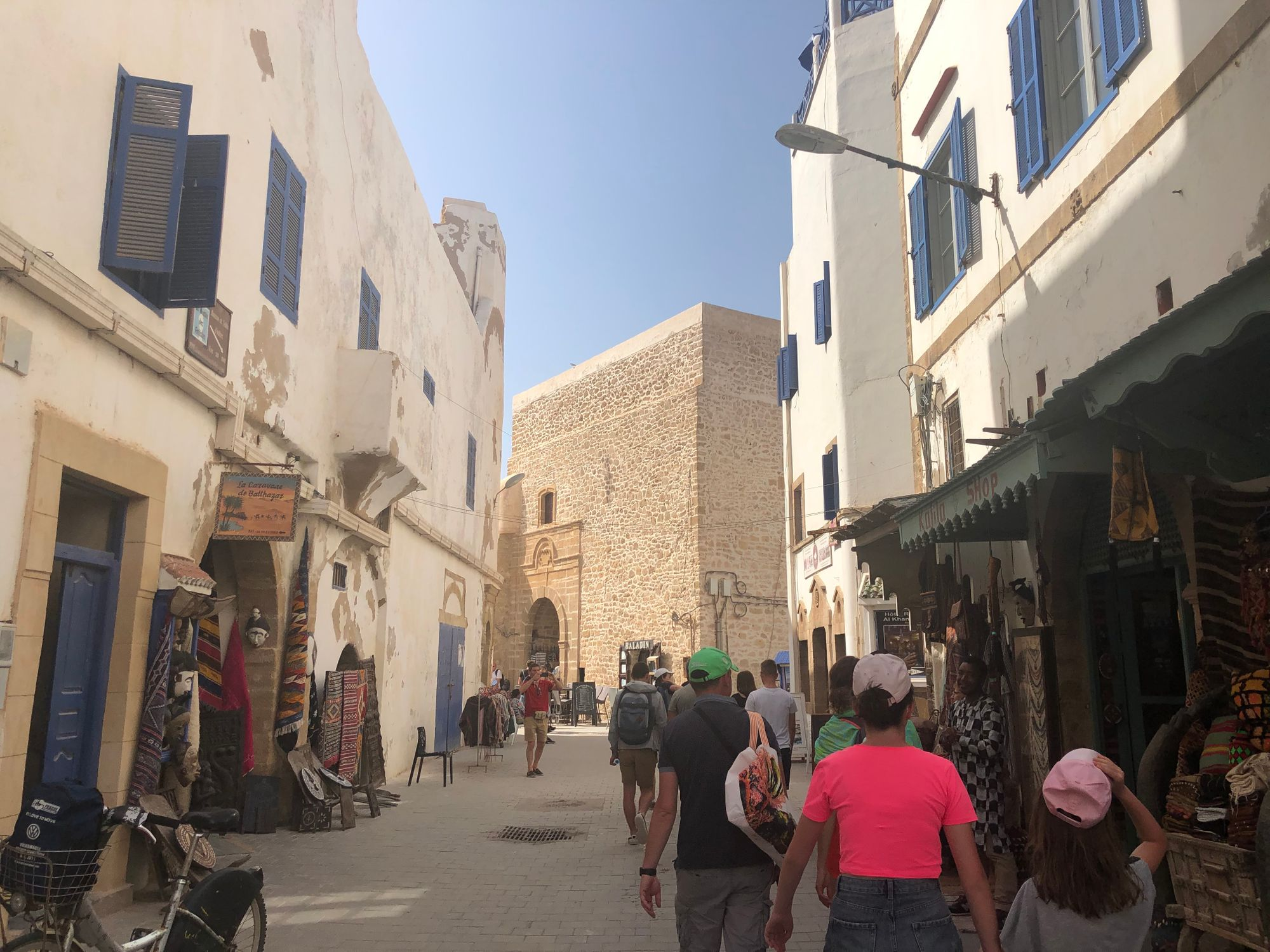 Essaouira (pronouced sow-ear-a)  is a walled coastal town which used to be known as Mogador. Stepping off the bus it felt strangely uncrowded after Marrakesh. We walked through a towering stone gateway into the Medina, where most buildings were beautifully whitewashed. There were no mopeds, the streets were busy but passable. Our riad was conveniently located and comfortable. We breathed a quiet sigh of relief.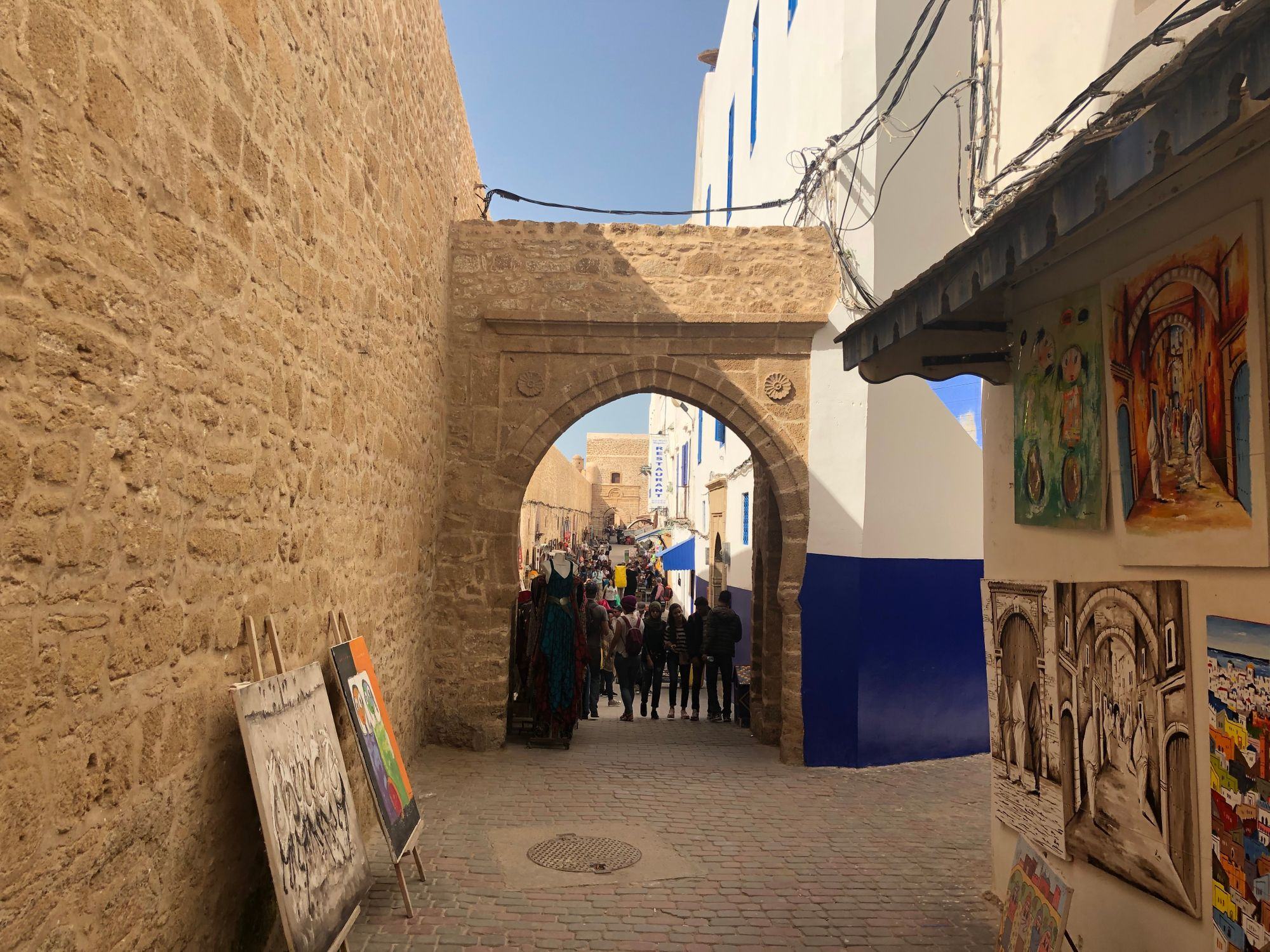 Dropping our bags at the riad, our host told us you can get cheap tasty fish at the fish market in the Medina, so we gamely set out in that direction. It was early afternoon and the fish market, just finishing for the day, was sweaty and busy. Seagulls vied for perching spaces near the daily catch and the fishy juices pooled on the floor. We spotted a basic looking restaurant at the back of the hall, filled with locals and, putting our reservations about food hygiene aside, we went in. We were lead up to a tiny patio where group of burly men sat chewing a in silence. We ordered some sardines and sea bream. They arrived freshly grilled with salt and lemon, chips and Moroccan salad. Bread on the side to mop up the juices. It was perfect. It was only when we went to pay that we realised we hadn't asked for the price in advance, which of course turned out to be outrageous. Lesson learned. Essaouria might look idyllic, but it's still rife with people trying to rip off tourists.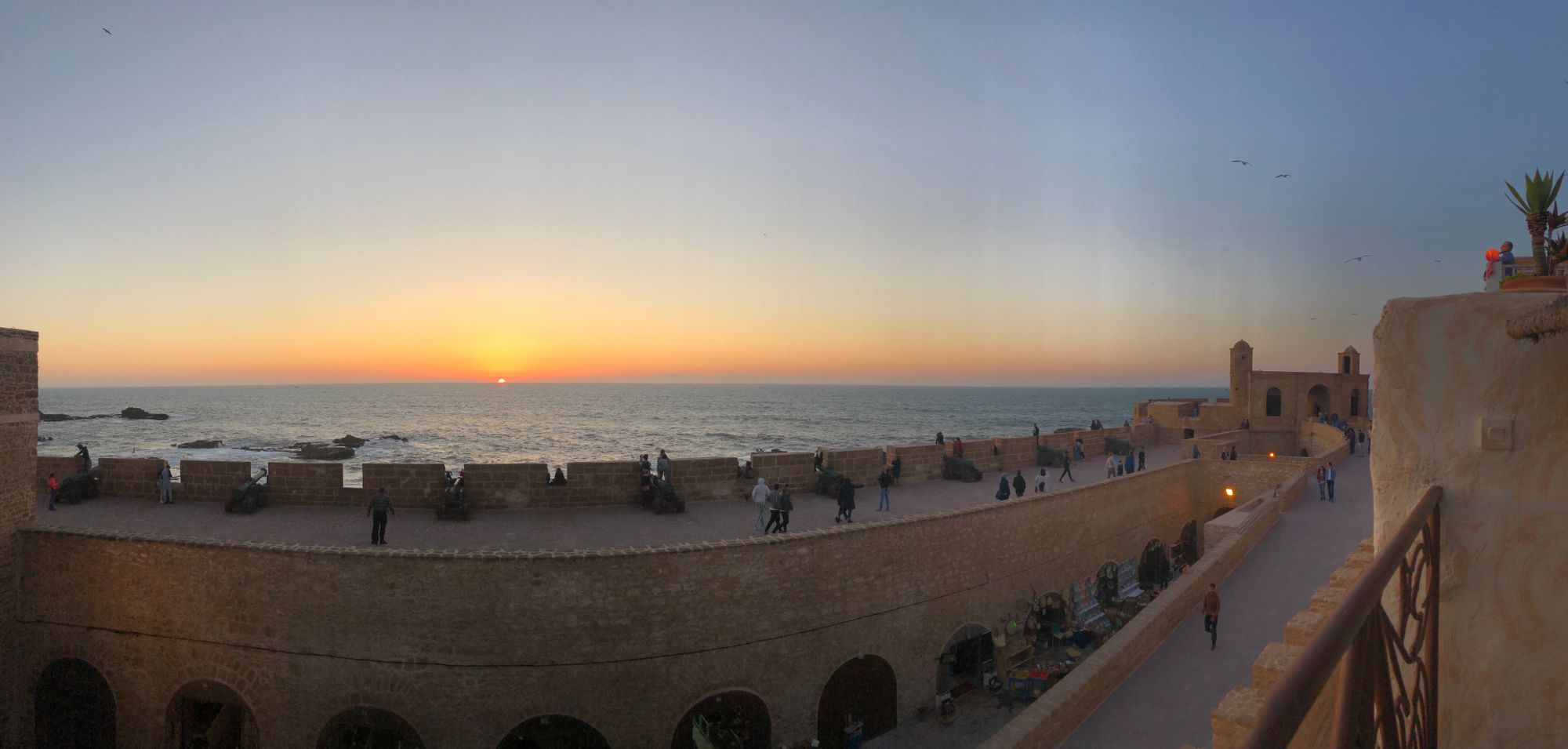 We spent the afternoon and the following day exploring the town. The walled Medina is an UNESCO listed world heritage site, and the ramparts were used to film parts of Game of Thrones - they are impressively intimidating. The shops which line the streets are touristic but still interesting. Women grind nuts down to argon oil outside of beauty shops, and there are streets full of local art galleries. There are a few rooftop terraces for sundowners too.    
 Outside of the town walls is the beach, a wide flat sandy expanse that's great for a walk, as long as you don't mind being hassled by men on quad bikes trying to sell you a camel ride. The bay is a popular surf  and windsurfing spot, and we whiled a way several hours in a beach bar watching people try their luck in the waves.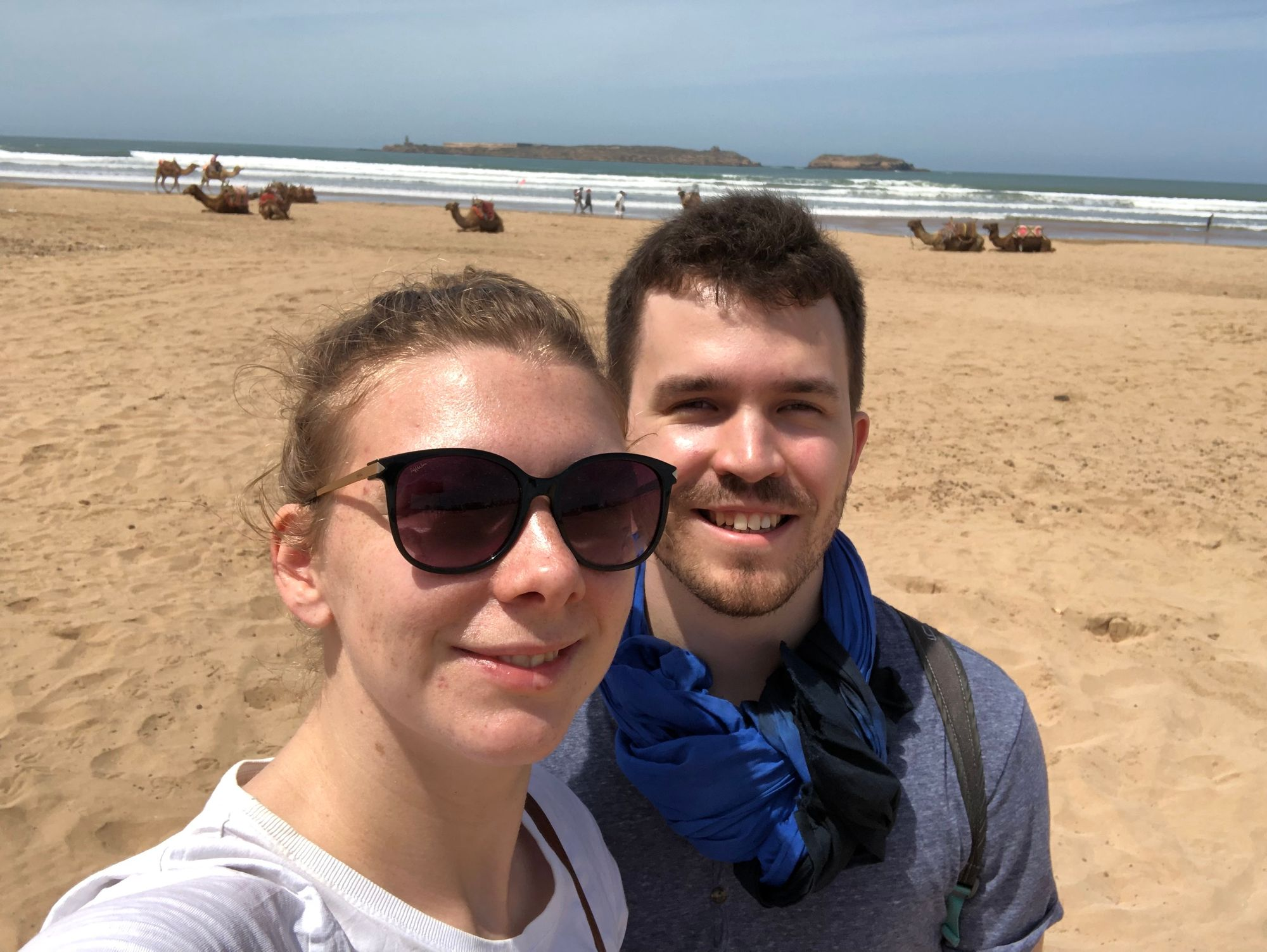 Then there is Essaouira's port, where you can wander down to the harbour and see fisherman hauling in their catch. It's a crowded mix of vendors flogging their glassy-eyed catch of makeshift tables, fisherman fixing their tiny wooded boats, locals buying dinner, tourists spectating, and seagulls and cats waiting for an opportune moment. If you're savvy (we weren't and regretted it), you can buy the raw fish here and take it to a barbecue shack on the pier to have it grilled for lunch.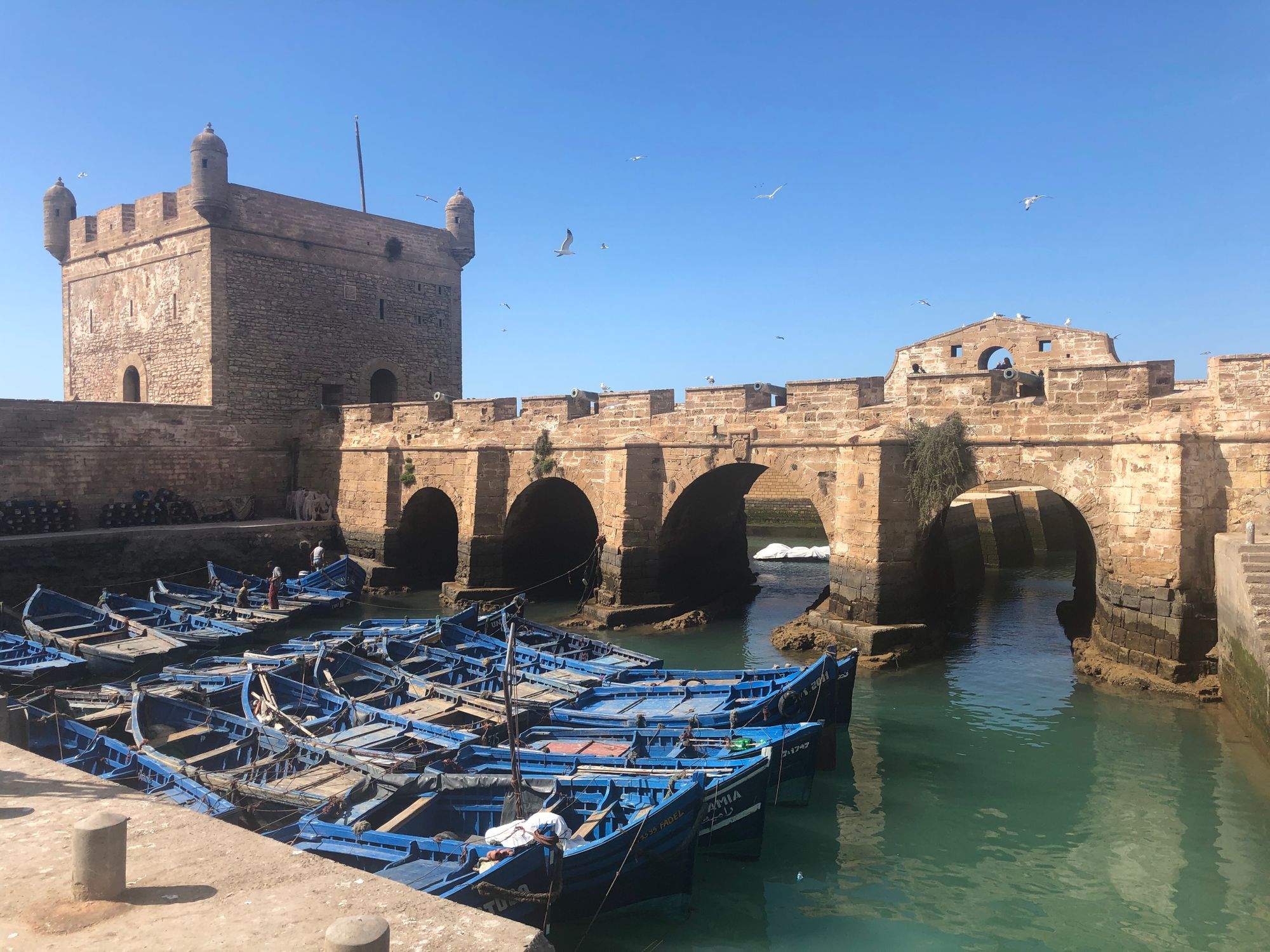 After two nights (long enough to have a look around at a relaxed pace, although you could visit in a day trip if you didn't have a lot of time), we boarded our lovely air-conditioned bus back to Marrakesh. It had been a welcome break.