Italy
A Straightforward Guide to Palermo
If you like a side of grit with your glamour, Palermo is the place to go. Watch suited and booted Italians carefully stepping over piles of rubbish on the streets. Be accosted by street food vendors in one of the many markets, or sit down to fine dining in an old fashioned restaurant...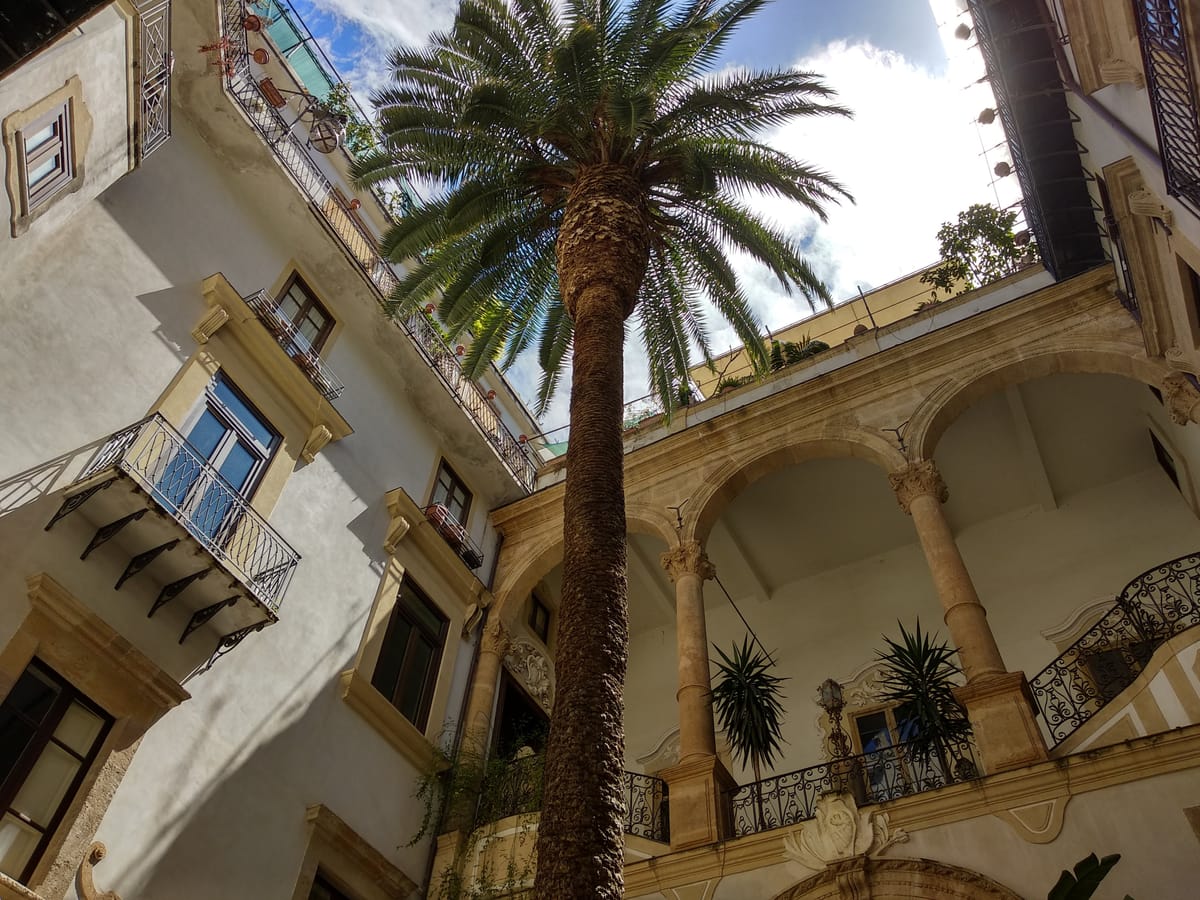 Table of Contents
Essential information
What to do and see
What's overrated
Day trips
Outdoors
What to eat and drink
Where to eat and drink
What to read

Essential Information
Why visit?
If you like a side of grit with your glamour, Palermo is the place to go. Watch suited and booted Italians carefully stepping over piles of rubbish on the streets. Be accosted by street food vendors in one of the many markets, or sit down to fine dining in an old fashioned restaurant. Contemplate the finery of the city's magnificent churches, or stare aghast at the mummified corpses catacombs. Palermo is a melting pot of Greek, Italian, Arabic, Norman but most of all Sicilian culture. There is never a dull moment, never a bland meal. Walk through streets past grand palazzos, their paint peeling in faded faded splendour, and feel the city's youthful energy pulsing out of the bars and trattorias.
Ideal length of time
Spend two days exploring Palermo itself, but stay for a week and use it as a base for day trips.
Getting there
Palermo's Falcone Borsellino airport is a short coach trip from the city. It is well connected to Italy, and a reasonable amount of international flights, mostly with low cost airlines.
Getting around
While visiting Palermo itself, the city centre not too big and so easily walkable. That's good because public transport is not Siciliy's strong point. There is a metro service but it doesn't go anywhere useful for tourists. The bus service is somewhat better - you should buy tickets in advance. The cheapest tickets are from the bus service themselves in booths labelled AMAT, but you can also buy them from tobacconists.
For day trips, by far the best option is to hire a car. We had a great experiences with Locauto and Budget, and wouldn't use SicilyByCar again.
Mafia
Although mafia-related violence on the streets has all but disappeared, and Palermo is very safe to visit, the city still has problems with organised crime, with a large percentage of businesses still paying pizzo (protection money), to the mafia to avoid harassment. Look out for Addiopizzo signs in shops and restaurants, which indicate those businesses refuse to pay the Mafia. There is also a website and app listing them.
For more information on the Mafia, visit the No Mafia memorial, a small exhibition close to the Cathedral, which does a good job of squashing some of the glamorous myths about the Mafia.

What to do and see
Palatine Chapel and Royal Apartments
Palermo's Royal Palace looms over the edge of the city walls. From the outside it looks dull and impenetrable. Inside, however, it is home to one of Palermo's greatest treasures - the Palatine Chapel. The chapel, built by one of the first Norman rulers, is remarkable, not only because it's covered in more bling than a Strictly Come Dancing contestant, but because it represents the coming together of Christian, Arab and Byzantine craftsmen. Although the building is much smaller than the cathedrals in the surrounding area, not an inch of space has been wasted, from the biblical scenes decorating the walls, to the roof covered in arabic wood carvings, to the priceless carved stone candle holder. It's a little hard to take it all in. There is definitely enough to keep mass attendees entertained if they ever got bored with the priest's sermon.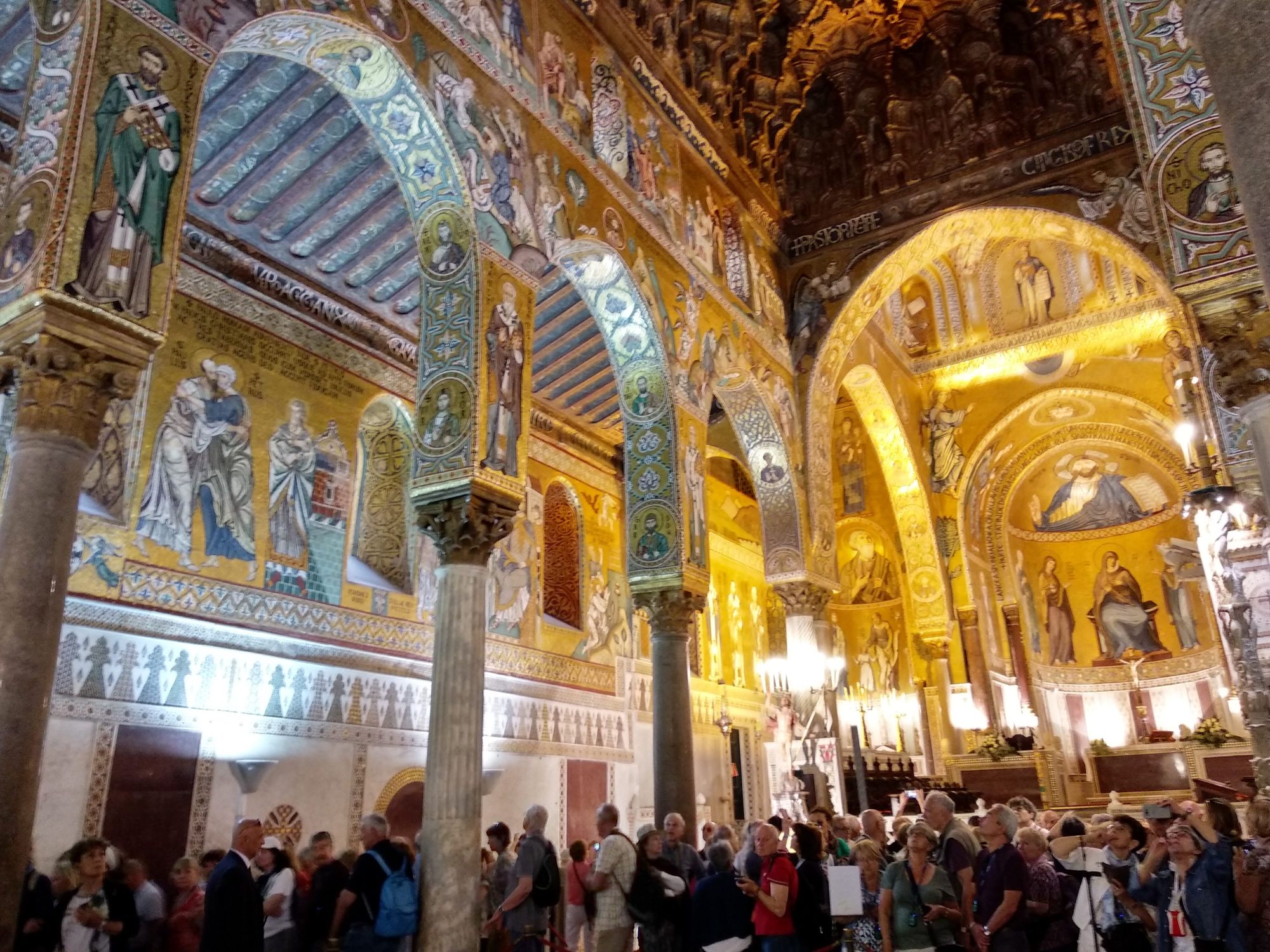 The rest of the palace is less insane, but still pretty interesting. From Friday-Monday you can view the palace apartments, which are furnished with an old fashioned elegance. There is also an extremely pleasant garden to wander around in, full of giant fig trees and other lush plants.
Finally, if like me, you were very surprised to discover there were French kings in Palermo, the exhibition about the Norman kings in Sicily does a great job of putting the invasion and occupation in context.
Markets
Palermo's markets are some of the most interesting, vibrant and authentic parts of the city. There three main markets in it's old centre. They're all different and worth visiting. Here is a rundown of each.


La Vucciria is in a run down district next to the port. The abandoned buildings and sparse vendors testify to the fact that the market is not what it used to be. However, new businesses are opening on summer evenings the place hums with people drinking beer and eating seafood, tripe and panelle from the vendors. Come here for an evening drink in the summer, or for lunch the rest of the year.
Capo market is a stone's throw from Teatro Massimo, and my personal favourite. It fills a long street with fruit and veg vendors, fishmongers and butchers. In between the produce stalls, there are a few street food vendors and restaurants jammed in. Fruit and veg here is dirt cheap. Gorge on cherries and watermelon when it's in season, and get the fishmonger to grill their catch on the spot.
Ballaro market lies South of the Cathedral, it's the biggest market in the city, a jumble of food, clothes stalls, bars and restaurants sprawled around several streets. It's a bit manic for my taste, but this is the place bargain hunting and marvelling at all manner of goods on display.
Teatro Massimo
Looming over a square at the edge of the old town, Palermo's most iconic building is it's opera house - the Teatro Massimo. It's Italy's biggest opera house, the fourth largest in Europe, and is said to have perfect acoustics.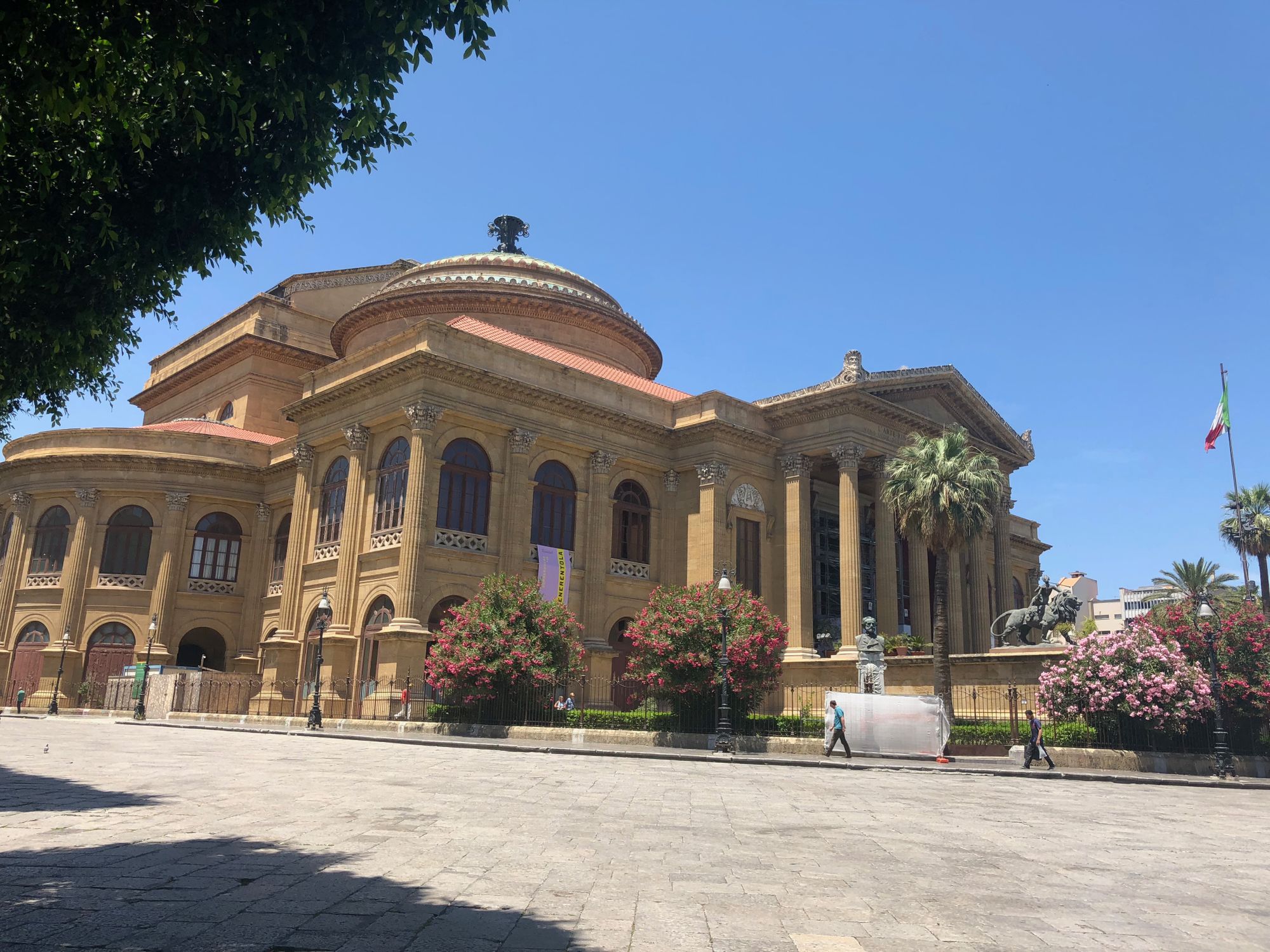 To visit, you can either do a guided tour, or go to a performance. I thought going to see an opera in Italy couldn't possibly be as romantic as it sounded, however, I really enjoyed going to see a performance of Paggliacci. It feels special walking up the huge set of steps and through those giant doors to see an opera. That's before you take your seat in the elaborately gilded theatre, surrounded by an enthusiastic local audience.
Things to know if you are attending a performance:
In summer, bring a fan. There's no air conditioning and it gets toasty in there
Don't be put off by the language barrier - there are subtitles in English
It's not as dressy as you think it will be. Sicilians love to get dressed up, and I was worried I had nothing smart enough to wear, but at the performance I attended I was happy having worn smart trousers and a nice top. Some women were wearing evening dresses, others were dressed like me. Similarly, some men were wearing suits, others opted for shirts and smart trousers.
Capuchin Catacombs
What better way to spend a gloomy day in Palermo than confronting your own mortality at Palermo's most macabre tourist attraction - the Catacombs di Cappucini
A twenty minute walk from the centre, you pay your €3 admission to a monk and head down to visit the dead.
I've visited my shared of graveyards and catacombs, but this was the first time I had encountered mummified bodies outside of a museum. Unlike your Egyptian mummy, the ones in Palermo are exposed in all their glory, or, nowadays, decay. The rooms hold around 8000 bodies dating from the sixteenth to the early twentieth century, and many of them are suspended on the walls, dressed as they were when they lived. They stare at you with hollow eyes, bones poking out where their clothing has started to rot, slowly crumbling onto the floor. If you've seen Game of Thrones, imagine a room full of wights, hung like picture frames, and you won't be far from the mark.
The catacombs are divided into several sections. There is a church section - full of Bishops and Monks, a baby section, featuring newborns in their cots, a women's section, mostly reclined, as if they were in bunkbeds. Most bizarre of all for me was the virgin's section - maidens hung on the wall like a gristly alter. There is also a family section, family groups of parents a children, posed as if for a photograph. Rosalia Lombardo, a little girl with blonde hair and a yellow ribbon in it, who died of pneumonia aged two, is the best preserved body and also one of the youngest. She looks like she's sleeping, or at the very least a waxwork, and she gives a sense of how lifelike all the older bodies would have been at the time.
It is fascinating to see, but after an hour or so you will feel like your lungs are full of corpse dust, and will be glad to emerge into the land of the living again.
Botannical Gardens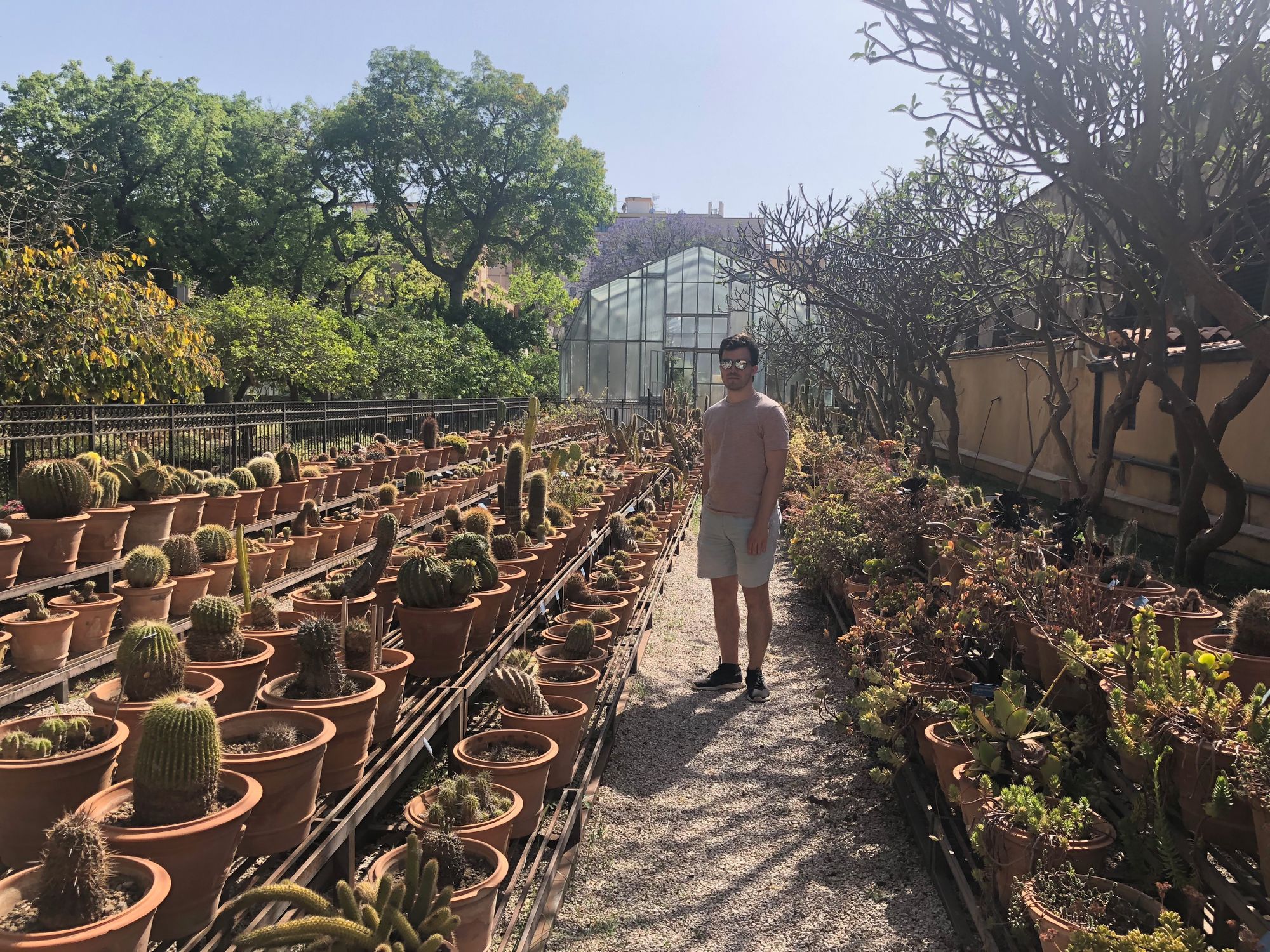 If you enjoy Palermo because of it's faded splendour, you will love the botanical gardens. Rows of cacti sit in dusty plant pots, giant fig trees spread over the grounds. The paths are slightly overgrown, and the flowerbeds could be better maintained, but it is all the more charming for it.
Chiesa del Gesù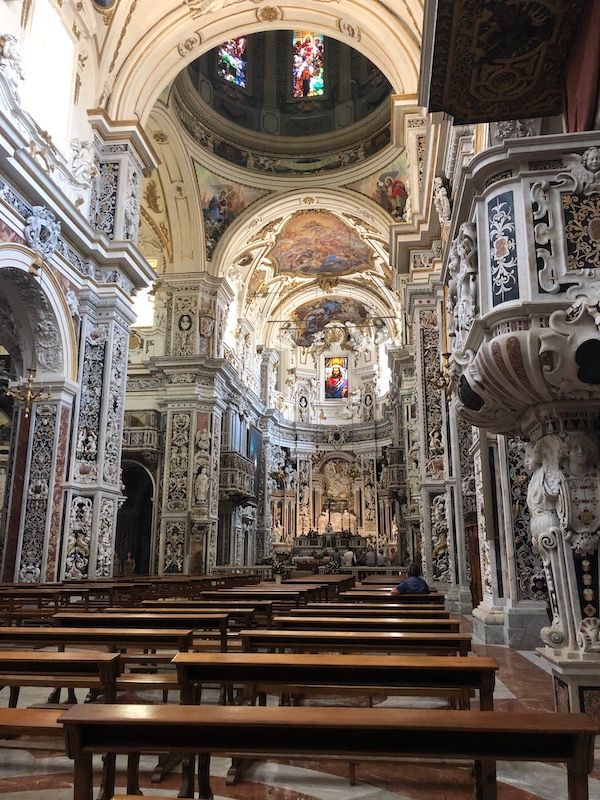 I thought after Monreale and the Palatine Chapel, there would be no more churches in Palermo I would walk into and say "THIS IS INSANE". However, Chiesa del Gesù proved me wrong. It is insane. I liked everything about this church. I liked the way the outside is so boring you wonder if you're in the wrong place. I liked the crazy stairway between heaven and hell painting on the ceiling, which was painted after the roof was reconstructed after WWI, but most of all, I just loved the completely over the top plaster and marble which coats the church from floor to ceiling. The effect is just breathtaking, and my photos don't come anywhere close to doing it justice.
The Oratorio di San Lorenzo and the Oratorio di San Domenico
These private chapels, tucked behind the back of La Vucciera, are easy to miss, but a €6 entry fee gets you into both Oratiori to see some work by Siciliy's finest Baroque artist - Giacomo Serpotta. We visited on a Sunday afternoon and they were almost completely deserted, giving us plenty of time and space to marvel at the whimsical cherubs and biblical scenes shaped onto the walls of the chapels. The Oratorio di San Lorenzo used to contain a Carvaggio painting which was stolen in 1969 and remains an unsolved crime. A facsimile is in its place today, so you can get a sense of how it looked.
The Spanish Inquisition Museum
The Inquisition Museum is run by Palermo's university, and you have to book to go on a guided tour. It is worth it. The old palace which the museum is in was transformed into a dungeon during the inquisition years (Sicily was once owned by Spain), and the cells where prisoners were kept have been carefully excavated to show the original walls, which are covered with graffiti. This is no ordinary graffiti though. Encouraged by their captors, prisoners drew elaborate paintings of Saints, the Passion of the Christ, and other religious scenes, or wrote Prayers on the walls to demonstrate their commitment to Christianity.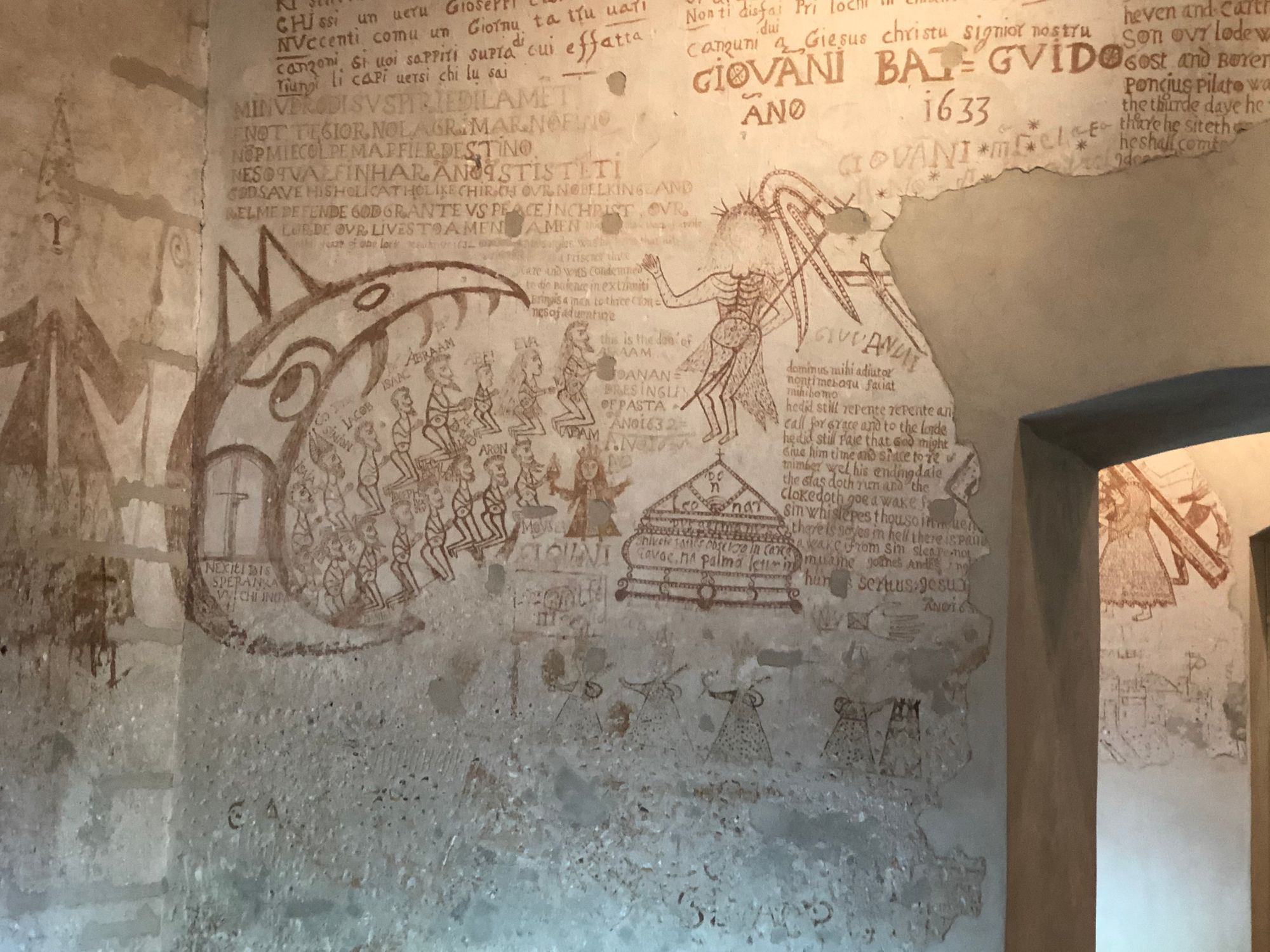 Only in the cell bathrooms, where no torturers or soldiers would go, are there are caricatures of the inquisitors. Turns out offensive bathroom graffiti transcends the ages.
Although it's not really advertising, the visit also includes seeing Palermo's most famous painting - La Vucciria by Renato Guttuso.
Modern Art Museum
This was my favourite art gallery in Palermo. It's housed in a beautiful old Palazzo and has some fantastic paintings of the Sicilian landscape, scenes from Sicilian history, portraits and sculptures. It also has hardly any religious art, which makes a nice change.
Regional Archeological Museum
This museum is devoted to Sicily's extensive greek and roman archeological finds. Set in a former convent, the site has been a museum since the dissolution of the religious orders in the nineteenth century. What that means is some of the stories of how the collections were acquired are almost as interesting as the collections themselves.
And what a collection it is. There are statues, vases, temple friezes, endless sarcophagi, a bath that's in the shape of a shoe, and more. I took the audioguide and found it both really interesting and not too long.
Galleria Regionale di Sicilia.
This art gallery, housed in an old Palazzo, is packed with religious art. It's free on Sundays, and worth a look even if endless statues of the Madonna aren't really your thing, if only to wander through the old building, and check out giant the fifteenth century fresco the "Triumph of Death", featuring a skeletal grim reaper trampling over Palermo's aristocrats of old.
What's overrated
The Cathedral
Palermo's Cathedral is like a bad relationship - much better to be outside of it than in it.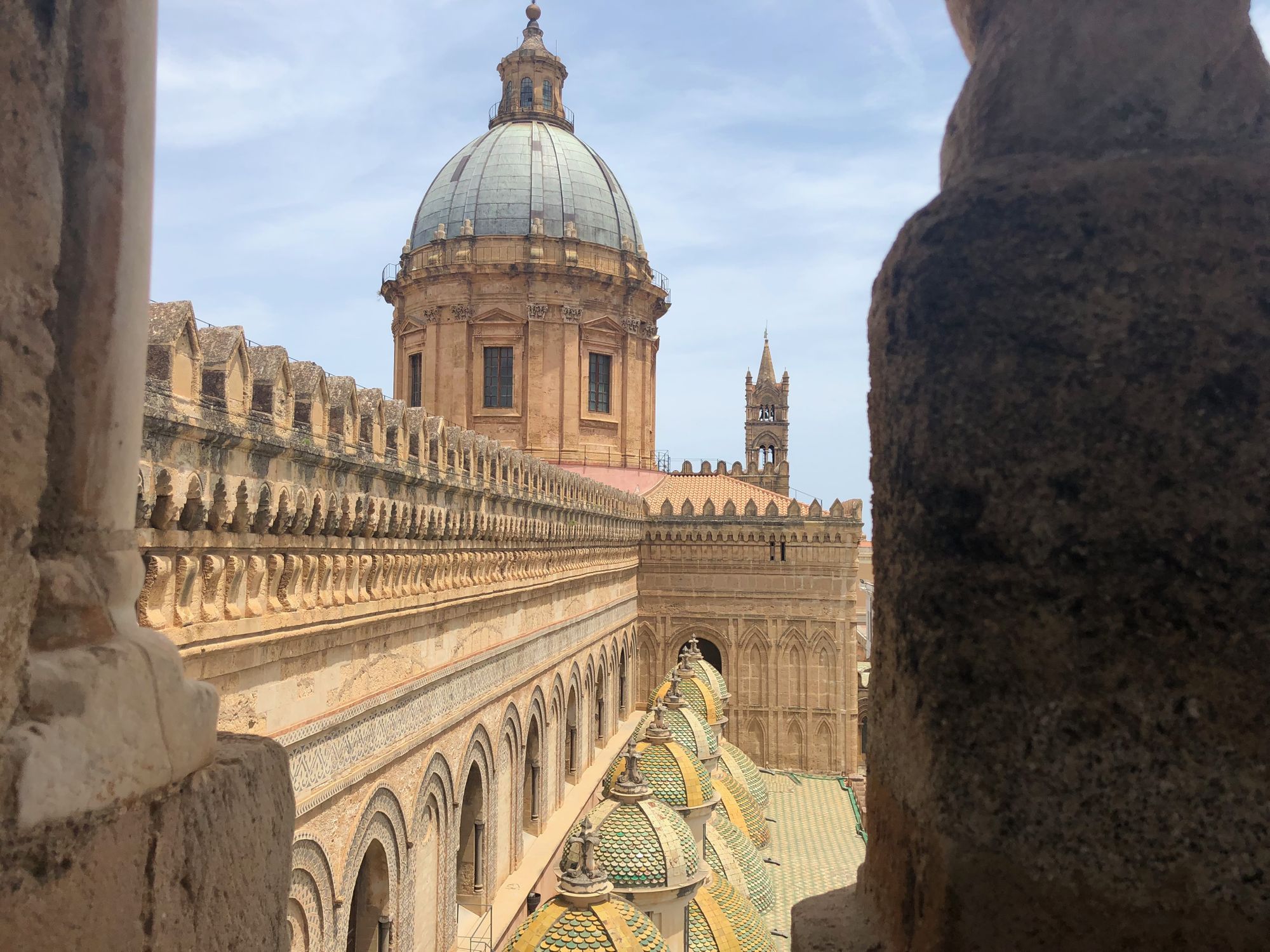 The building itself, converted from a mosque, is magnificent from the outside, but the inside of it is, frankly, boring.
The only good part of it is the view from the roof. The royal tombs are boring, the treasury and the crypt are boring. If you like views of Palermo, go to the Hotel Ambasciatori for a cocktail instead. For the same price you get a better view and a delicious beverage.
Contemporary art museum
I visited this by mistake, looking for the Modern Art Museum. Unlike the Modern Art Museum it is really easy to find - just wander in off the main road close to the cathedral.
However, unless you are really into contemporary art, it's not with the €6 entrance fee. I actually spent ten minutes reading my guidebook upstairs because I found the exhibits so boring and was embarrassed to walk out after so little time.
Day Trips
An essential trip for Palermo visitors, Monreale is 10km outside of the city centre and has a ridiculously great Cathedral. It fuses Italian, Norman and Arabic work to the most incredible effect, with biblical scenes depicted in mosaics high on the Cathedral walls. The town itself is small but has a few nice spots for lunch and great views over Palermo. To get there by public transport, take the 389 bus from Piazzo Independenzia.
This resort town is about 60km from Palermo. It has a long sandy beach, another huge Norman Cathedral and a hilltop castle from which you can survey the maze of streets below. It makes a great escape from Palermo's frenetic city streets and is easy to get to, with trains leaving every hour from Palermo Centrale station costing €5.60 each way.
Mondello Beach
10km along the coast from Palermo lies the town of Mondello and it's magnificent beach. When we visited, in early May, it was already a hive of activity. At one end, beach volleyball teams smashed balls at their opponents while out on the horizon sailboats bobbed along. A few brave souls swam in the sea, which was still cold rather than refreshing, but mostly people lounged on the sand reading books, chatting and ordering beers from the endless hawkers pacing up and down the sand. The town itself is full of restaurants promising delicious seafood, gelato shops and of course, bars to purchase a refreshing Aperol Spritz.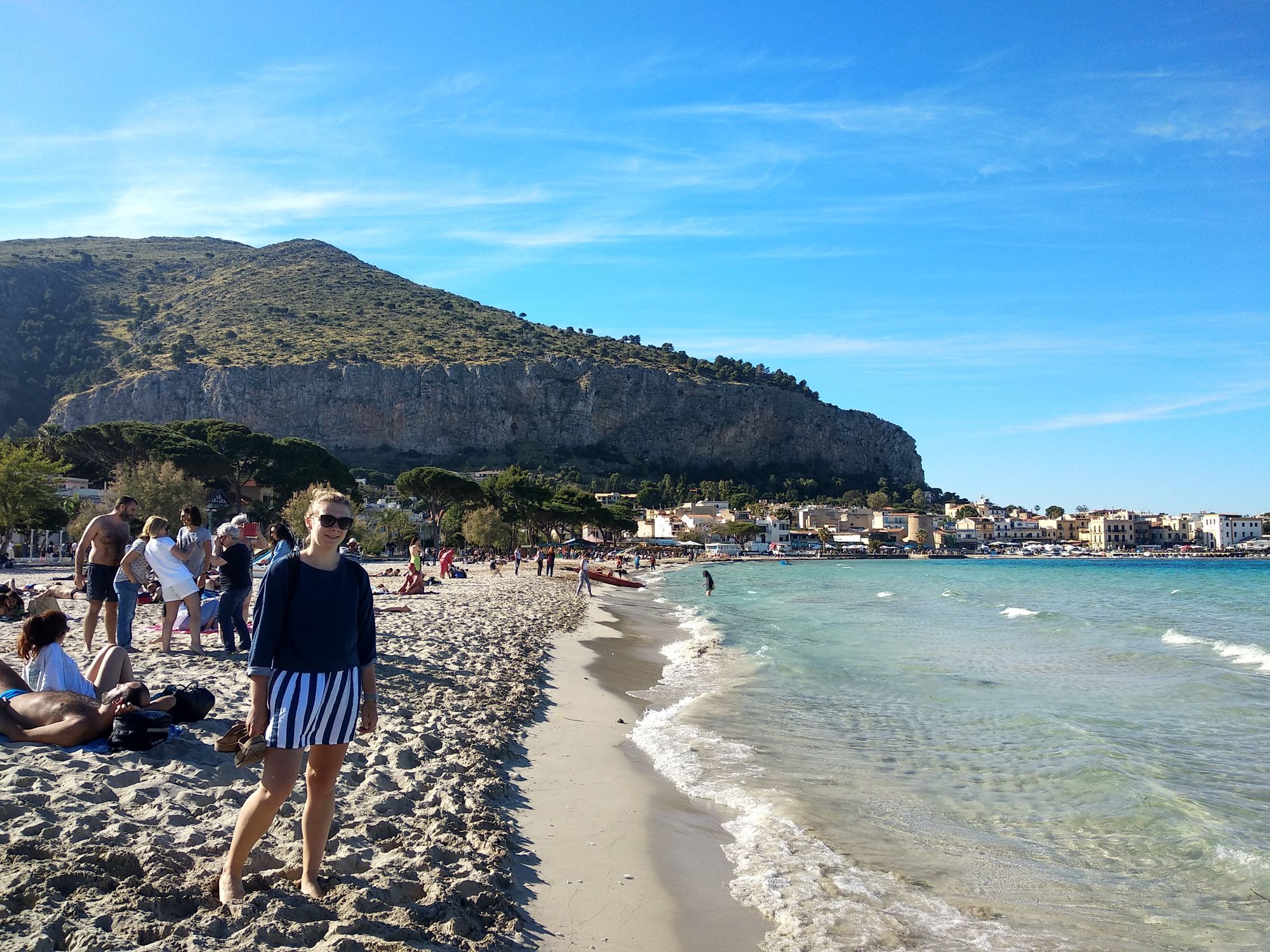 In summer, most of the beach is private, so if you plan a day trip, expect to pay for a sun lounger and umbrella. To get there take the number 806 bus. If you're going in good weather, be sure to board at the bus station itself. If you try to get on at Politeama or afterwards, the bus will most likely already be full.
Outdoors
Hiking
Monte Pellegrino and Santa Rosalia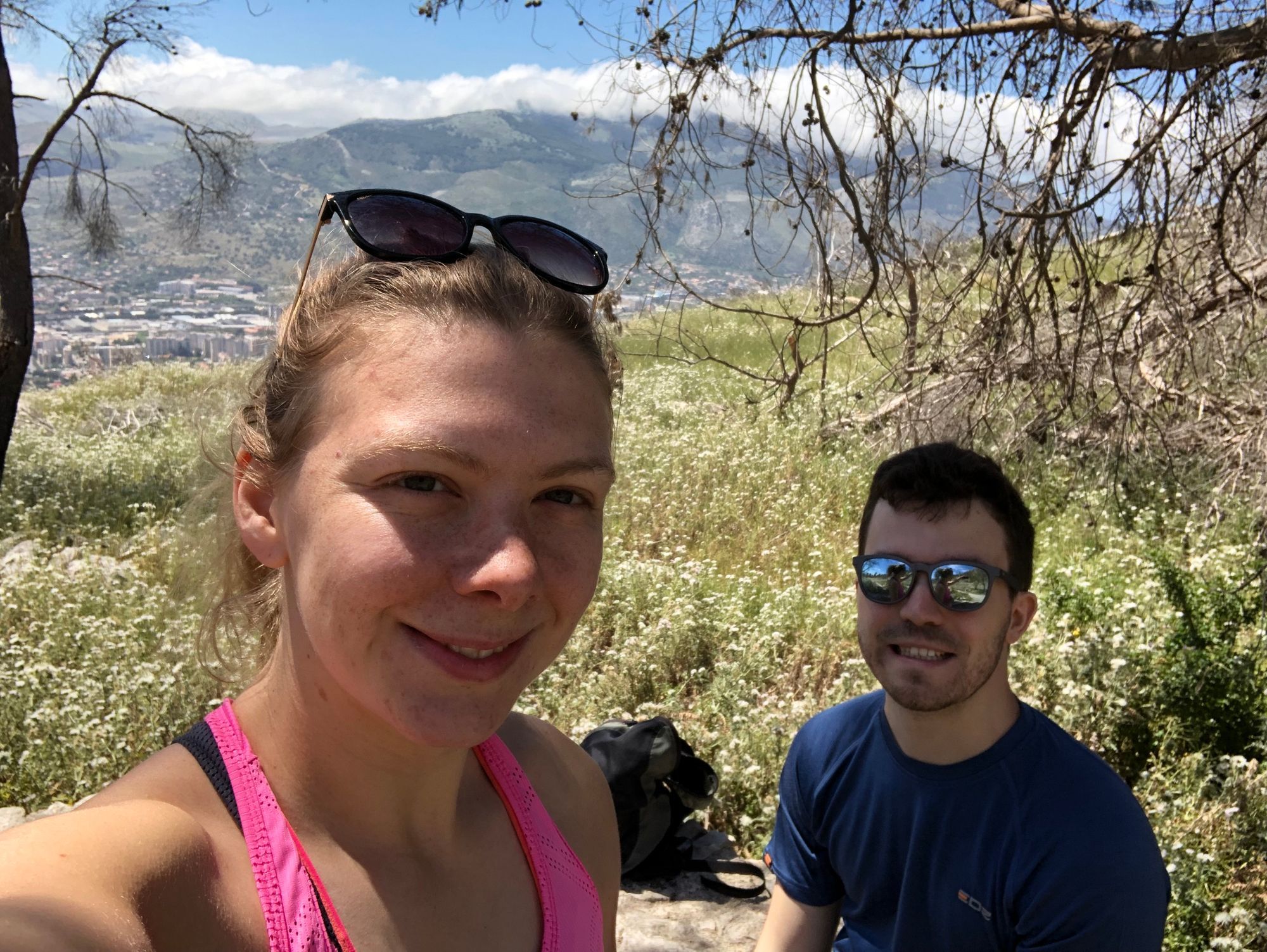 The sanctuary of Santa Rosalia is on Monte Pellegrino, the giant rock which looms over Palermo from the West. It is perhaps a 40 minute walk from the town centre, and then another hour or so to hike up to the church. It is a popular and straightforward hike. There is basically only one path and it has great views of Palermo. The sanctuary itself is stunning, a church hewn into an old cave, although it's popularity (you can also take the bus up there), means it's surrounded by restaurants and shops selling tourist tat.

This national park is about an hour's drive West of Palermo and it's paths offer fabulous views along the coast, and relatively uncrowded coves to sunbathe in. There are three different hikes, all from one end of the park to the other, and you can pick up a map with the routes at the park entrance. The easy route, which we took, was 7km each way, takes four hours if you do it all in one go, but most likely longer as you will want to take a dip in those crystal clear waters.
Hike from Palermo to Mondello
Not really a hike, as much as a 10km walk along the roadside, but it's surprisingly interesting. The route is simple - just follow the coast road West out of Palermo. You pass plenty of fancy houses, fishing villages and lidos. Most of the way there is some kind of verge to walk on, and it's a nice alternative to taking the crowded bus to the beach.
Running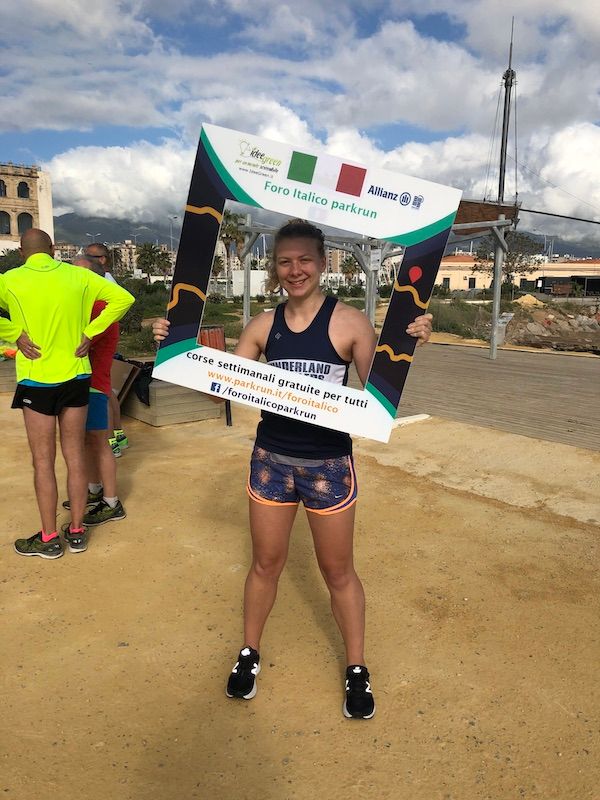 To meet a bunch of friendly locals, get yourself down to the Foro Italico park at 9am on a Saturday morning, where a bunch of lycra clad Palermians and a smattering of tourists will be doing a 5km run along the seafront. The views are outstanding and everybody is really friendly. So friendly we managed to drag ourselves out of bed in time for it every Saturday during our stay.
What to eat and drink (and where to find it)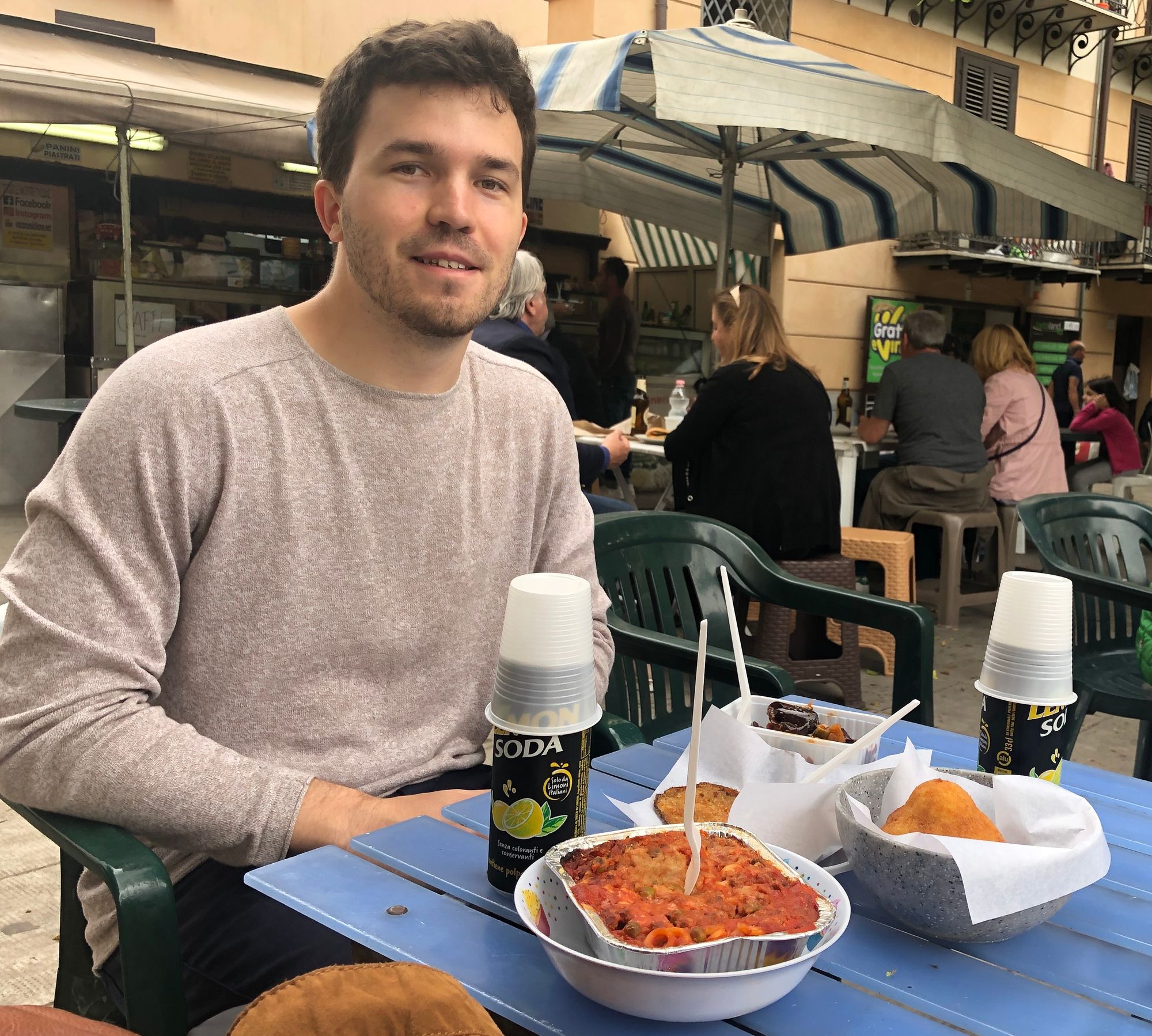 Panelle
Panelle are square chickpea fritters, found all over Palermo, but particularly in the street markets. Just head for the person dropping things into a vat of oil. A little bit crisp on the outside and soft on the inside, they have an almost buttery taste, which is delicious with a pinch of salt.
Caponata
A dark, thick, sweet and sour tangle of tomatoes and aubergines, caponata can be found in delis, restaurants and being hawked street food venders.
Tripe Sandwiches
The Palermo equivalent of a kebab van, street vendors who sell offal sandwiches are never short of patrons. It's usually an old man with a steaming metal drum full of meat on his cart. We found these sandwiches to be surprisingly tasty, and always very cheap.
Gelato and Brioche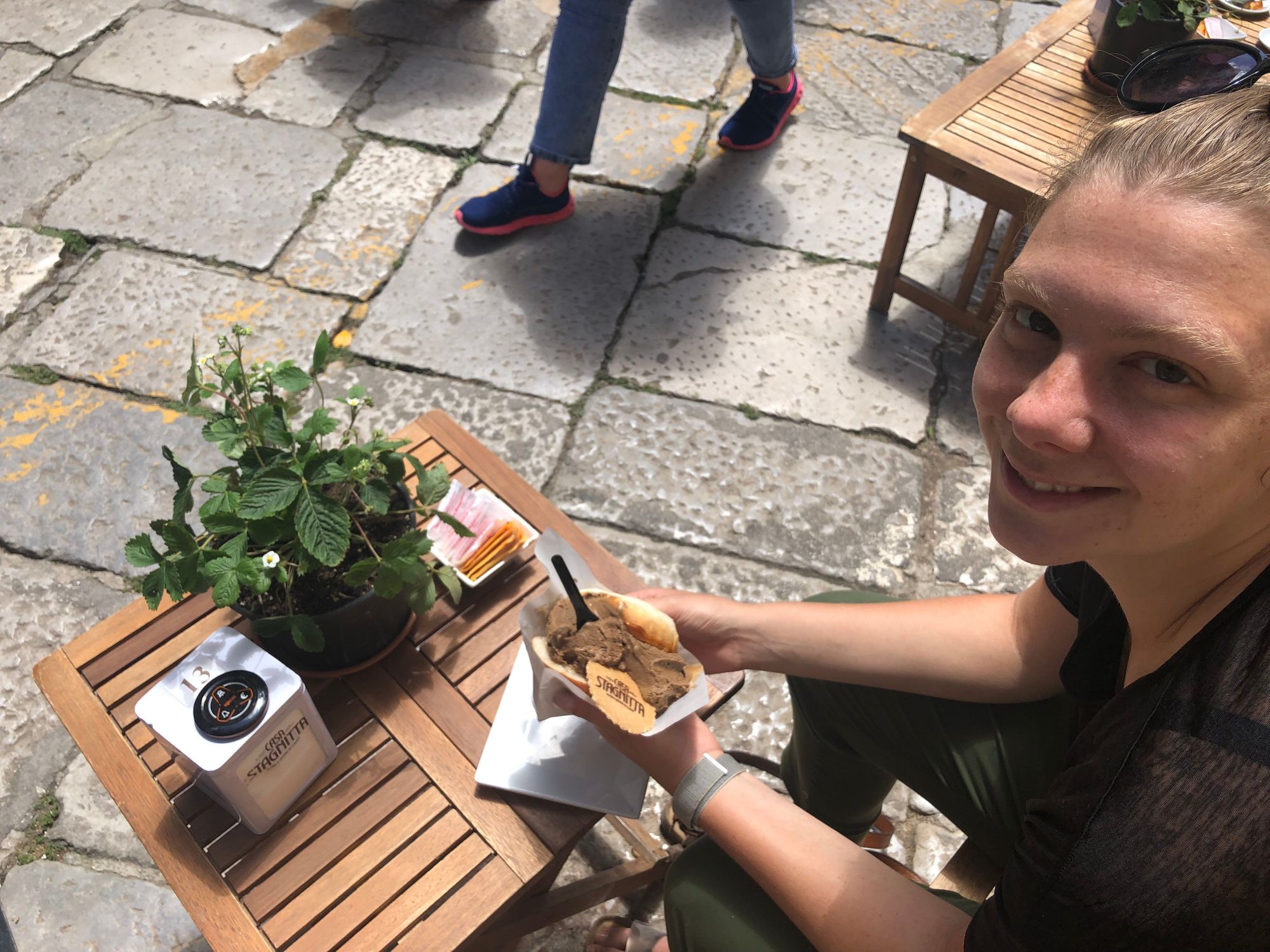 Sicilians have discovered that brioche makes a surprisingly good ice cream vehicle. It's certainly a lot less melty than a cone, although that's usually offset by the extra large gelato porion that's crammed into your bun. You need to try it at least once, but make sure you're hungary. My favourite was from Ideal Coffee Stagnitta.
Arancini
I wasn't that fussed about arancini until I visited Palermo, but they are delicious, on every street corner and just irresistible. My personal favourite ones are from Ke Palle on via Maqueda, which has all kinds of different flavours.
Cannoli
These crispy cases filled with ricotta and chocolate chips are ubiquitous and delicious.
Sfincione
Is it a pizza? Is it a focaccia? I'm not entirely sure. We had mixed experiences with Sfincione in Palermo. Sometimes it was a hard dry piece of something that isn't pizza, and other times it was a delicious sponge of tangy tomato, bursting with flavour. I would avoid the street vendors here, and possibly buy it in a bakery instead.
Baked anelletti
Anelletti (which looks a lot like spaghetti hoops) is a popular pasta in Sicily. It's often served baked with a meat ragu. You can typically cartons of it baked anelletti in the markets and it's often on restaurant menus too.
Where to eat and drink
Coffee
Ideal Coffee Stagnitta the centre of the town, with a lovely terrace and suited waitors, Stagnitta is not only an atmospheric place to sit, but they also do great coffee and ice cream. There is also a roastery next door where you can buy beans to take home.
Drinks
The Hotel Ambasciatori on Via Roma has a bar on the seventh floor with the most amazing view of Palermo, and reasonably priced cocktails to boot. We were always able to get a table to watch the sun set over the mountains surrounding the city. If you go to one bar, go here.

Cheap and cheerful
Serves classic dishes at cheap prices, Osteria Nonna Dora is fiendishly popular with the locals. Don't even try to get in without a reservation.
For pizza, Da Diego is a delicious option. My favourite one was the Rustica. They also serve home made deserts if you have any space left!
Fine dining
U Babbio
This friendly restaurant close to the ferry terminals serves a menu with tasty twists on Sicilian food. Everything we tried here was delicious. My dad declared the ravioli to be the best pasta he had ever eaten.
La Galleria
Tucked down an alleyway behind the Cathedral, with muted lamps and cobbled pavement the outdoor seating in this restaurant is fabulously romantic. The food is top notch as well, with plenty of classic Sicilian pasta and meat dishes.

What to read
For history
As a first time visitor, I found Sicily's mix of cultures absolutely baffling. Was it Greek? Norman? Spanish? Arabic? The island's history, but book proved an invaluable guide to explaining everything that has happened in the last several thousand years. John Julius Norwich makes the island's history easy to read, and covers who invaded when and why, Sicily's strategic importance in the Mediterranean, and how the island's past has lead to it's cultural differences and relative poverty compared with Northern Italy today.
For the Mafia
If you're really interested in Sicily's Mafia problem, Midnight in Sicily is a fairly comprehensive guide. It does a good job of explaining the oppressive atmosphere in the city, and the horrors which people had to live through. However, the Mafia is a complex subject, and it's not a particularly easy read - there are a lot of people and events to keep track of.
For Fiction
Sicily's most famous literary work is about Garibaldi's unification of Italy, the decline of the aristocracy and the rise of the mafia in the nineteenth century, told from the point of view of an aging Duke. The novel is slow and languid, just like the warm Sicily summers it portrays.
For tourism
Has an entire chapter devoted to Palermo, and, as always, proved an invaluable reference during our stay.