Guides
A Straightforward Guide to Porto
Filled to the brim with tasty food, historical sites, picturesque streets made for wandering and barrels and barrels of fortified wine, Porto is a lovely place with a fascinating history...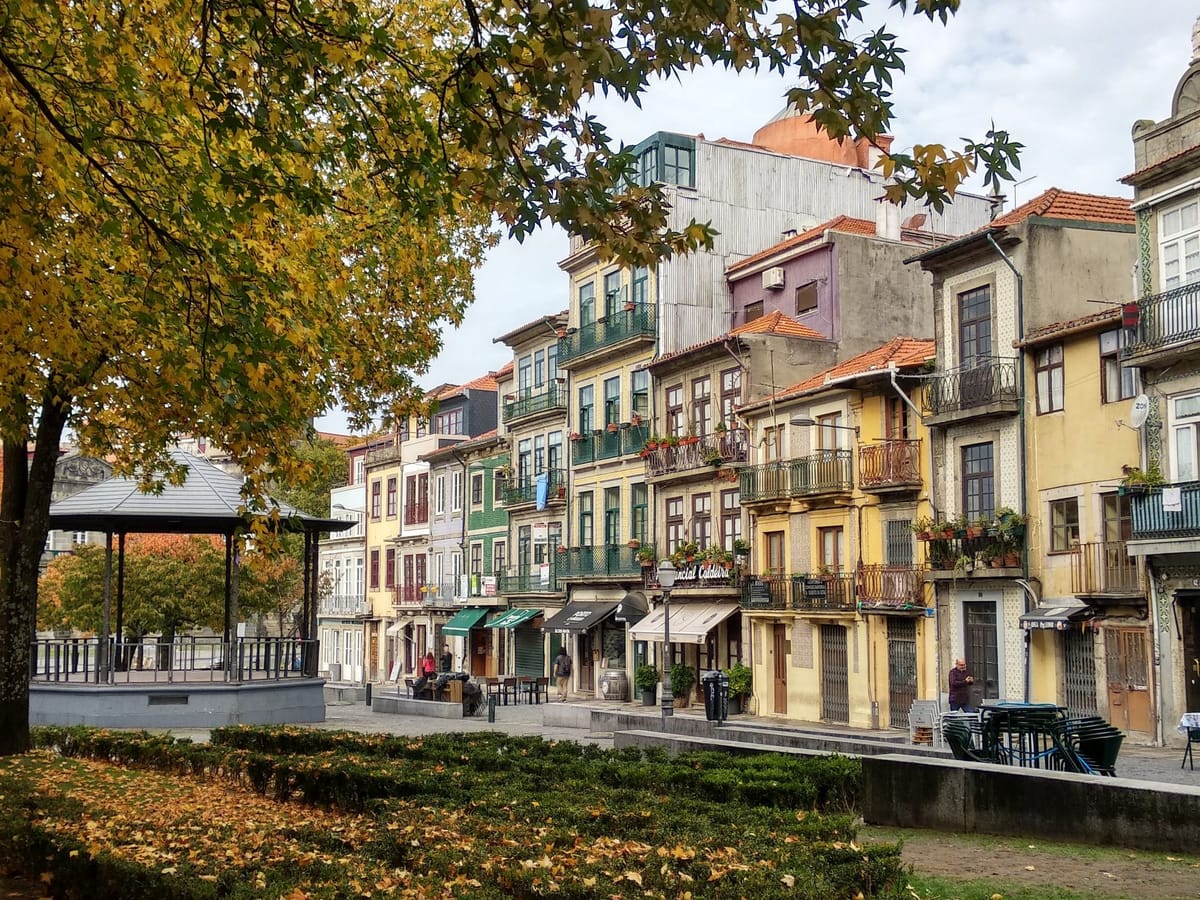 Table of Contents
Essential information
What to do and see
What's overrated
Day trips
Outdoors
What to eat and drink
Where to eat and drink
What to read

Essential Information
Why visit?
Filled to the brim with tasty food, historical sites, picturesque streets made for wandering and barrels and barrels of fortified wine, Porto is a lovely place with a fascinating history. We found the people incredibly welcoming, and the cost of living much cheaper than in rival city Lisbon.

Ideal length of time
Five to seven days, spend 3-4 days exploring Porto and the suburbs of Foz and Matesinhos, then another 2-3 days in the Douro wine region.

Getting there
Porto has its own airport and is a big Portuguese rail hub - there is a high speed train from Lisbon and it's connected to other popular cities such as Coimbra.

Getting around
Porto has good public transport, with a metro, buses and trams. It's also not that big, so walk-able, although your thighs will burn from the hills! For day trips, car hire is extremely cheap, and it's also well connected by rail to other major cities.

What to do and see
Tram to Foz
Porto used to have an extensive tram system. It has now been replaced by a metro, and only three tram routes run in Porto, down from a peak of 30. You can see the tracks along many of the main streets of the city. The most scenic route goes 5km or so along the riverside to the Atlantic Ocean and district of Foz. The downside is you may need to elbow your way through hordes of other tourists to catch a ride. Alternatively you can walk, which is what we did in the end. Either way, Foz, with it's tasty restaurants, interesting boutique and Atlantic waves, is well worth a visit

Matesinhos
If you don't care about delicious seafood, don't both going to Matesinhos, but if you like perfectly grilled freshly caught sardines and big sandy beaches, this Porto's main port is very much worth the bus ride.

Port tasting tour / visit Gaia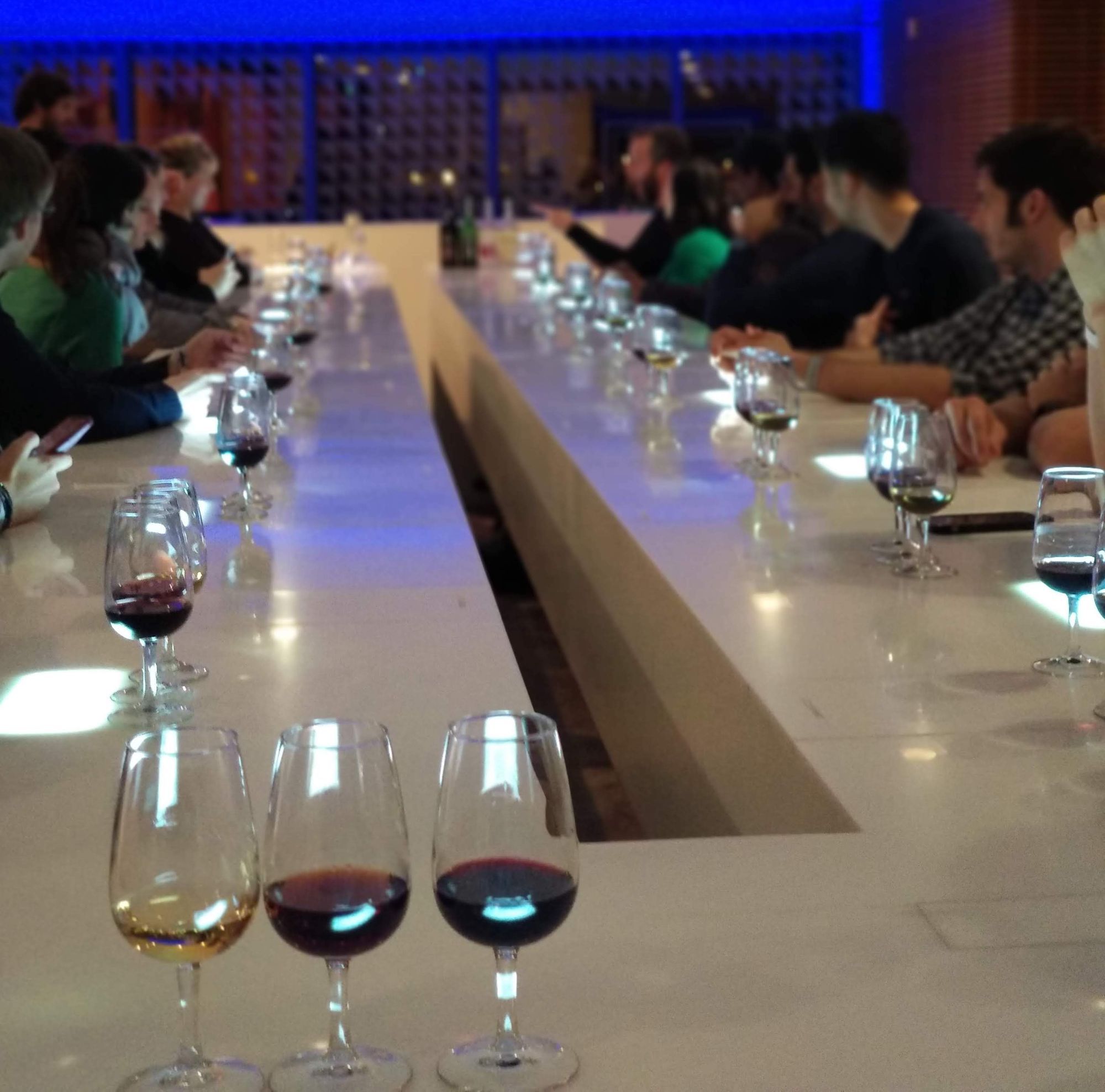 With two months in Porto, we did our fair share of sampling Port wines, and visiting the wineries in Gaia. Our experience was varied- they were often overpriced and you had to book for tours in advance. Hands down, the best port experience we had was the Porto Walkers Port Wine tour. For about the price of a tasting flight in one of the cellars you get a boatload of Port to try, a cellar tour, a museum tour and an expert guide to shepherd you along the riverfront. I honestly can't recommend it enough. We had a blast

Palacio Do Bolsa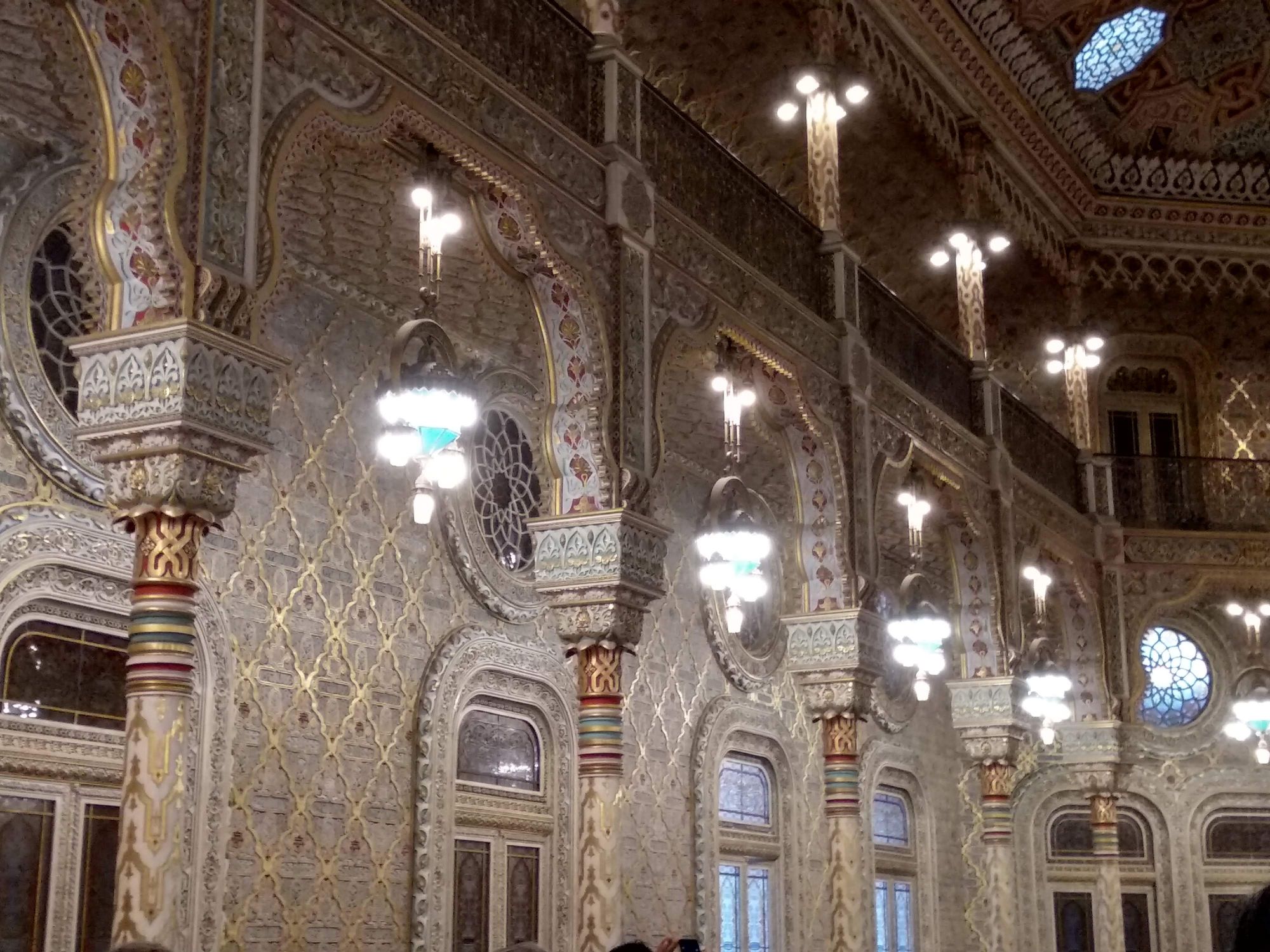 Although you need to arrange a guided tour, the elaborate interiors of the Palacio do Bolsa, showing Portugal's moorish links are jaw-dropping. It's worth visiting, good for a rainy day.

The Ribiera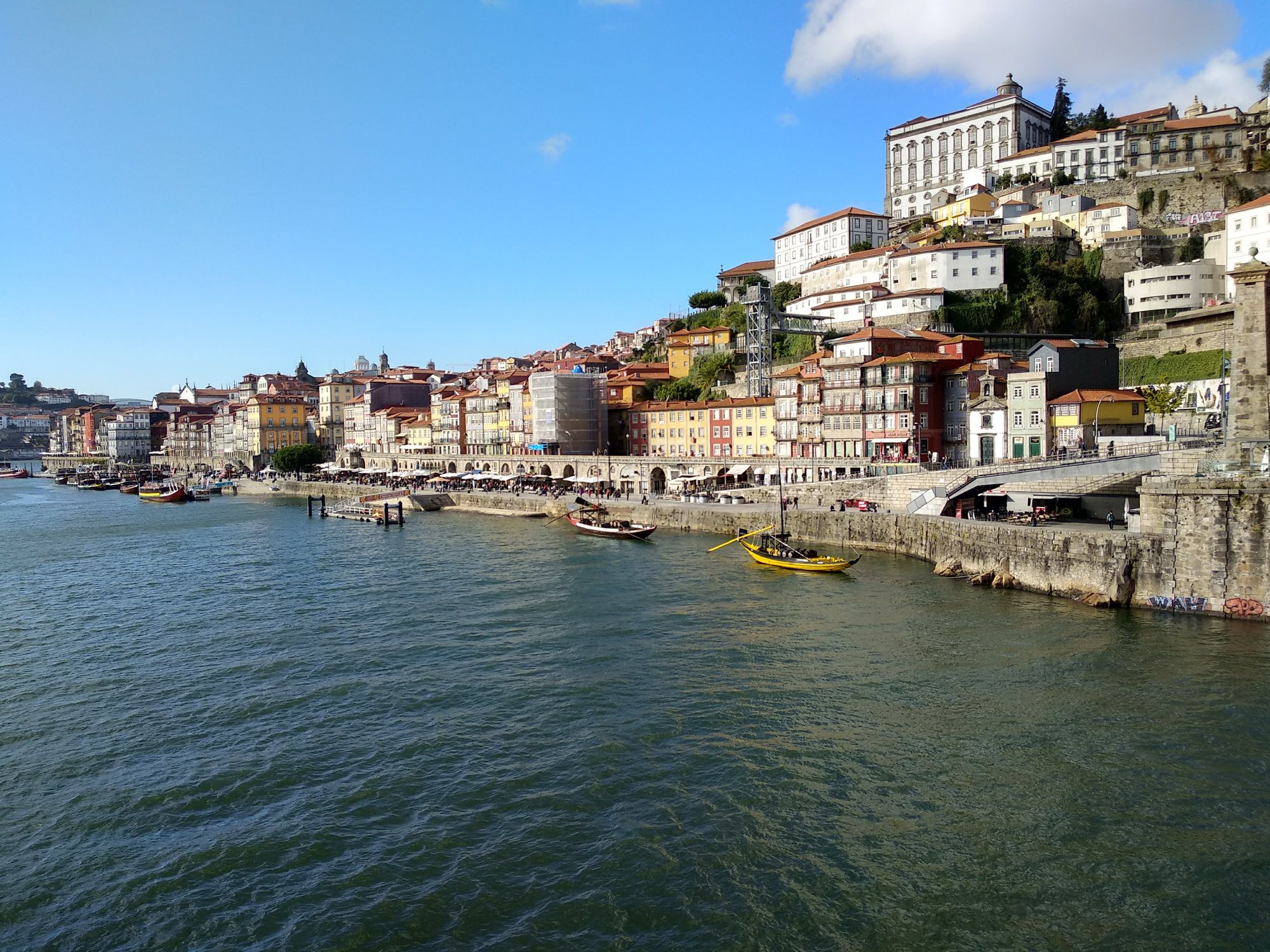 It's full of hawkers, buskers and overpriced wine bars, but the riverside is a great place for an evening stroll and to do some people watching. Restaurants are generally overpriced, but we were recommended Casa Lopez which turned out to be a real gem selling authentic local food.

Igreja de Santa Clara
Porto has a lot of churches, but in this church, which is tucked into a courtyard and is rather unassuming from the outside, the walls ooze gold. It's also free to get in for now. Well worth the visit.

What's overrated
Bolhao market
The main market building was under construction when we visited, but we found the city's main market just wasn't that interesting compared to similar ones in France and Italy

Liveria Lello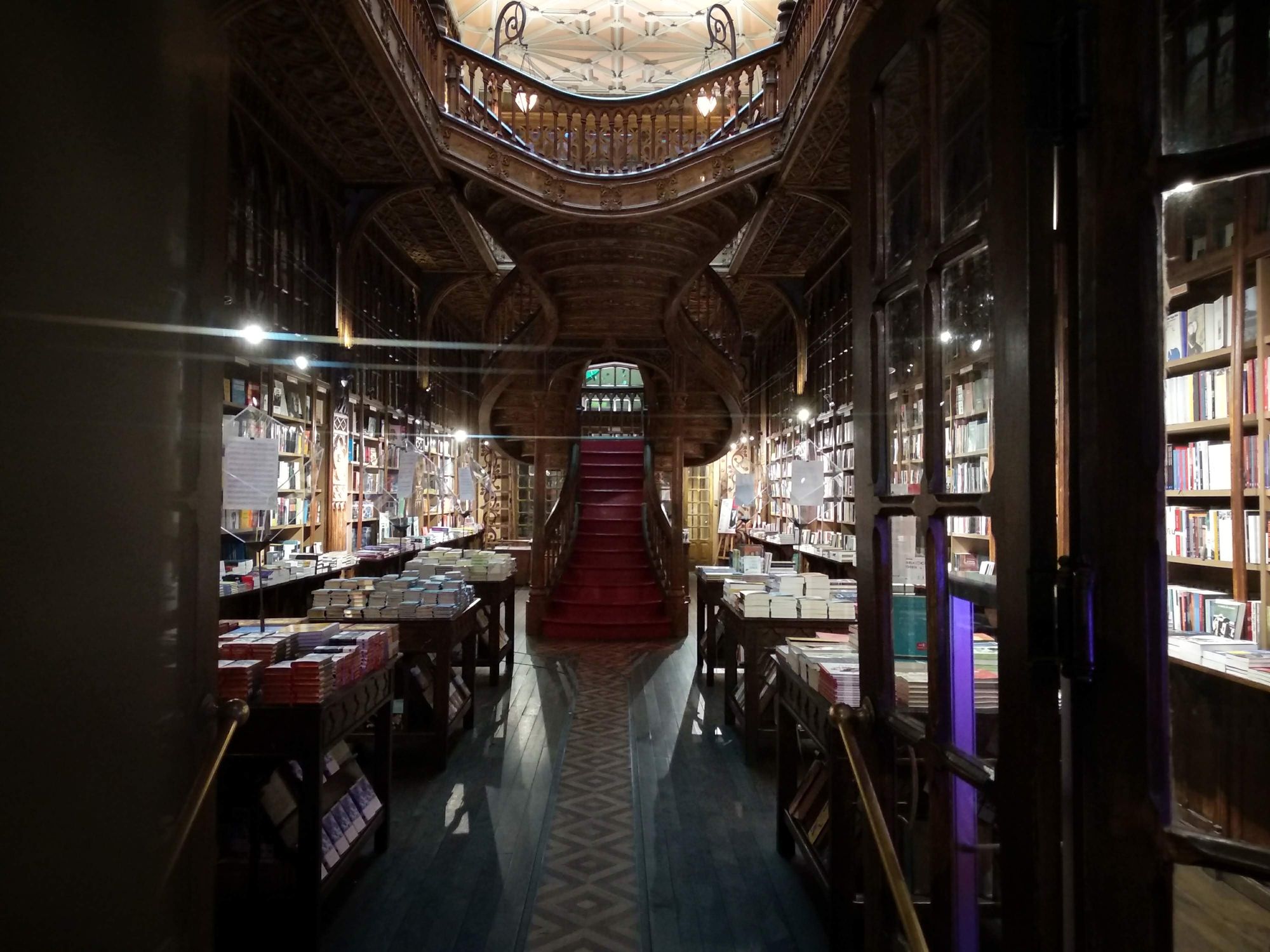 €5 to get in, and the famous interior is made out of plaster rather than wood anyway. Save your money.

Day Trips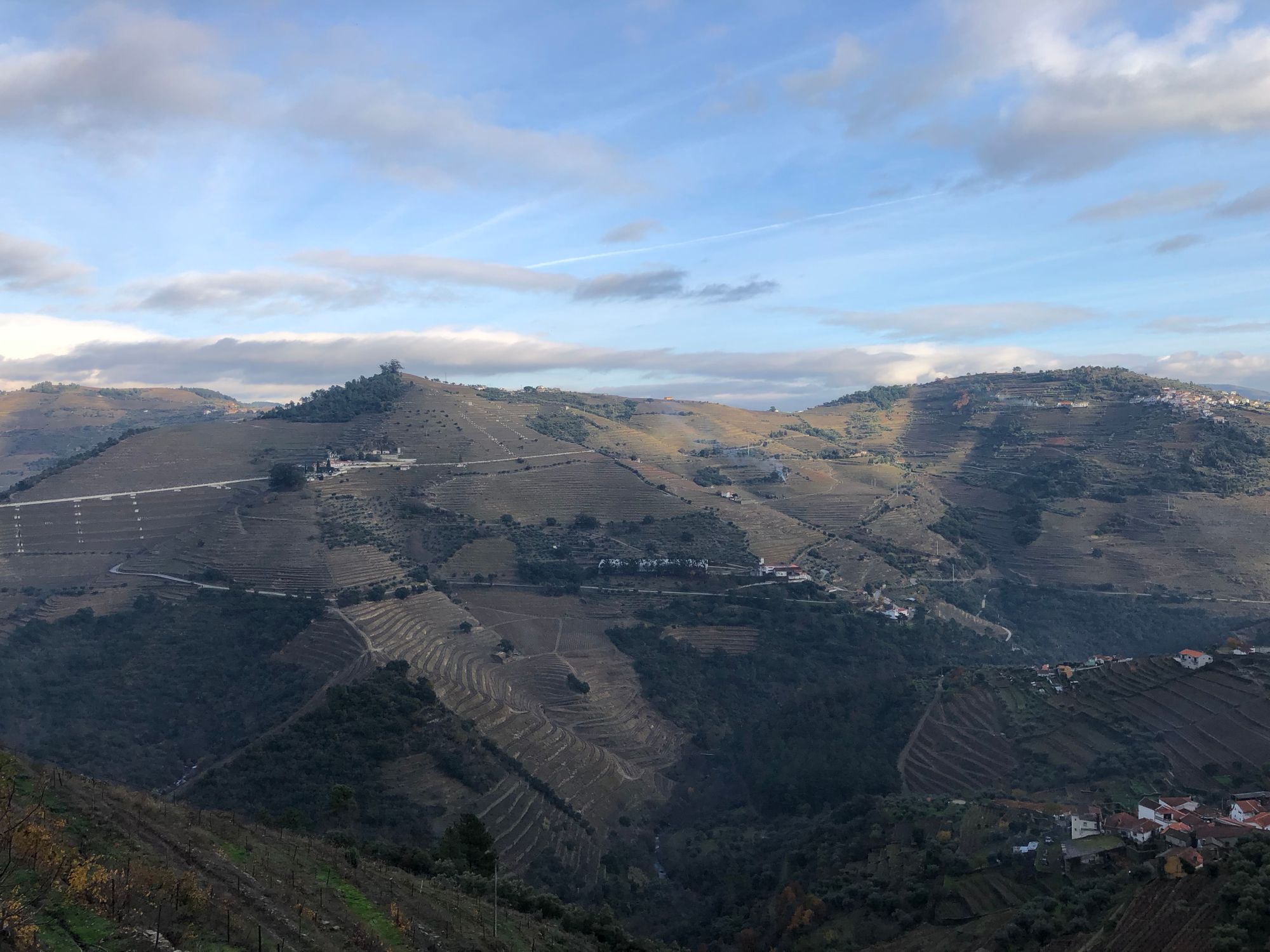 The Douro region is an UNESCO world heritage site, and should be your main priority after visiting Porto itself. An hours drive gets you into a region of rolling green hills and narrow gorges, like Tuscany but without the crowds or the extortionate prices. There are lots of wineries to visit and a river cruise is a must. The best way to get there is by hire car, although it is possible to take the train to Pinhao, a small town on the river in the heart of the region.

If you're in Porto for more that a few days, visit Braga - Portugal's third biggest city is a short and cheap train ride away from Porto. It's known for its Roman ruins and Bom Jesus - a hilltop church with a spectacular baroque staircase leading up to it.

Outdoors
Hiking
The best walking route we found was along the riverside to Foz, then back slightly to ferry point to cross over to Afurada, a tiny little fishing town which felt like it was from another era. From there there was another nice path all the way back on the other side of the river to Gaia.

Running
Porto is intimidatingly hilly, so in general we went running along the riverside. There is a large city park near Foz which would be an excellent spot for running if you stay near it.

What to eat and drink (and where to find it)
Pork and sheep cheese sandwiches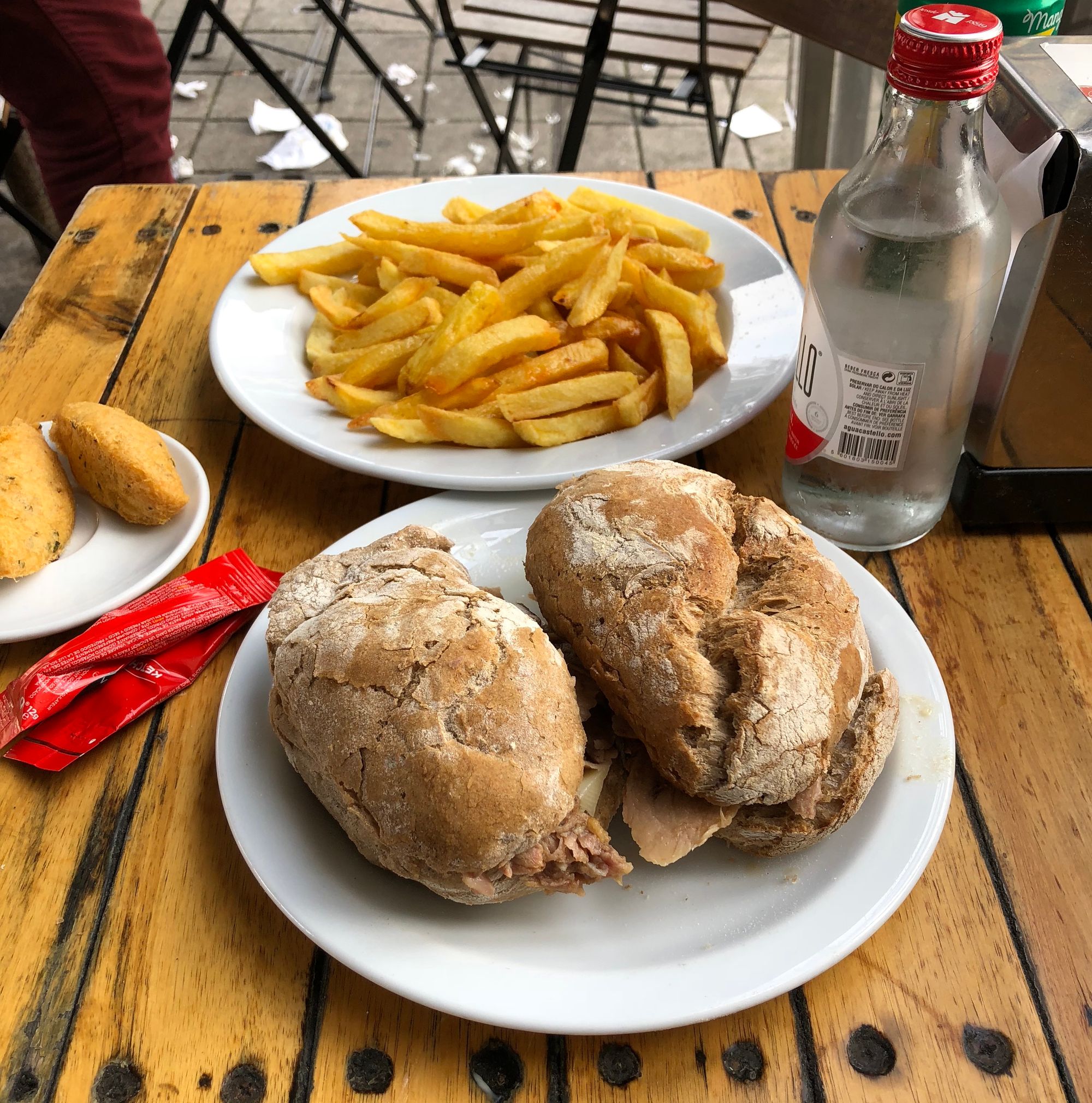 Both of us agree that the pork and sheep cheese sandwich at Casa Guedes (number 8 on the menu) are the best sandwiches we've ever eaten. If you ignore the rest of this post don't ignore this. Get yourself there and eat one. Absolutely worth queueing for.

Alheira (Jewish sausages)
These "fake sausages" were originally made by the Portuguese Jewish community, and normally contain a mix of meats, but never pork. They are strong and tasty and can be found all over.

Port
All of the Port wineries are on the North bank, in Gaia, historically because they had cheaper taxes. The Port, however, was in Porto, which is why the exported wine was stamped "Porto" and so got its name.

Vinho Verde
Almost as ubiquitous as port, this young Portuguese white wine is incredibly easy to drink and usually pretty cheap. Most restaurants will serve it.

Grilled sardines
Go to Matesinhos and simply follow the scent of delicious grilled fish. Afterwards, walk off your delicious meal on the beach there - one of Porto's finest.

Custard tarts
Not all custard tarts are equal. The best ones we found were from Manteigaria, a Lisbon bakery which recently opened a branch in Porto. Natas d'Oro come a close second though.

Francesinha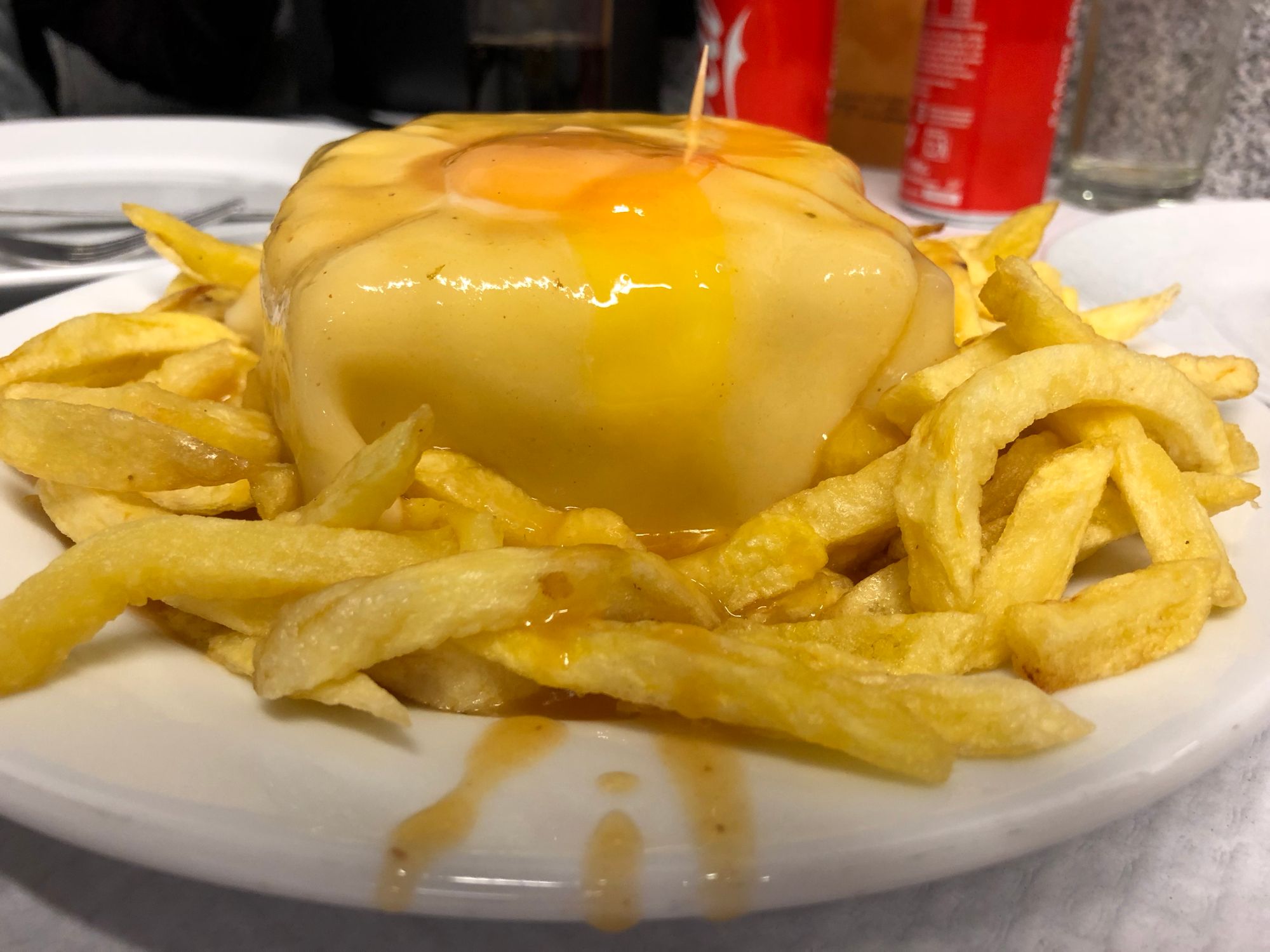 Porto's famous heart attack sandwich, this is like a Croque Monsieur on steroids. The recipe is simple - add as much meat as possible, then cover the sandwich in cheese, a fried egg, and top it off with a beer sauce and chips to mop up with. We liked the one at Cafe Santiago the most.

Tripe
Porto residents are known as triperos throughout Portugal because of their fondness for this offal. It's not my favourite meat, but if you try it at Taberina Cais Das Pedras, you can order some other delicious traditional Portuguese dishes to supplement it.

Where to eat and drink
Coffee
Porto is not short on great coffee shops. Our favourites were Combi coffee and 7g Roasters (in Gaia).

Cheap and cheerful
Pedro dos Frangos is cheap and delicious restaurant for Portuguese style chicken

Fine dining
Pedro Limao - this little restaurant serves up an exquisite (and still reasonably priced) tasting menu. A great spot to celebrate a special occasion.

What to read
Like a good guided tour, this book is an excellent blend of history and culture. The author is British but has lived and worked in Portugal for many years. What I liked about it is he tries to explain modern day Portugal through it's past. The golden age of exploration, the dictatorship years and joining the EU, it's all covered in this book. It's also a treasure trove of fun facts. I was spouting facts I learned from this to anyone who would listen. Did you know Portugal has the largest number of restaurants per person in the EU?
As always, Lonely Planet is an invaluable resource on all things tourism related.