Portugal
A perfect weekend in the Douro Valley
The Douro Valley was listed as a "must do" in everything I read about Portugal, so I was excited to make the trip. I had read all about about it's glorious scenery, quaint villages and stunning wineries and had carefully ignored the reports of cold and wet weather in winter....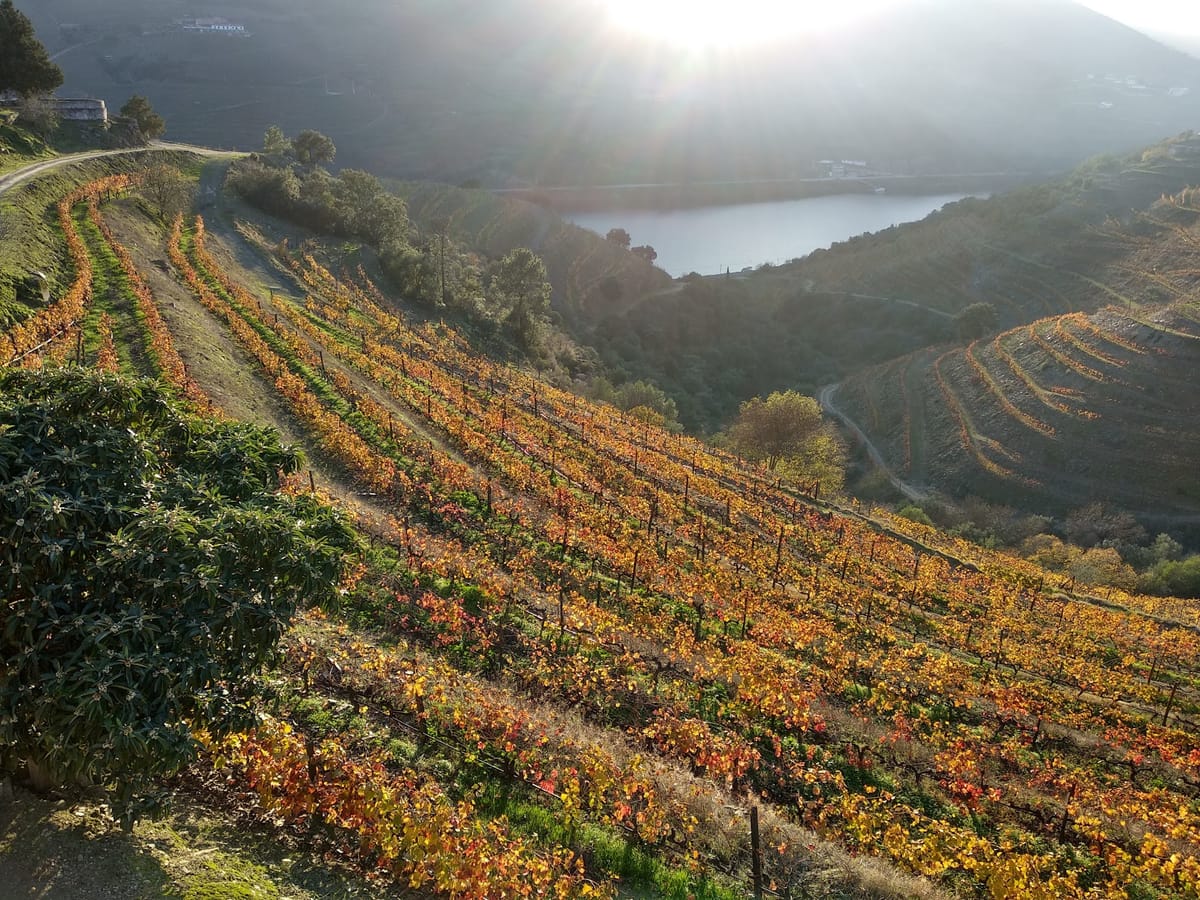 The Douro Valley was listed as a "must do" in everything I read about Portugal, so I was excited to make the trip. I had read all about about it's glorious scenery, quaint villages and stunning wineries and had carefully ignored the reports of cold and wet weather in winter. So I was non-too-amused when, on the morning of our trip, we awoke to mist in Porto.
 "It will just be close to the coast," we lied to ourselves as we picked up the rental car and switched on the fog lights. We followed the motorways up and up. The visiblity got worse and it began to drizzle. It was not an auspicious start.
Happily, however, the visibility had clear a bit when we pulled into our first destination. Casa de Mateus is famous for being the house on bottles of Mateus rose wine. That fact was wasted on both of us, as neither of us had heard of Mateus Rose, but the house wasn't too shabby.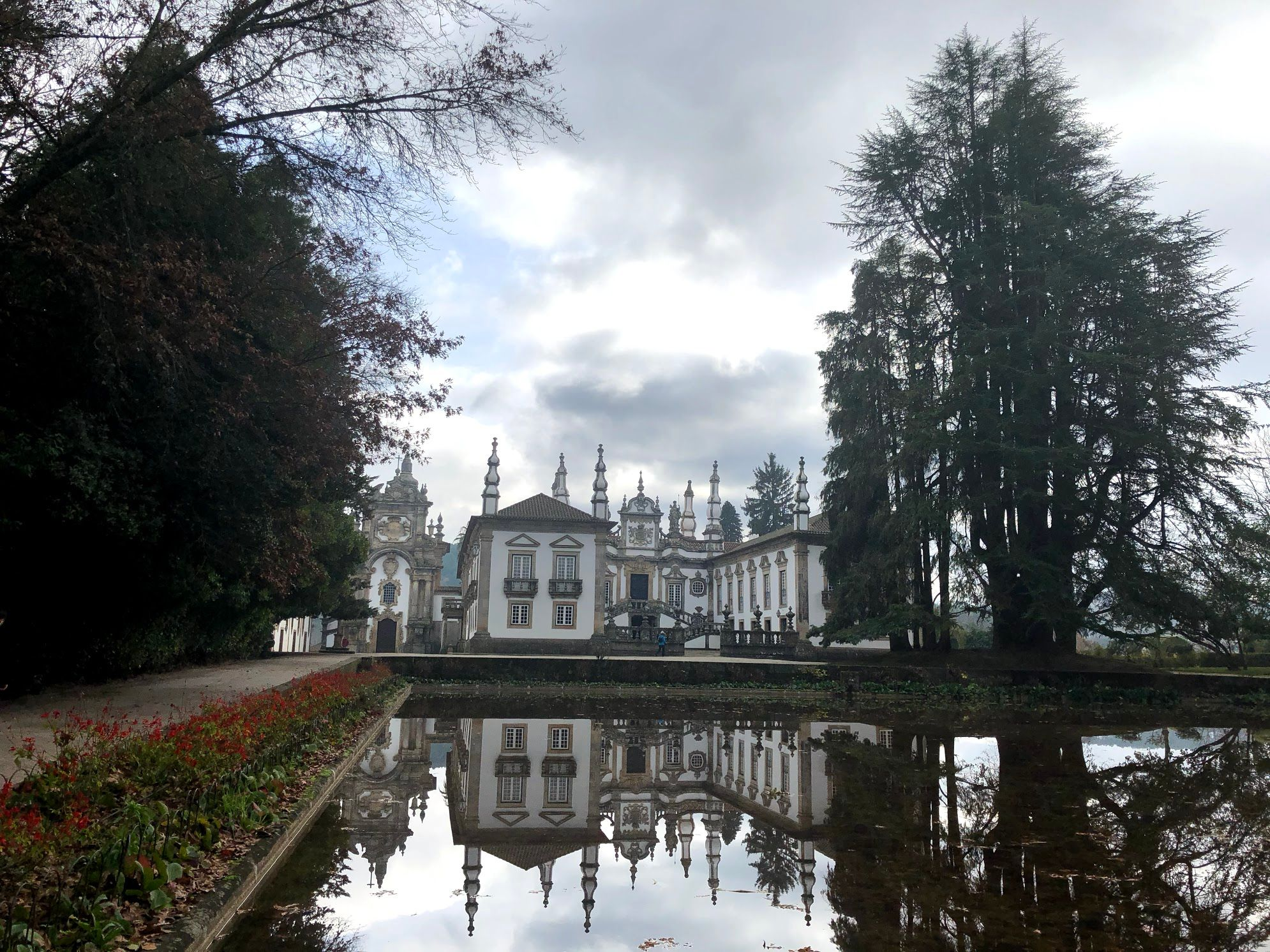 The place was practically deserted when we arrived, so we were shocked when our tour guide when she said she had done tours for 90 people the day before. The gardens are actually the best bit of the manor house, so if you can't get on a tour of the house don't be too dismayed - it is suitably lavish with wooden ceilings, but there are plenty of better palaces in Portugal. They did have an interesting selection of absolutely 100% genuine, papal certified religious relics though.
Tour over, we stopped for a pizza on our way to the town of Pinhao. Entirely by accident, we found ourselves on the "wine route", which winds past endless vineyards and Quintas - the Portuguese name for winery. The mist had totally cleared at this point, so we pootled along, shouting to each other about how amazing the views and how we couldn't get over it.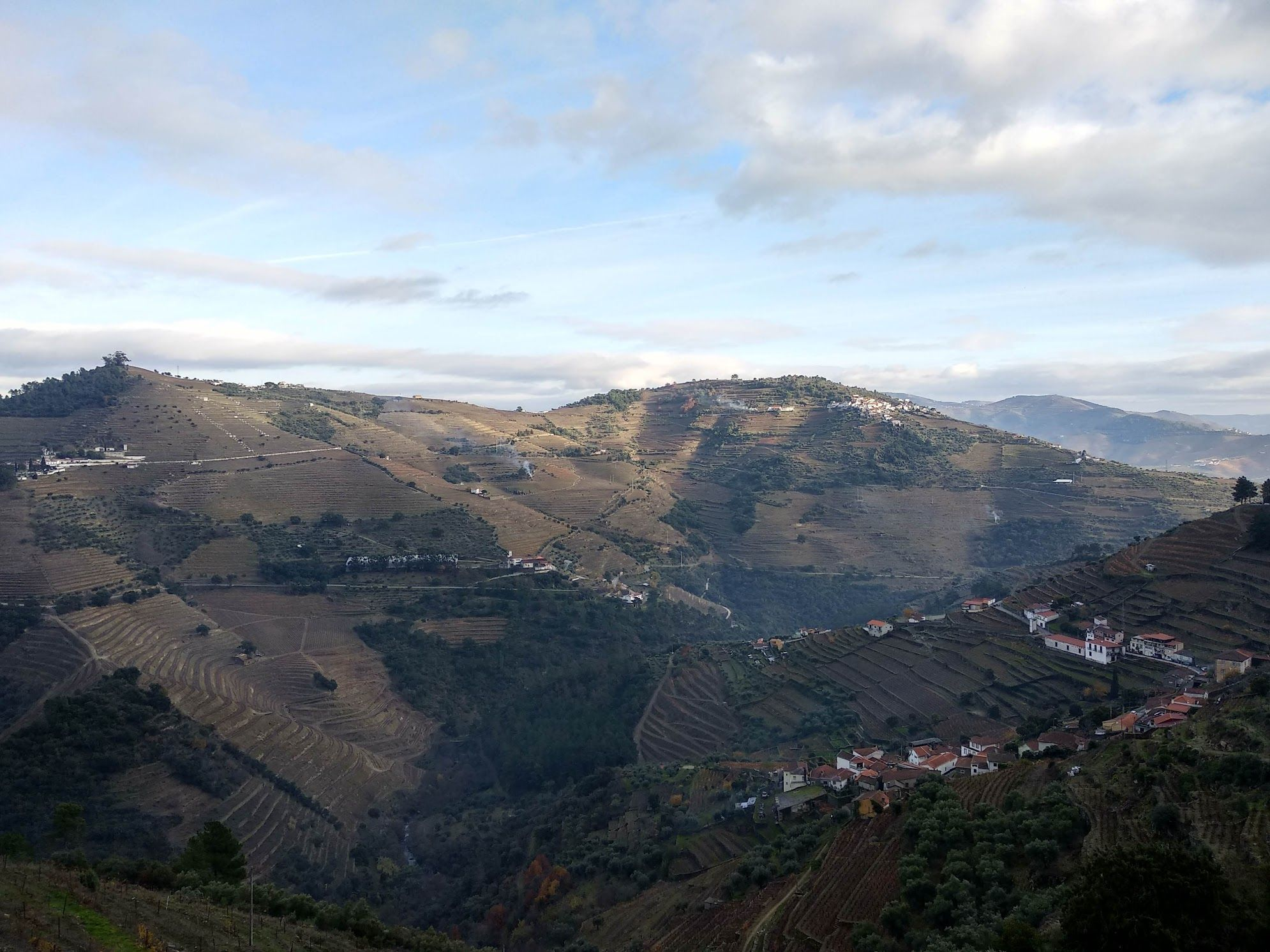 Much to the relief of the string of cars behind us, we eventually arrived at the bottom of the valley in Pinhao. It's a tiny little town, just a main street attached to possibly the world's cutest train station. We weren't there to go on a train however.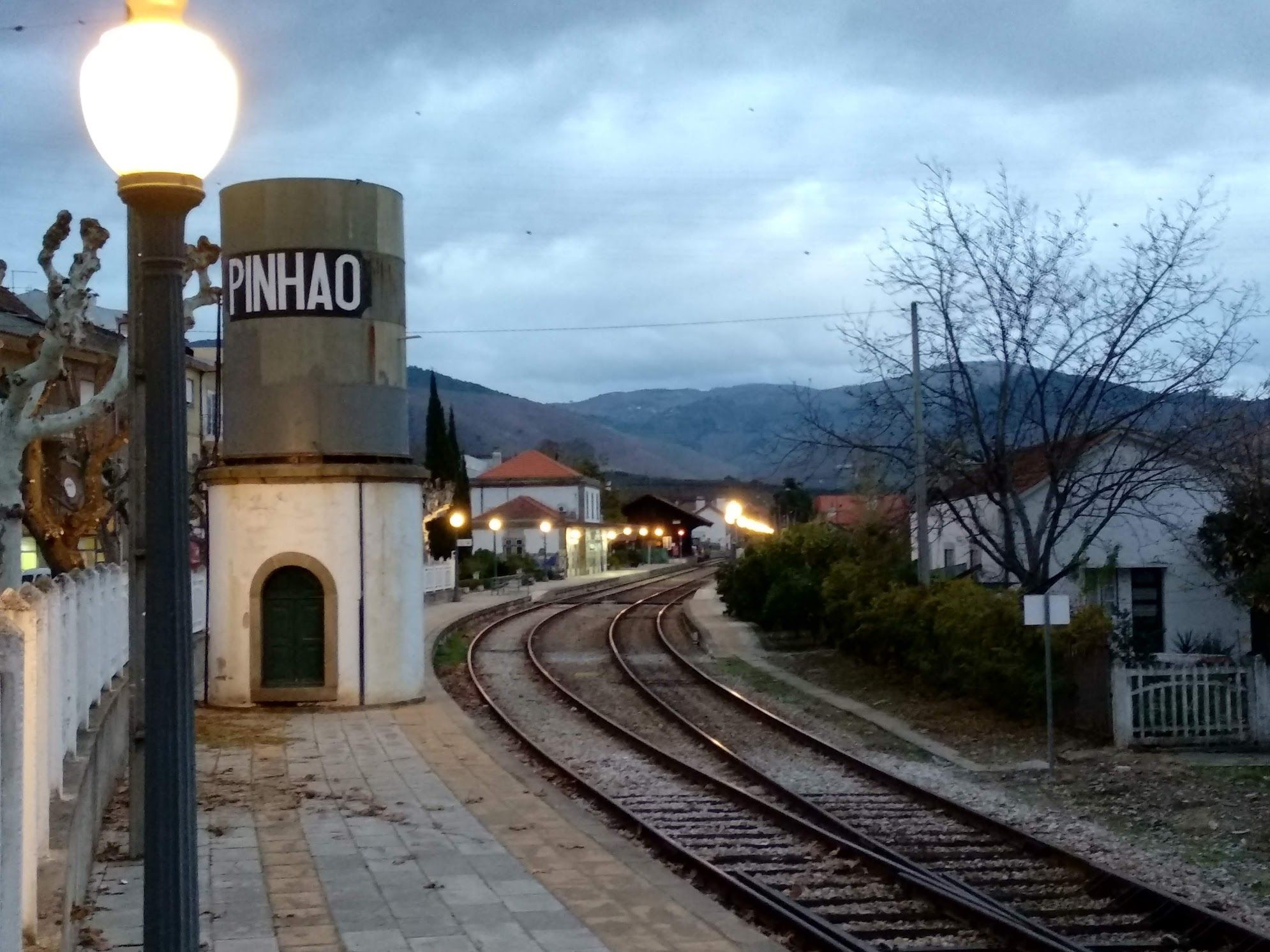 Pinaho is also home to several river cruise operators. Even on a grey day in the off season, there were cruises lasting one and two hours leaving every thirty minutes. We opted for a one hour cruise - night was falling and it was a bit windy, so it was more than enough. However, in the summer I would definitely book a two hour one. It was so relaxing heading up the river, spotting the different port and wine brands dotted about the hillsides.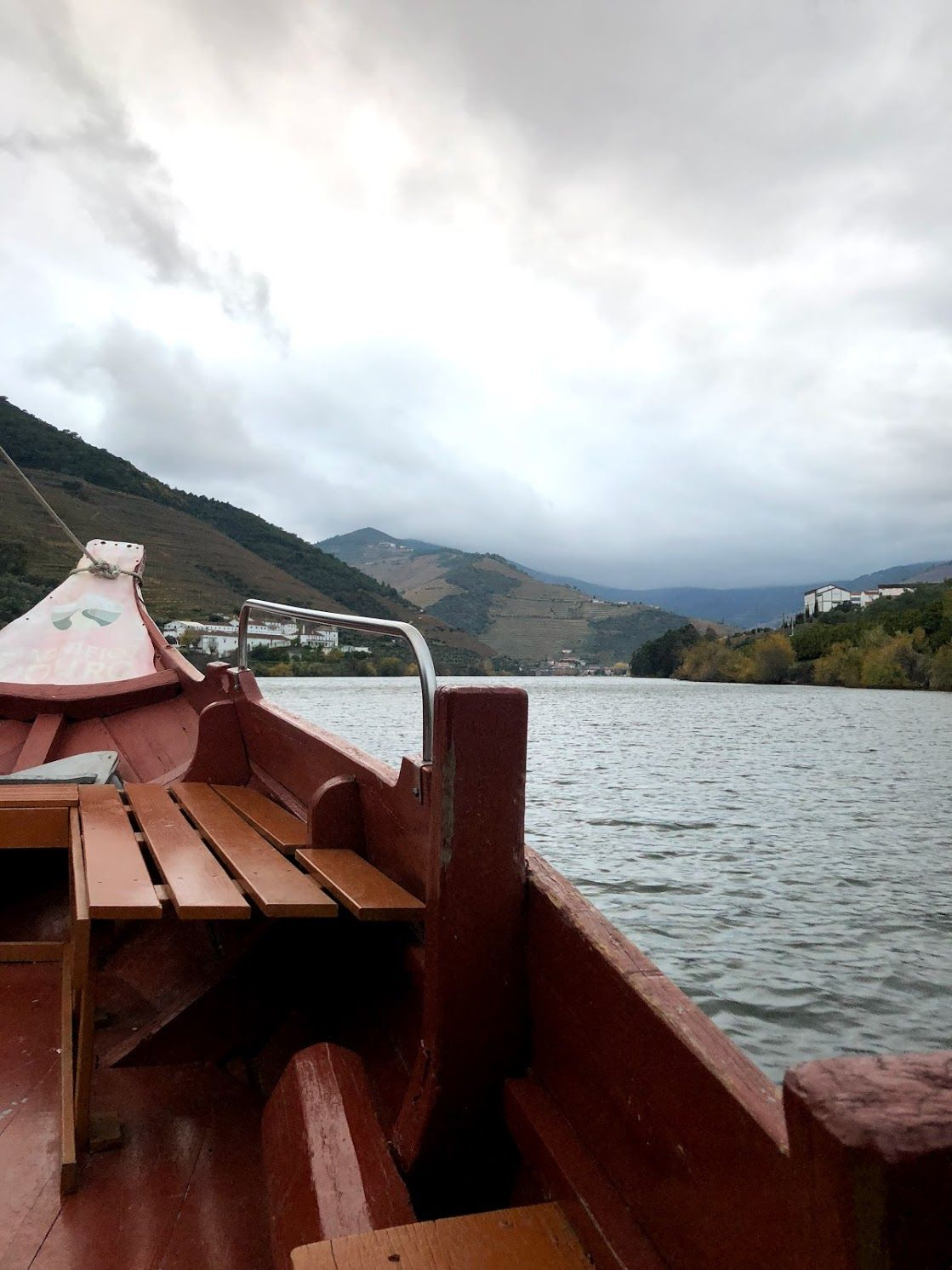 When we arrived back to shore, night was falling so it was time to head to our hotel. I had booked a guesthouse in a tiny village not far from Pinhao.
 "You know, it's not often we stay in a hotel this much in the middle of nowhere," I observed, as we wound our way up the tiny mountain roads.
 "I know, but I'm OK with it", Nicolas replied.
Once we arrived, I had no regrets either. As well as being a lovely old guesthouse, <a href="https://www.booking.com/hotel/pt/casa-cimeira.en.html?aid=1661103&no_rooms=1&group_adults=1" rel="nofollow">Casa Cimeira"</a> is also a wine producer. We were greeted with a glass of their own port, shown to our room and asked if we wanted to have dinner in the guesthouse. Not fancying venturing down the hilltop road in the dark, we readily agreed.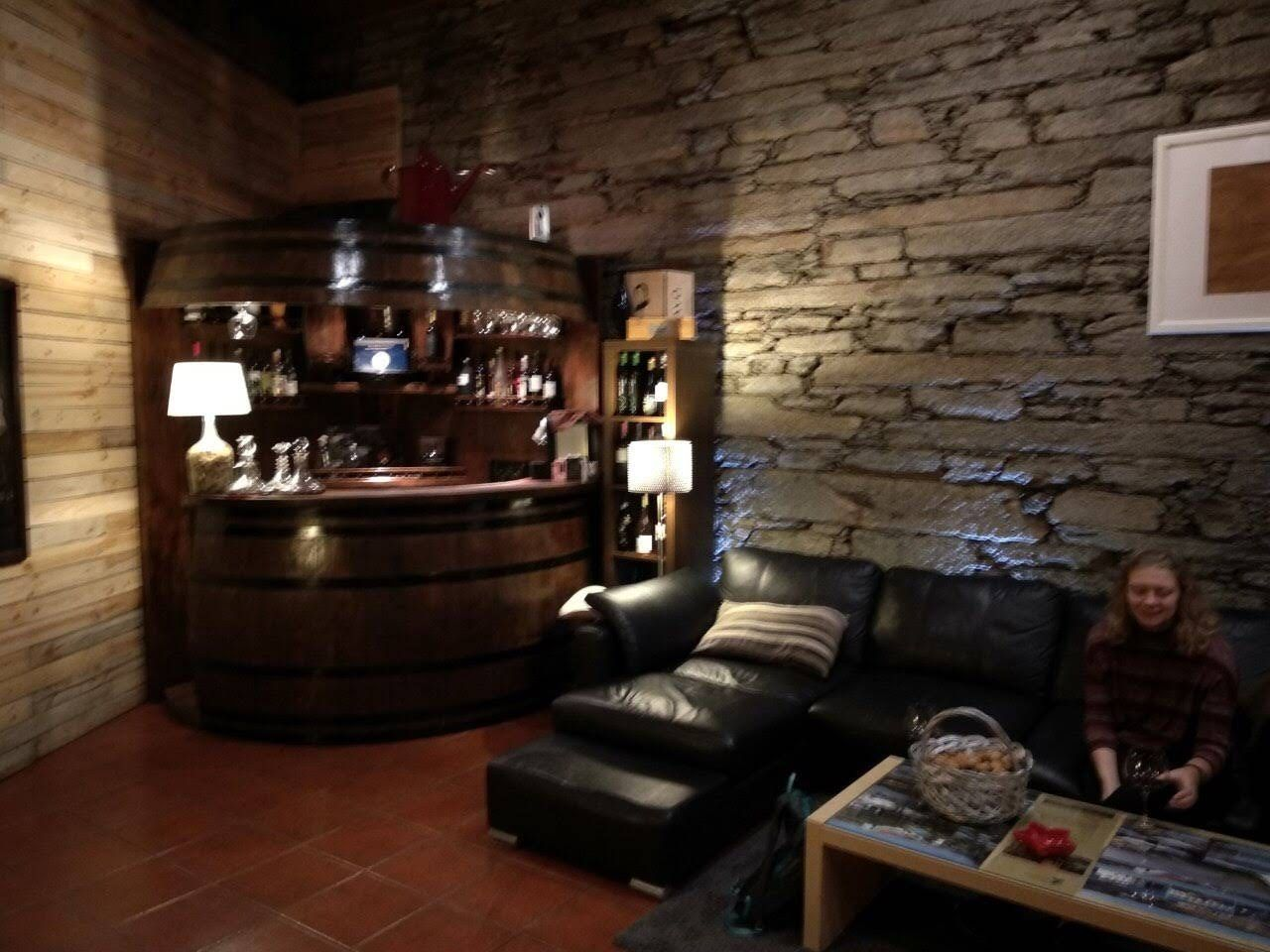 The dinner was excellent, lots of meat, as always seems to be the way in Portugal,  washed down with plenty of homemade wine and port. Everybody ate together around a big dining table, family style, and we had a merry time with our fellow guests. We were happy the walk to bed was just across the courtyard.
The next morning, we sat down to breakfast still feeling full from the night before, although that didn't stop us sampling what was on offer. Particularly the homemade bread with bit of meat in it. Then we said goodbye and hit the road again.
It would be rude not to check out another winery while we were in the region, and we had heard good things about Quinta Nova. This place also has a rather fancy looking hotel, but we were more interested in checking out the estate. At first we weren't sure if it was open, as there didn't seem to be any guests around, but a few members of staff appeared and booked us on to a tour of the wineries for the afternoon. With a few hours to kill, we set out one of the signposted walking trails around the vineyards.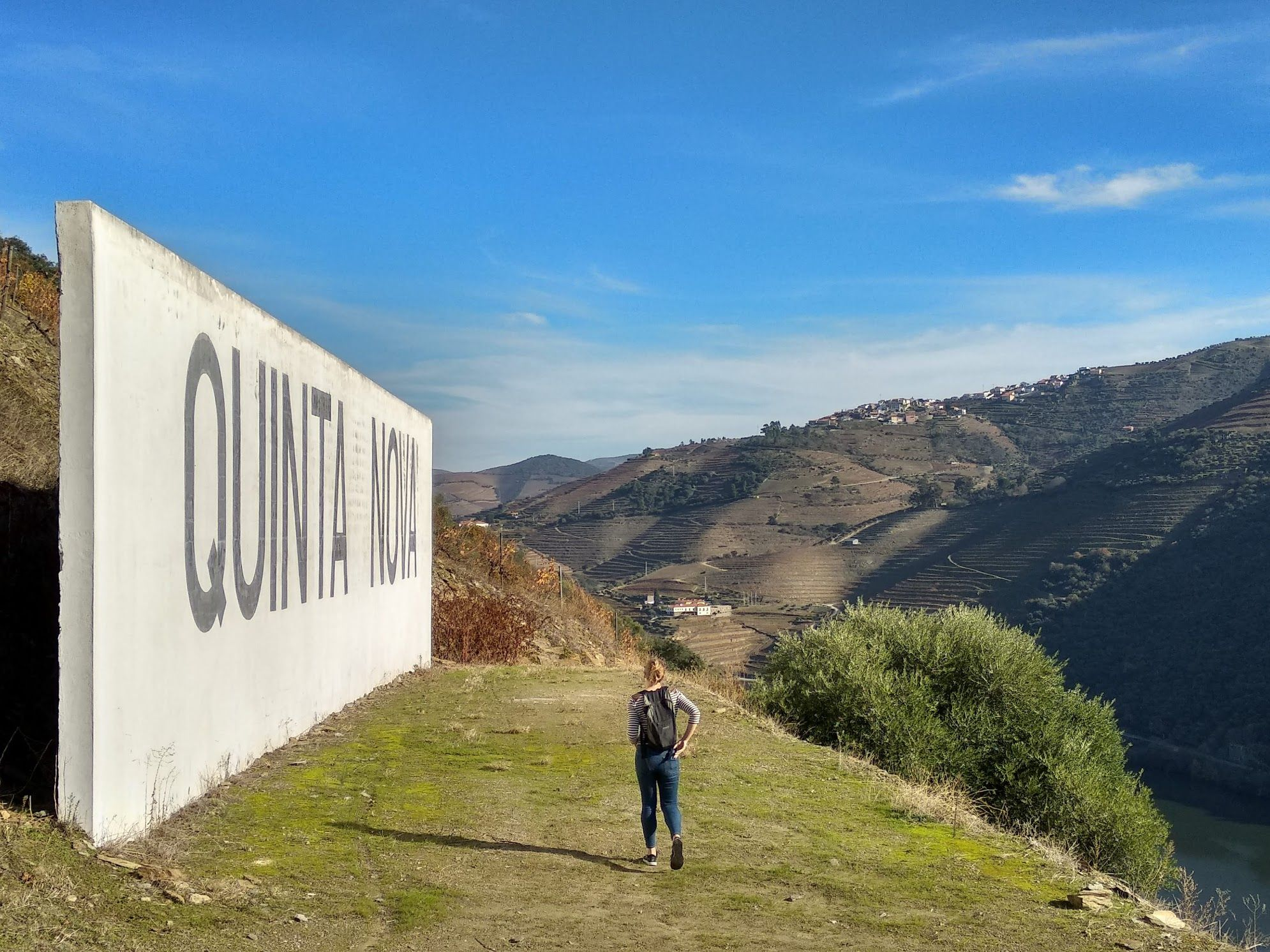 It was so beautiful. The sun had come out for the day and we were still entirely alone. We walked through rows of vines, resplendent in their red and yellow leaves, with the Douro river flowing below us. The whole place was nauseatingly perfect.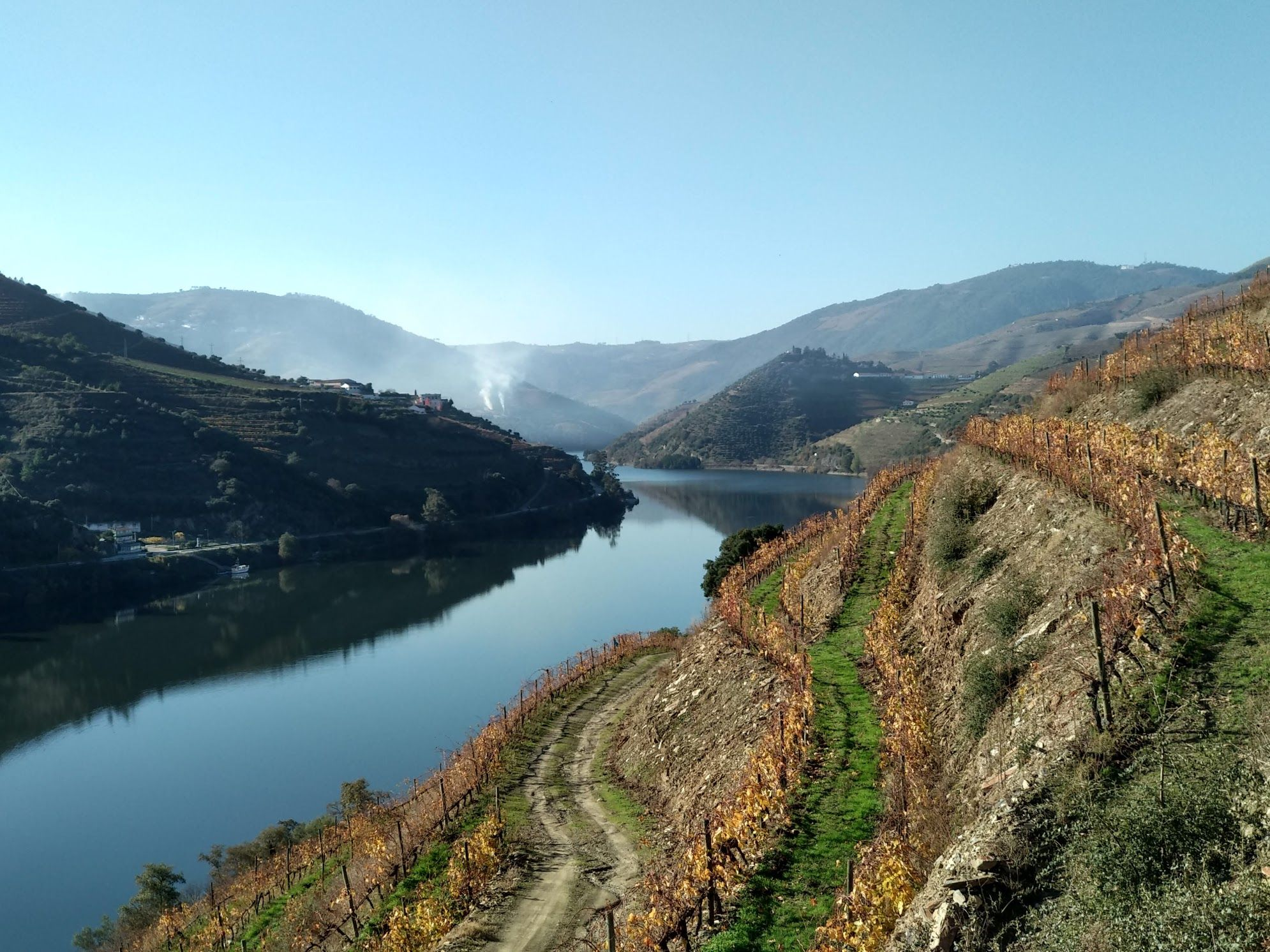 We returned from our hike ready to taste some wines, and this was when we made a fatal error. We were starving, our tour was soon and there was nowhere else to get food for miles, so we ordered a cheese and meat platter from the tasting room. It was €40. €4o. It was expensive, but, we thought, it must be a freaking amazing platter. You can get an awful lot of Portuguese charcuterie for €40.
And it's true, you definitely can, but at Quinta Nova we didn't. What turned up was a very mediocre platter and we were very sad about it. Luckily at least we had the wine from the tasting to wash it down with.
Swallowing the bitter taste left in our mouths, we got ready for the tour. This, thankfully, was excellent. Quinta Nova has thoroughly embraced modern wine making practices, and they have all kinds of giant vats and weird machinery in their warehouse where they process the grapes. For me, the highlight of the tour was the machine designed to mimic humans pressing the grapes by foot - it had a long row of silicone feet to mush the grapes with. I would love to see it in action. We were also shown their museum of traditional port making equipment which while interesting, was a bit of an anticlimax after the silicone foot press.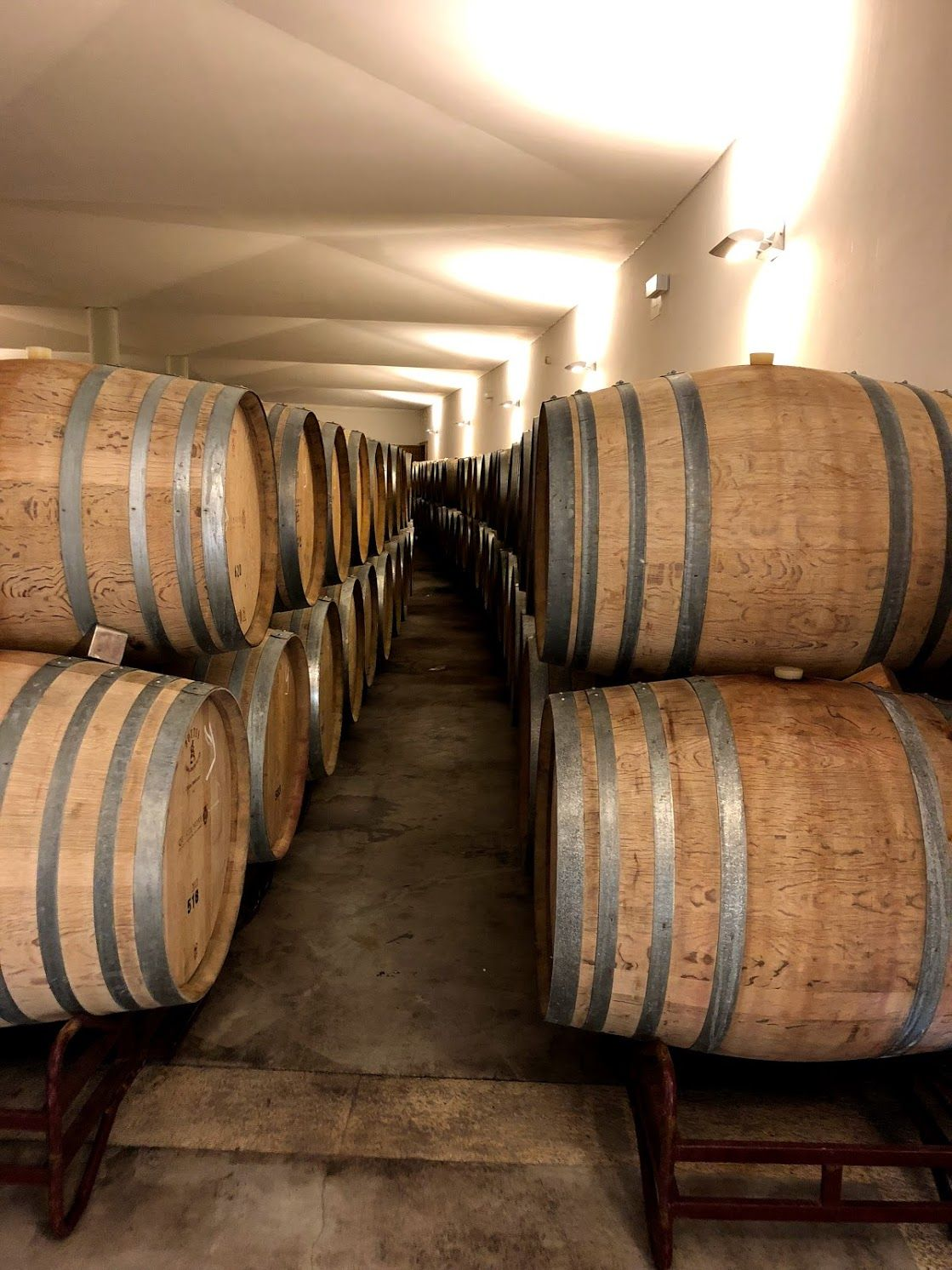 Our tour finished, it was time to leave the Douro Valley. We had thoroughly enjoyed our stay, and despite being worried about the weather, we both agreed that visiting in the off season had made it even better.
---
Thinking about visiting the Douro Valley? Here's what you need to know
Getting there and getting around
Driving is definitely the way to go. We hired a car from Enterprise in Porto and it cost €9 per day and we spent around €40 on petrol. There are also toll motorways but the whole thing was still ridiculously cheap. The Douro is full of scenic mountain roads that you just can't visit without a car. The only downside is one of you will need to be a designated driver when you visit those Quintas.
If you really don't want to drive, there is a train to Pinhao, but the majority of the wineries are outside of the town. A better option might be to take an organized tour. The ones we saw all seemed to be having a good time.
Book Casa Mateus in advance
If you want to do a tour of the manor, you need to email or book in advance. You can just rock up to walk around the gardens. The tour was €12 each. They don't actually make the famous rose at the house, but they have a shop selling it if you really want to buy some.
Go to Quinta Nova, but take a picnic
I thoroughly recommend visiting Quinta Nova. It's incredibly scenic, the winery tour and tasting was interesting and the walking trails around the vineyards are free and well signposted (I believe in other places they will charge you to walk around their land). Just don't eat there! Take a picnic instead, or stop for food on the way. Our tour was €16 without wine (for the designated driver), and €20 with wine (for the designated drinker).
There is no need to book a river cruise in advance
We hadn't booked anything, but there are loads of boat operators to choose from. We paid €10 each for a one hour cruise.
Don't be afraid to go in the off-season
Despite it being a weekend and a national holiday in neighbouring Spain, when we visited in early December it was wonderfully quiet. The roads were empty, the guesthouse only half full. It made a big change from the hustle and bustle of Porto, which is full of people on city breaks at this time of year. As I mentioned, the weather was a bit changeable, but we sat without coats in the sunshine, and a chilly breeze is nicer than the scorching 50 degrees Celsius temperatures the valley can reach in middle of summer.
Stay at Casa Cimeira
I can't stop raving about this place. The rooms were great, the people even better, and the wine top notch. We felt so welcome, and at €70 a night, it's an absolute bargain in my opinion.