One of the best things about being based in Lille was it meant we could explore two countries at once. The city rubs up against the Belgium border, and is well connected with bus and coach services to Belgium. It's a country I had never visited before, and Nicolas only as a child, so we made sure to hop over the border ever chance we had.
Lille Day trip 1 - Bruges
My parents, over for the weekend, were just as keen to get some waffles, so our first trip was to Bruges.  With one of the best preserved medieval centres in Europe, Bruges is not what you might call an undiscovered tourist destination. Still, when we arrived in the morning it was lovely and quiet, and uncharacteristically sunny for February.  "It's like being in in Disneyland," mum remarked  as we walked from our hire car to the centre.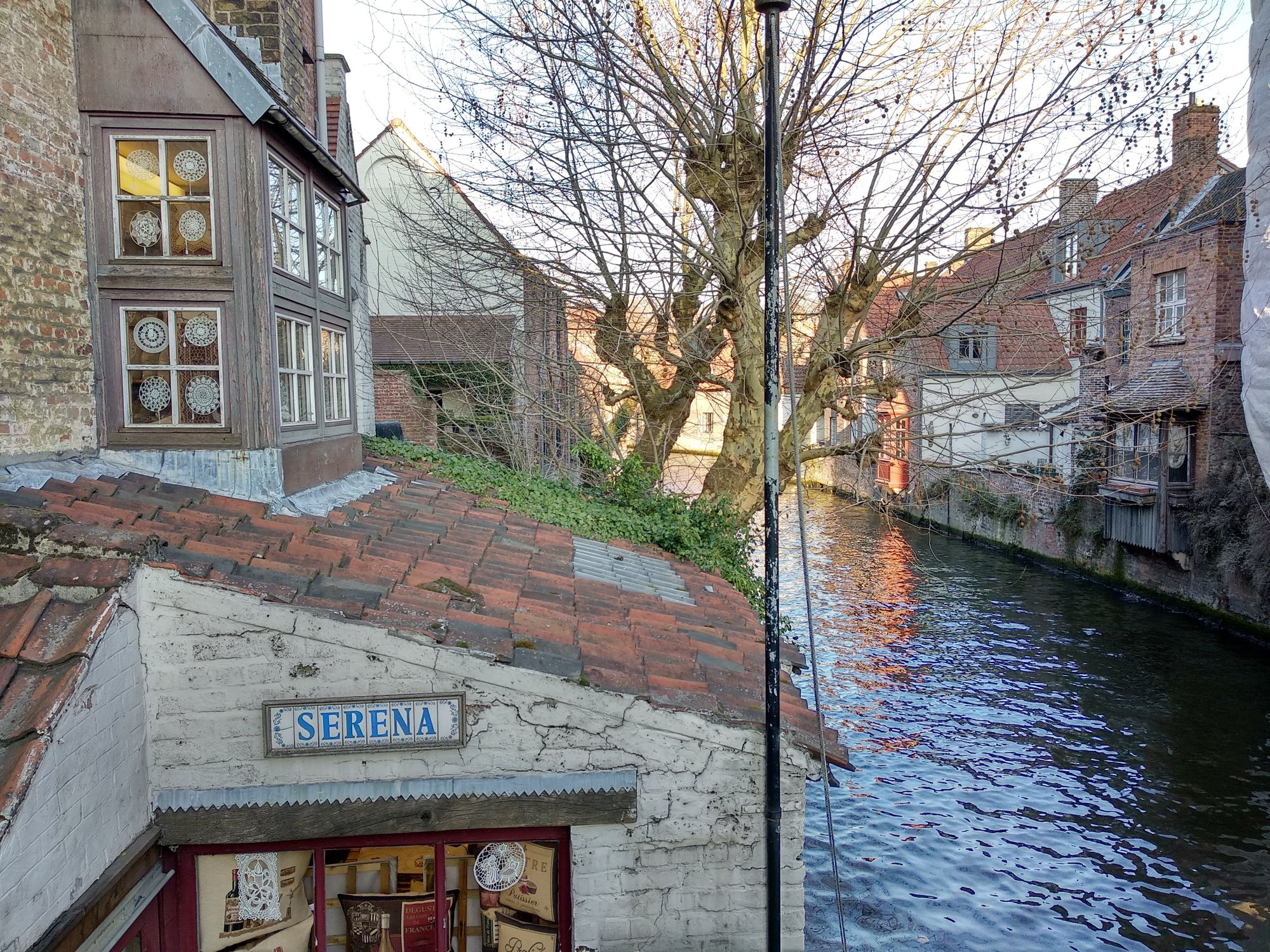 The streets were almost unnervingly clean and sterile. There was no rubbish, no houses looked out of place. The paving was beautifully maintained, and when we reached the grand place, the crowds also reached Disney levels. We stopped for a breakfast of chocolate covered waffles at restaurant on the main square, then got a boat ride ahead of the crowds.
We only queued for about fifteen minutes or so, and despite being jammed into the boat like a tin of sardines, it was really a highlight to travel through the city by canal.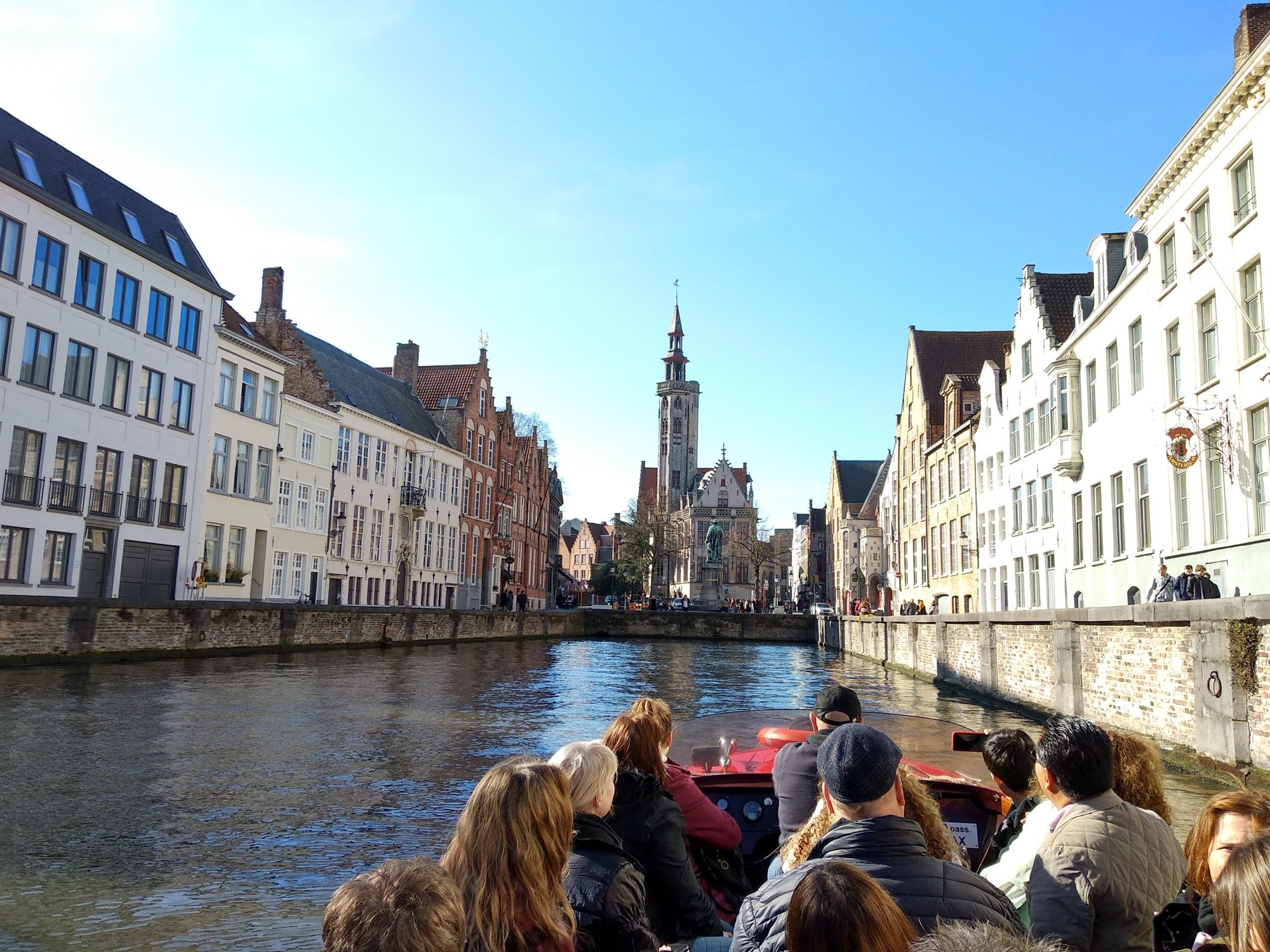 After the boat ride, we spent a while perusing the shops, which mostly meant perusing chocolate shops. I know Belgium is famous for its chocolate, but the number of chocolate shops was completely ridiculous -  virtually every shop on some streets. Lunch was moules and frites, washed down with a Belgian beer of course.
After that we strolled the streets some more, making our way over to the other side of the town. Eventually we found ourselves at the Lake of Love, a large open lake at the edge of of the city centre which was historically used as a canal boat carpark. Unlike car carparks, it was another beautiful spot, bustling with horses and carts, tourists and vendors and an enormous number of swans.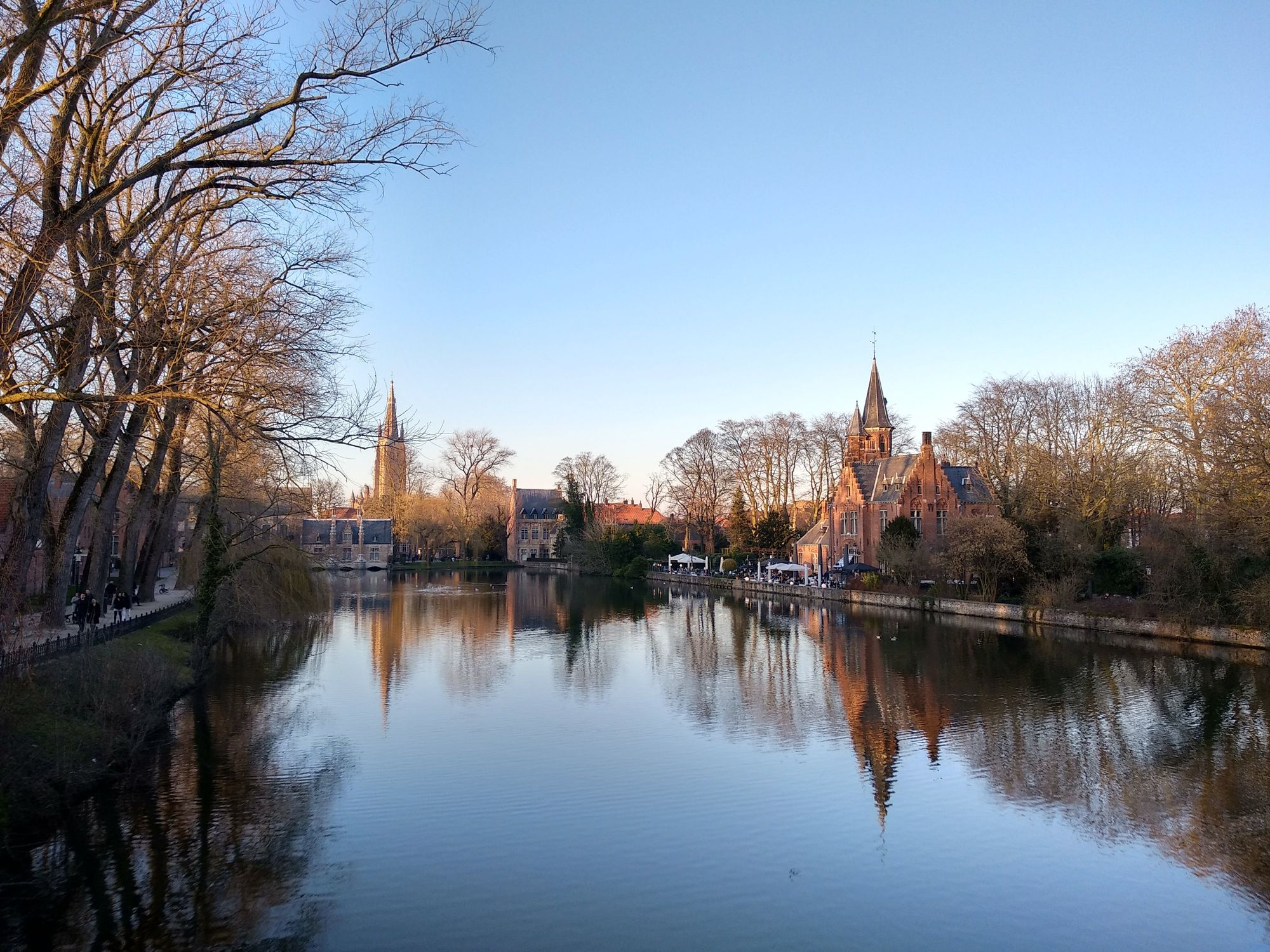 We paused on a bridge over the canal, taking photos and admiring the view before turning our attention to a set of high gates at the end of the bridge. They were open, so we walked in to what we thought was a convent. Inside it was so quiet, it was like putting on noise-cancelling headphones. A collection of whitewashed cottages around a green where daffodils were just beginning to bloom.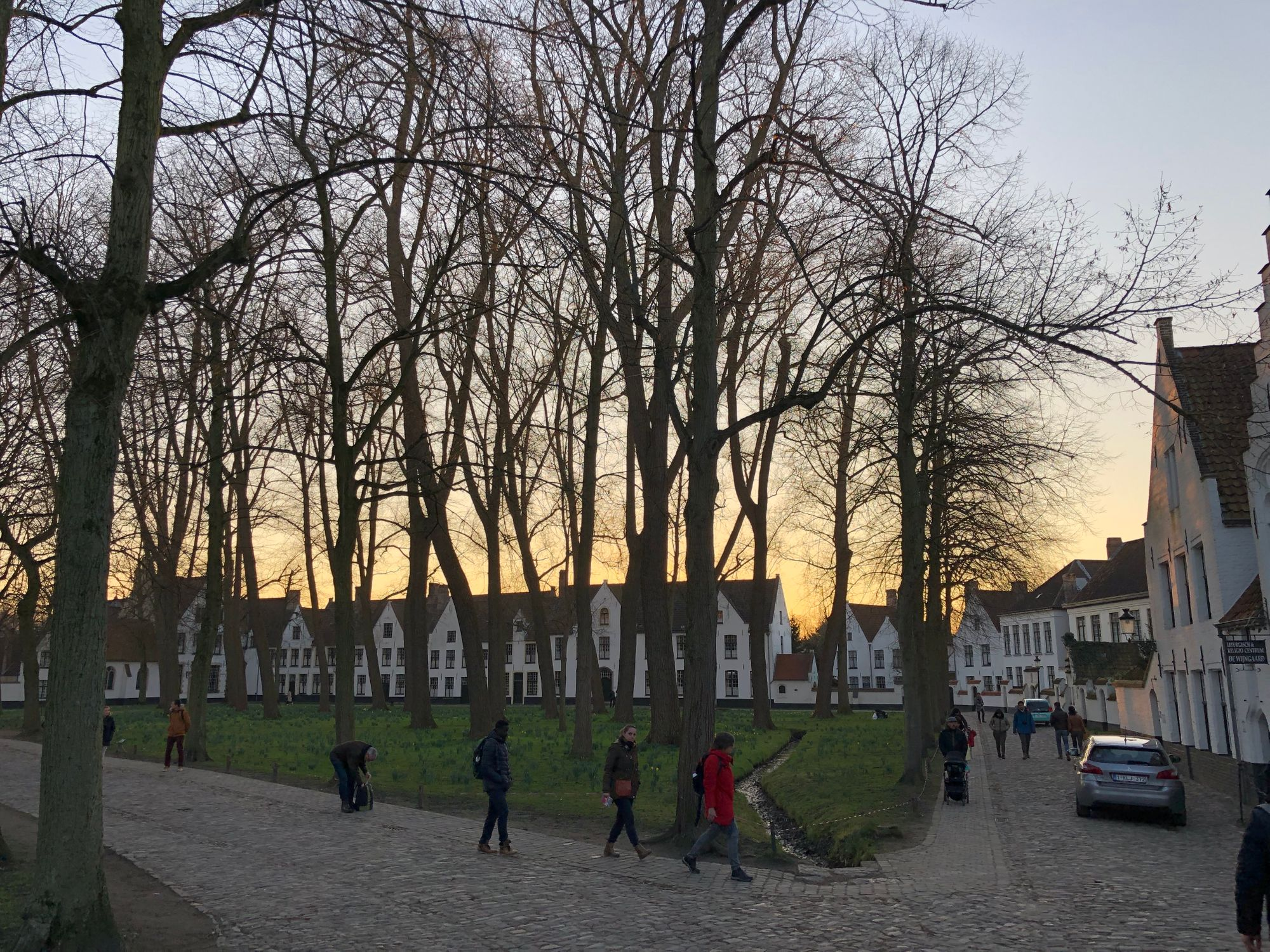 This peaceful spot was not a convent  but a beguinage - a place where group of unmarried or widowed religious women lived together, founded in the 13th century.
We all agreed that between the moules, frites, beer, waffles, chocolate and canals rides, we had the most touristy Belgian day ever and, for or first foray into to Belgium, it was just perfect.
Lille Day Trip 2 - Ghent
As soon as we were tipped off by a tour guide in Lille that Ghent is the cooler, bigger sister of Bruges, we had to check it out. This time we took the coach. Like Bruges, Ghent also has a Beguinage, in fact it has three. It also has a castle, a fine art gallery, a museum of industry and probably many other things. We didn't visit any of them.
Instead we just wandered around the canals and narrow streets exclaiming how pretty it was, and occasionally stopping for chocolate or a drink.
With around 70,000 students, Ghent had a much younger, cooler feel to it than Bruges. There are plenty of hip cafes and cocktail bars. It even has a graffiti alleyway.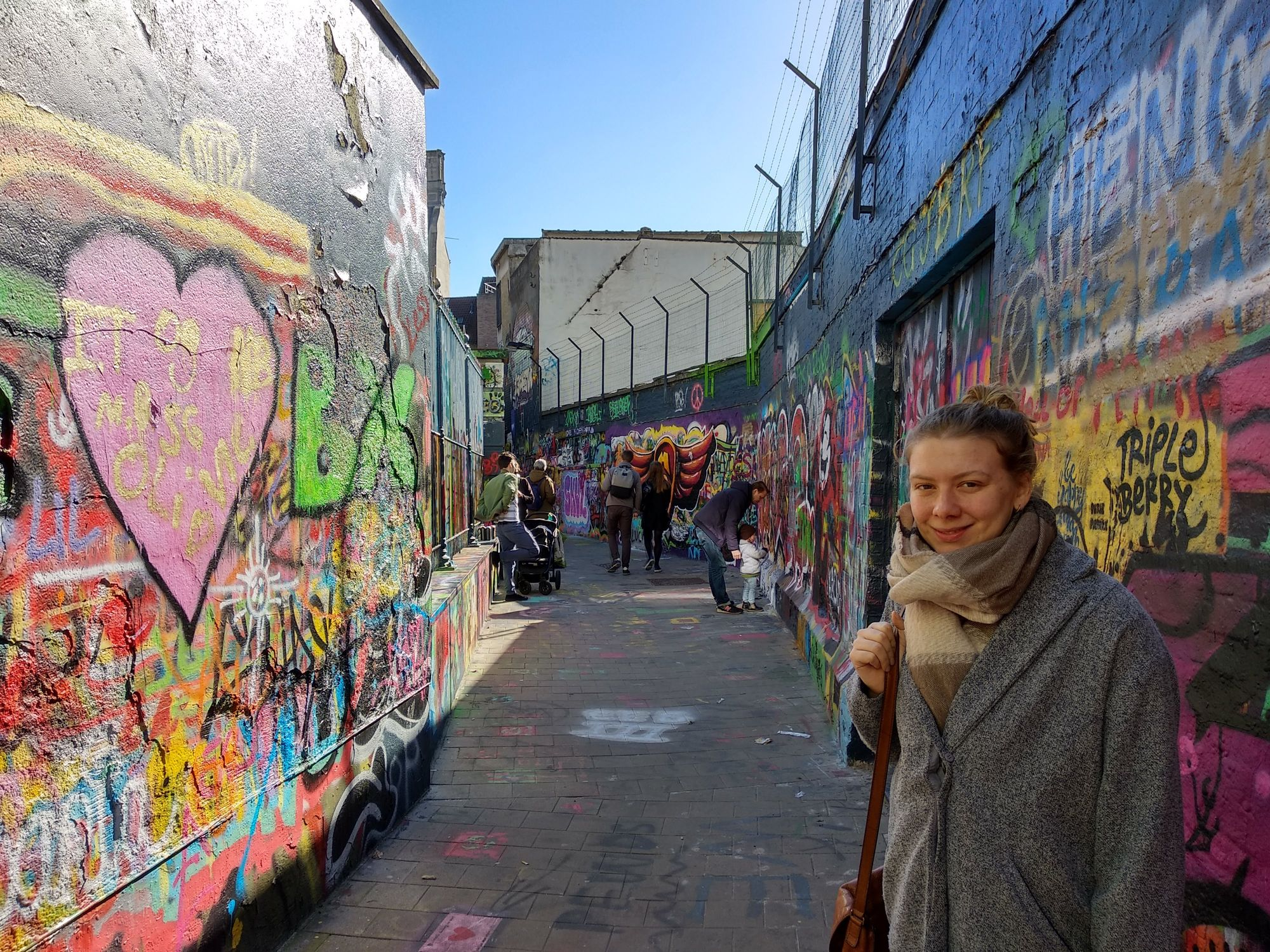 However there are plenty of more traditional things to explore as well. One of our favourites was sampling some traditional liquor in a genever bar called 't Dreupelkot.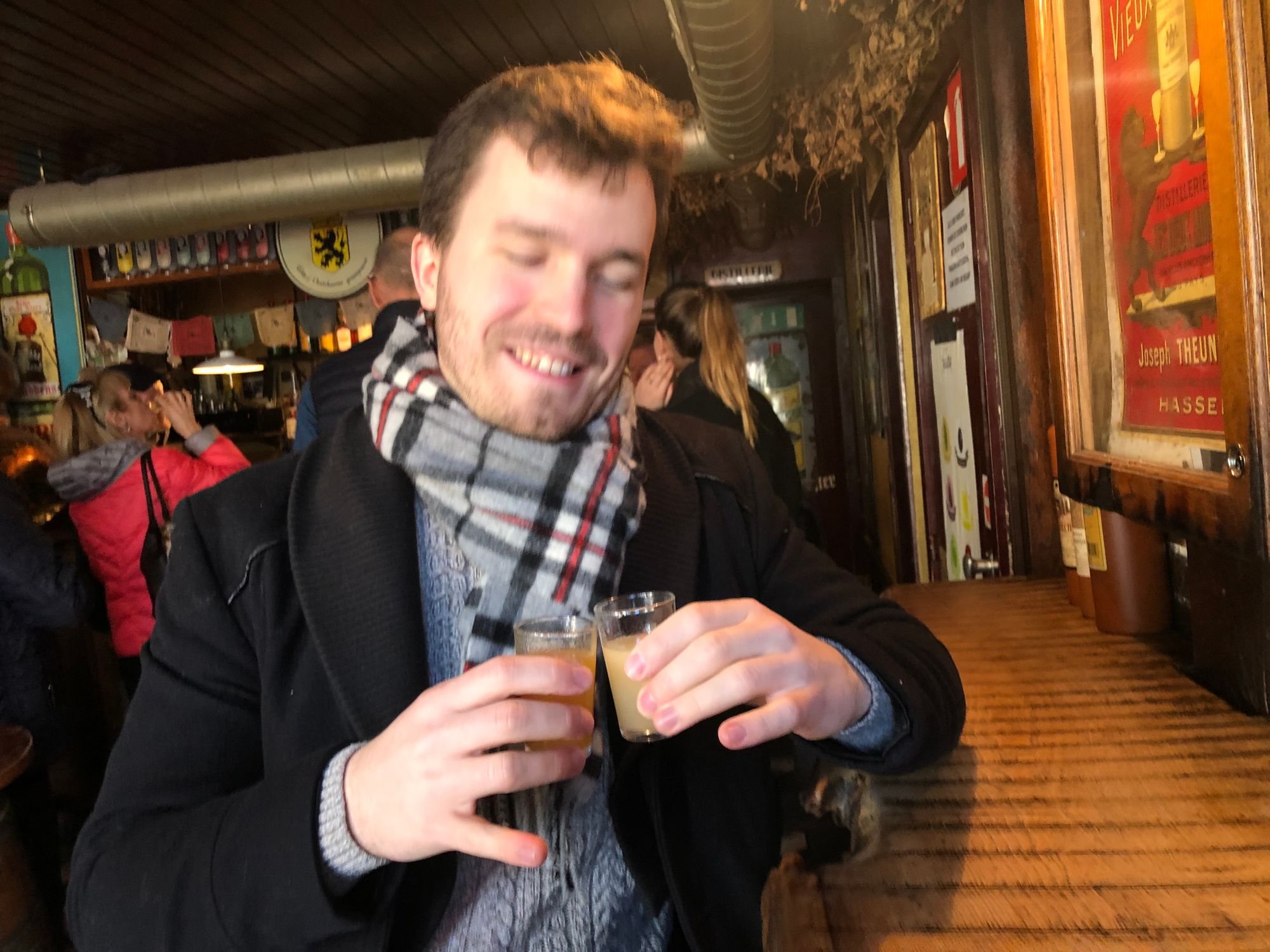 One benefit of visiting Ghent in winter, apart from the fact there are less tourists, is that when a night draws in, notable buildings in the city are lit up. I'm not sure it's worth spending the night to see, them, but the empty illuminated streets made for a lovely walk back to catch our coach.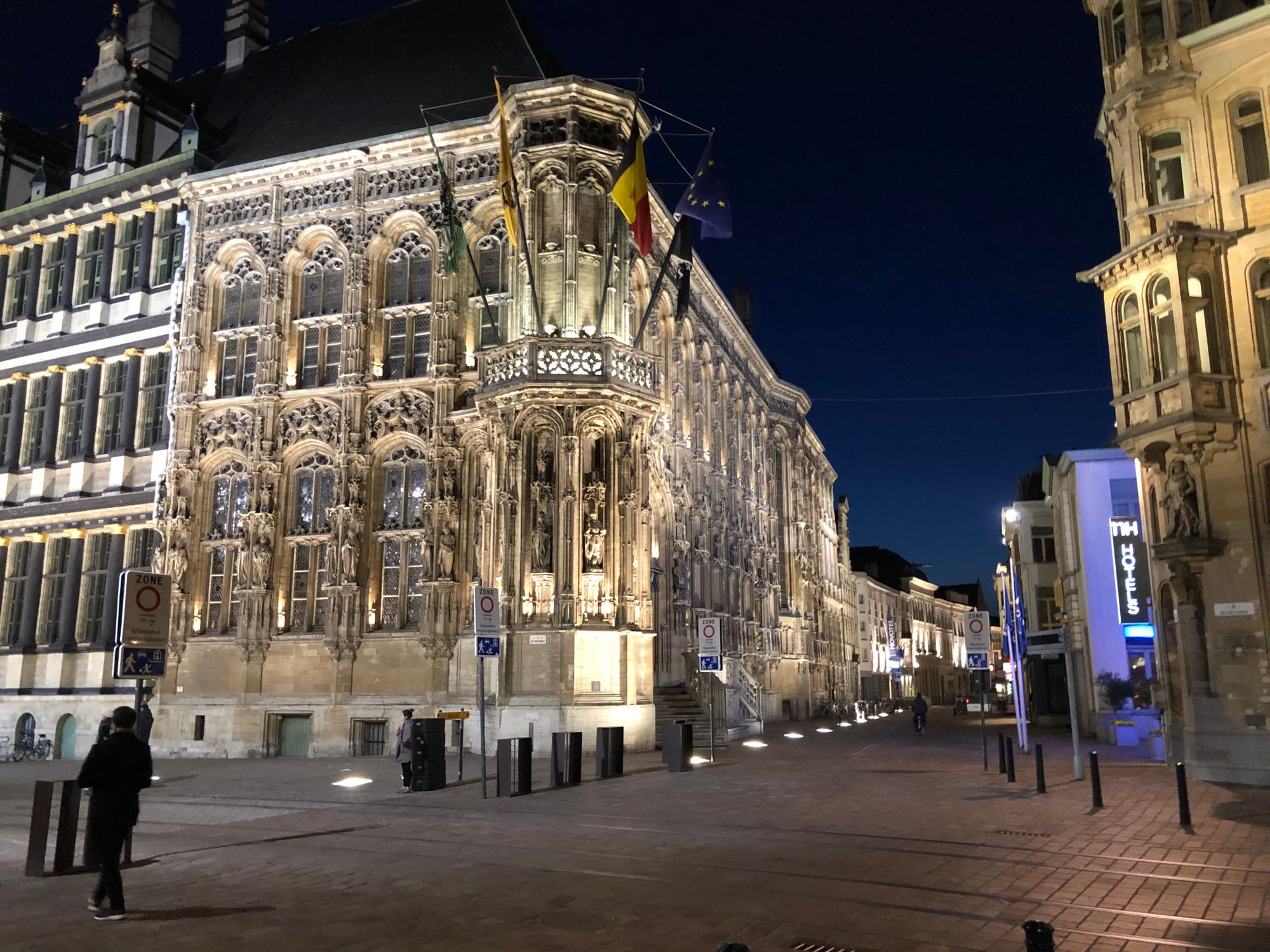 Lille Day Trip 3 - Brussels
With Nicolas away for the weekend, and our time in Lille coming to an end, I decided to make one final trip to Belgium, this time to Brussels, only a forty minute train ride away.
If you take the right train…
My day got off to a horrible start when I got on the wrong train and found myself  heading to Charles de Gaule airport, directly away from Brussels. A couple of frustrating and expensive hours later (turns out high speed train tickets are not cheap if you buy them on the platform), I was in Brussels, my bad mood starting to lift at the prospect of exploring a new capital city.
Brussels feels much more lived in than Bruges or Ghent. There was lots of traffic, rubbish, market stalls, shops selling groceries, restaurants with all different types of cruises, all the usual trappings of a cosmopolitan city.
I started my exploration with the main square. You approach it through winding narrow streets, so stepping out into the open space is a surprise. It's a massive open space, and offers a glimpse into the historic wealth of the city. The tall narrow buildings are edged with gold, and in the cobbled centre everything is going on. I saw people taking wedding photos, horses and carriages, guides offering "free" walking tours, visitors sipping Starbucks.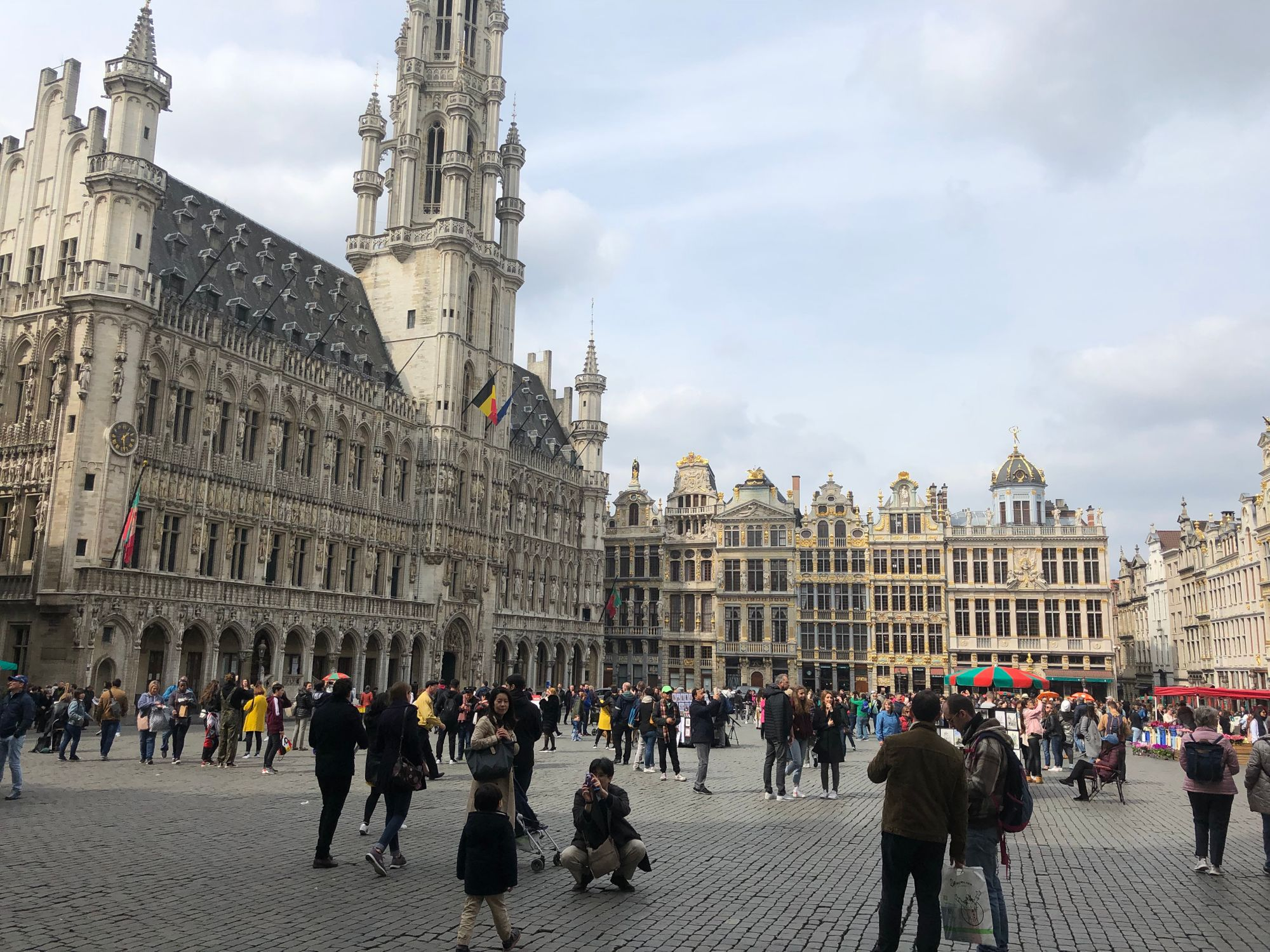 After spending some time gawking, I headed off in another direction. I had read that Brussels has some lovely arcades and I wanted to check them out. The most impressive was the Saint-Hubert Royal Galleries. Built in 1847 , it was the first of it's kind in Europe. It's covered by an arched glass ceiling and full to the brim with chocolate shops and tea rooms.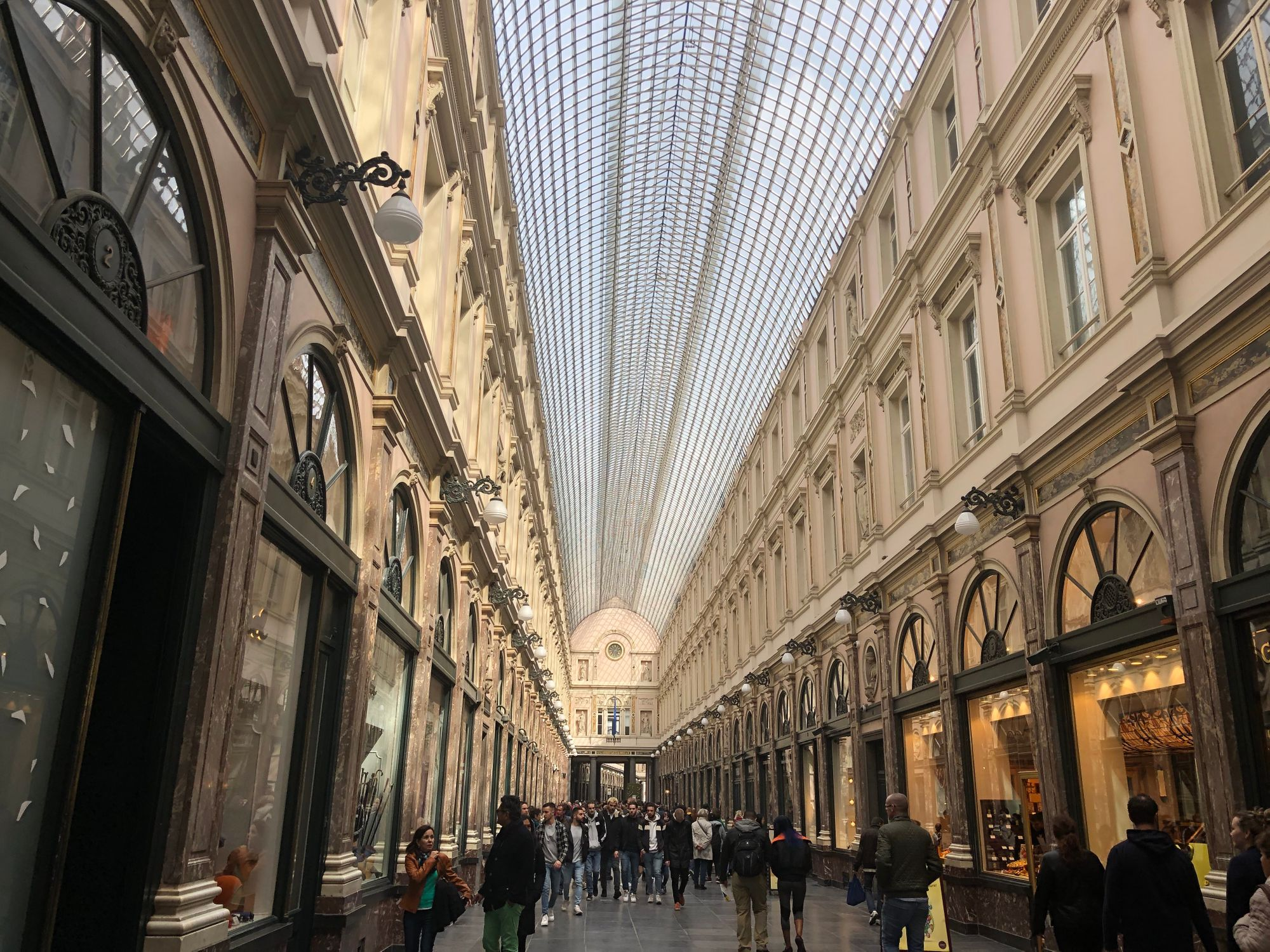 Since it was almost Easter, the chocolate shops were full of eggs, and I couldn't resist purchasing some, eventually settling on some Pralines from Neuhaus. This chocolatier is famed for inventing the sweet, but started out as a pharmacy - pralines were used as a way to disguise the taste of unpleasant medicines.
However, my favourite gallery was Galerie Bortier with its antique bookshops and art galleries. Almost deserted, it was perfect for perusing the boxes of books and pictures.     I also went to visit Brussels's most famous statue, the Mannekin Pis, or peeing boy. Everything I had read about it said it was underwhelming, and I agree, the only thing impressive about it was the surrounding crowd.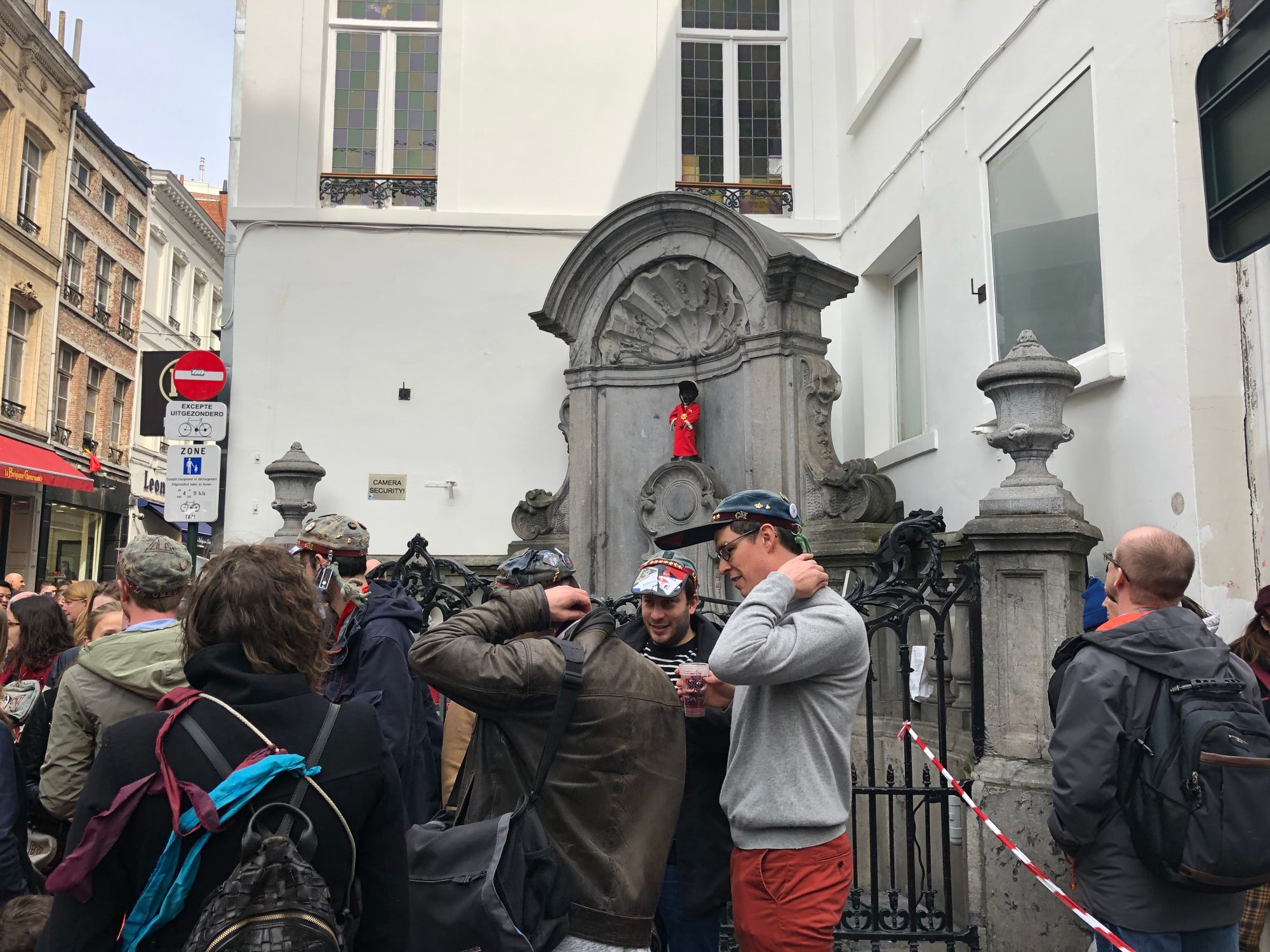 After another lunch of frites and beer. I took a stroll up to the Parc de Brussels, in front of the Royal Palace. The park is pleasant but not particularly interesting, but the walk to get there has great views over the city.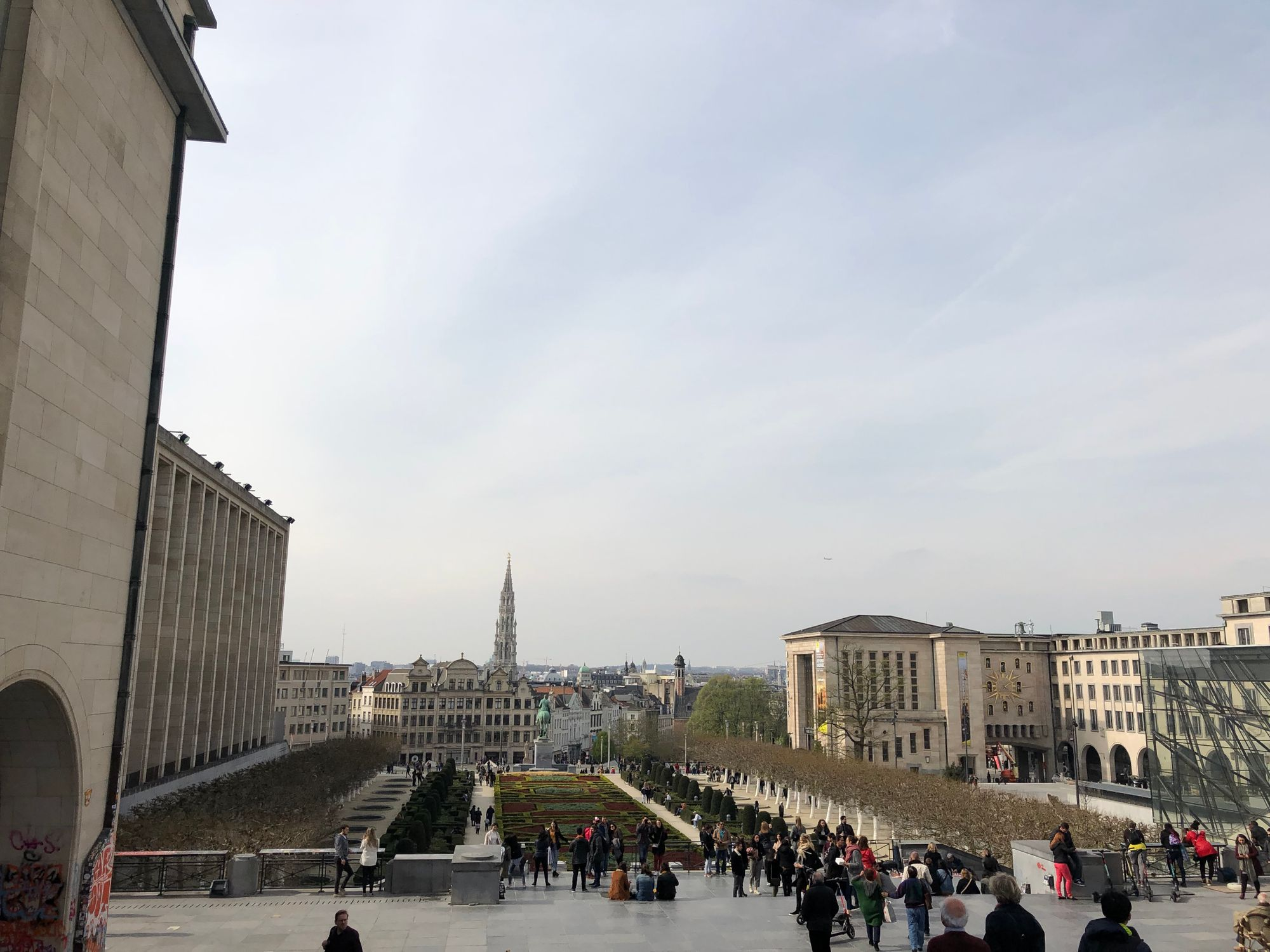 Finally, I finished my day in the neighbourhood of Marolles. This area has a giant flea market on a Sunday morning, but the rest of the time it's still really interesting. Crammed with antique shops, vintage shops and trendy cafes and bars, I felt like I had discovered a slice of local life outside of the city centre.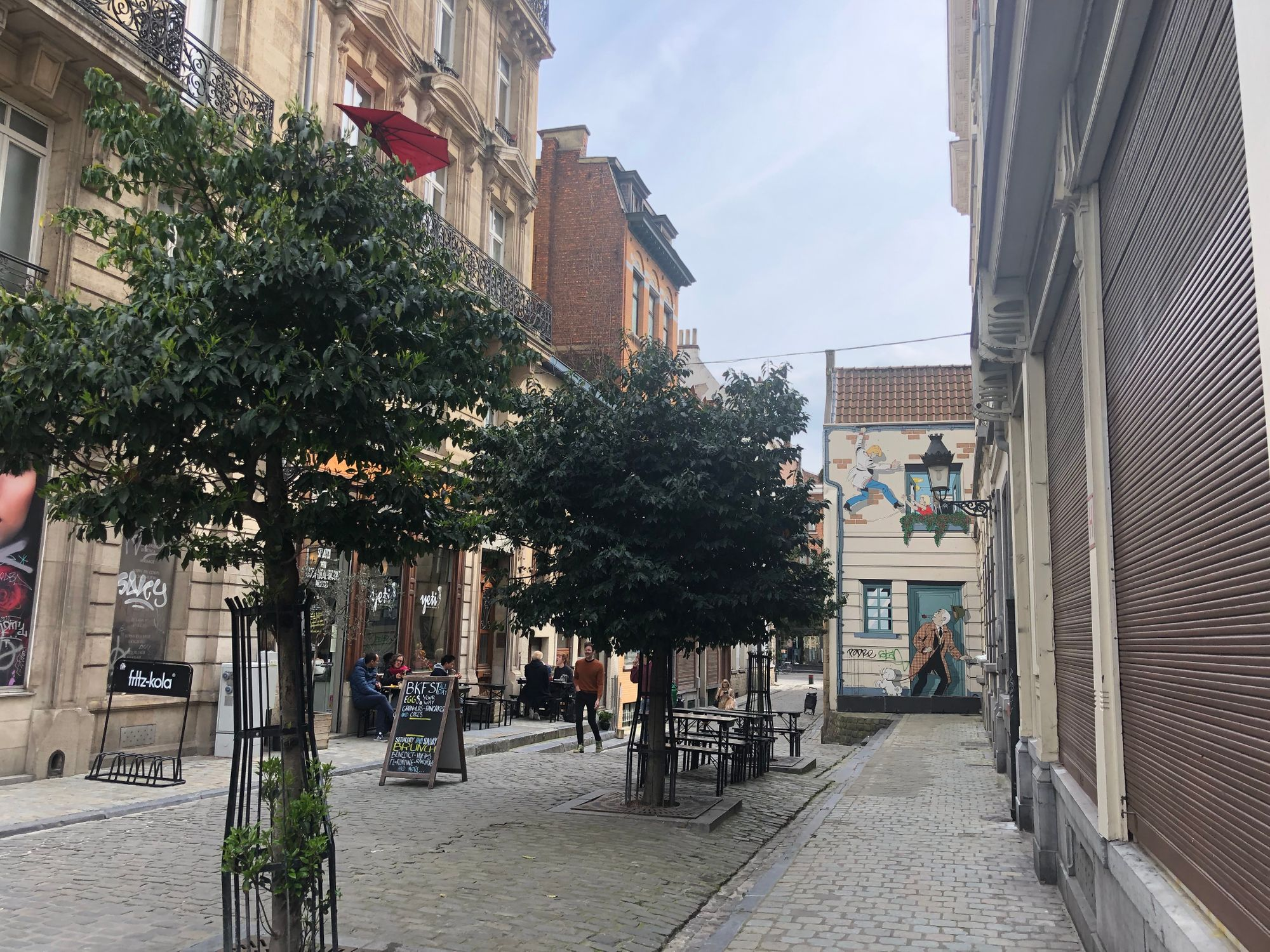 We enjoyed our visits to Belgium but, just like when you eat an entire box of pralines in one go and feel a bit sick, we had had enough of it for a little while. Still, as surely as my chocolate cravings return with time, we'll soon be keen to go back and explore this small and interesting country.